"Super Azuki" & "Super Matcha" What is thinness is only a very thin 2 mm in chocolate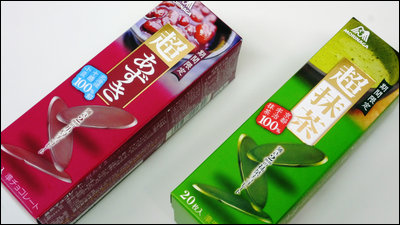 Morinaga condensed the material taste to 2 mm thin "Super Azuki chocolate"(231 yen including tax) and"Super Green Tea Chocolate"(231 yen including tax) was released. I tried to see what kind of chocolate I actually eat

"Japanese material" sticking to production area and quality New thinner 2mm "Super Azuki chocolate" "Super Matcha Chocolate" released on sale

This is "Super Azuki chocolate". The gold brilliance is a square and characteristic design of accent, and I want to take it to the hand.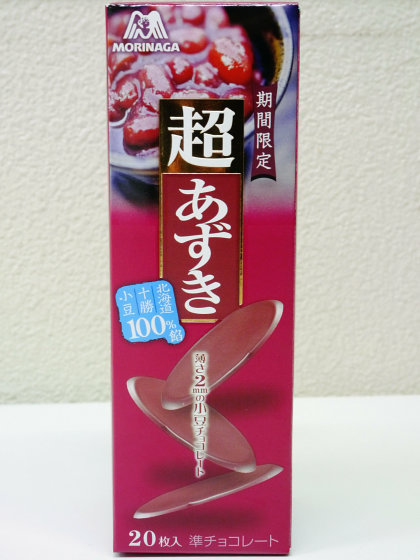 There seems to be a strange version of the lateral version package on the side, insisting that the presence is batchwise from side to side.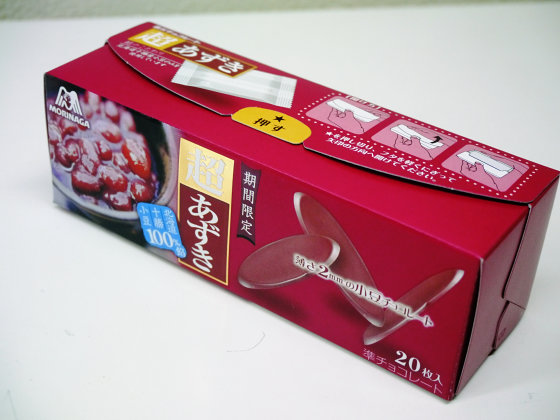 Azalea of ​​Tokachi of Hokkaido is used as it is stuck to the material.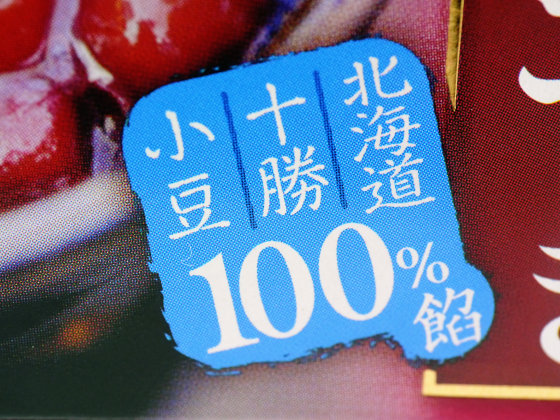 It is a raw material. Sushi Ain, a powder that is made by scattering the moisture before sweetening is used. The name ofQuasi chocolateThe cacao content is 15% or more, or the cacao content is 7% or more, and the combined milk solids content is 12.5% ​​or more.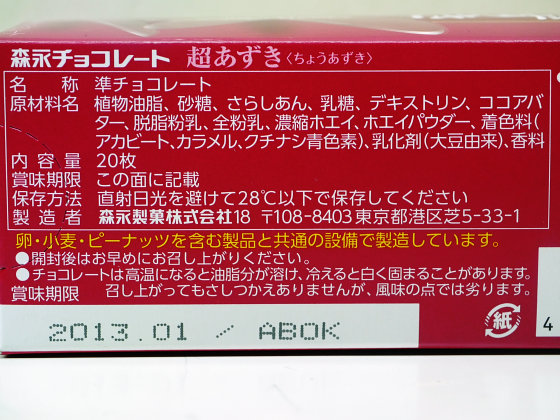 Nutrition ingredients are here. It is 15 kcal per one sheet (standard 2.6 g) and one box is 300 kcal because it is 20 pieces.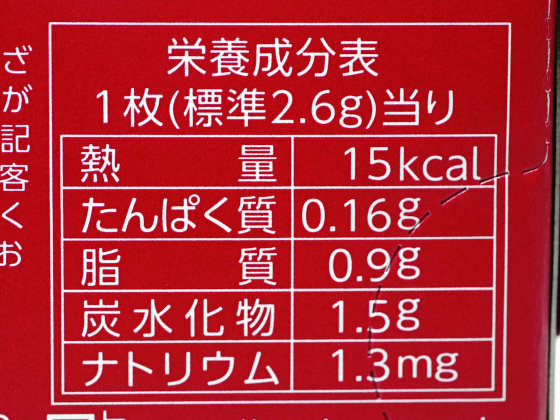 As you open it up, 20 chocolates are arranged in order like this, and it feels elegant.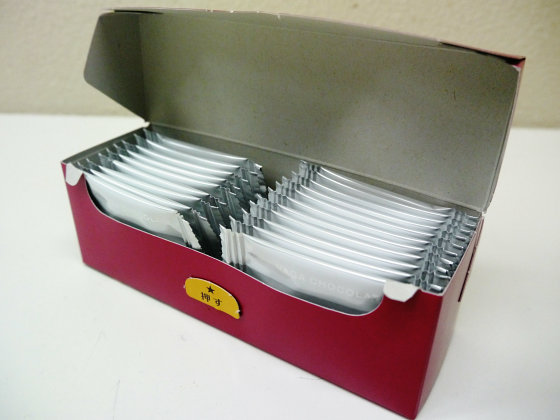 The bag looks something like this. Although it is a bag of ordinary sweets when viewed from the front ......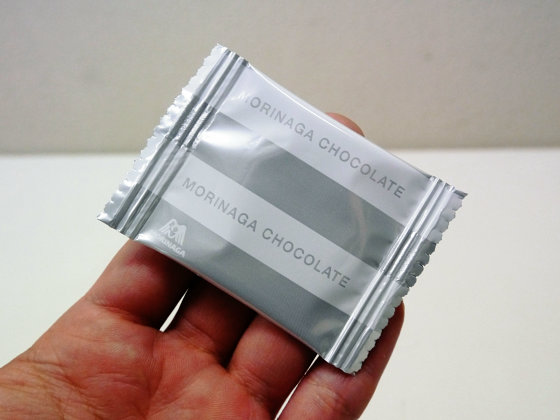 Looking from the side, it is fairly thin so that you will want to "get too thin!"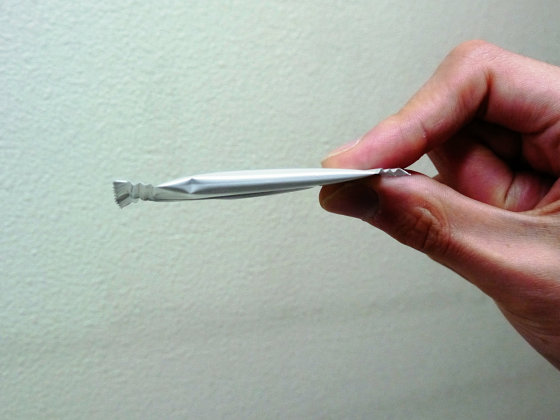 I will break the perilli and the bag and give out the contents.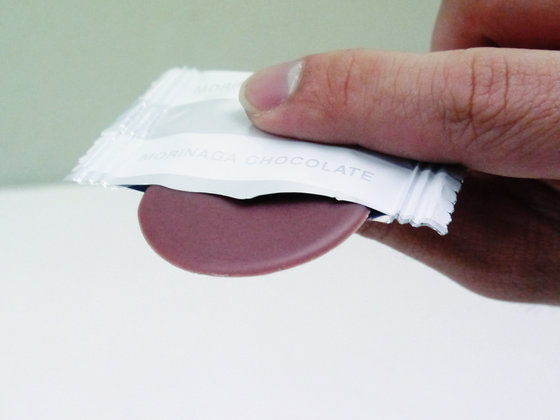 When pulled out of the bag it became even thinner. It is delicate enough to break easily if you put a little effort.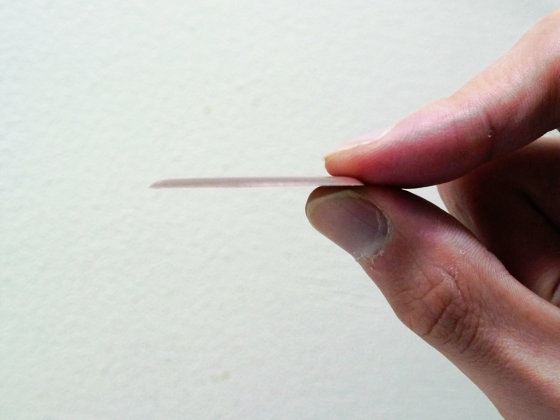 The size is slightly larger than 500 yen coin.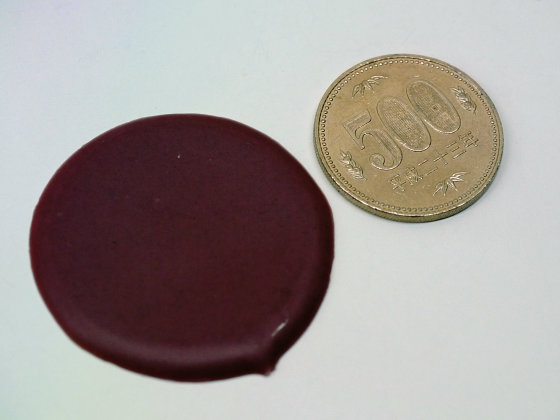 And the thinness is about the same degree as a 1-yen coin, and it's overwhelming thinness not found in common chocolate sweets.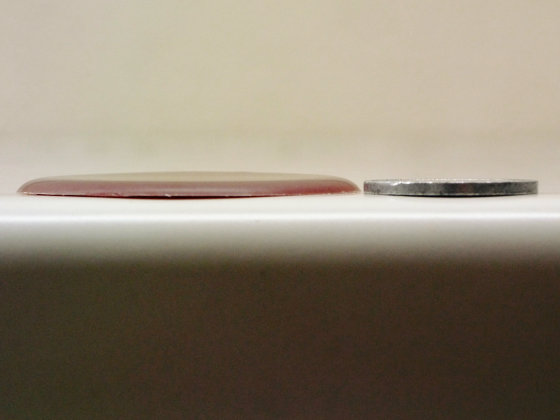 Even if you stack ten sheets in too thin, it is less than a small size eraser.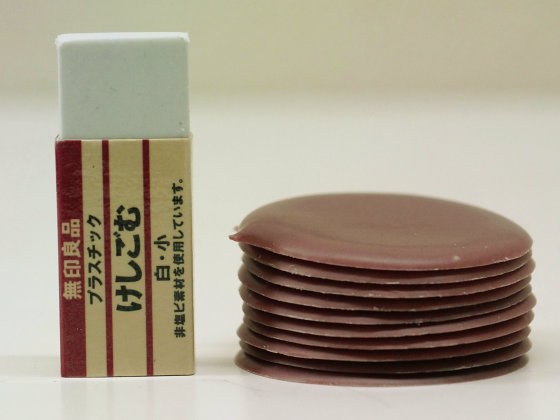 Even if it compares with Frisk's box, it does not have much.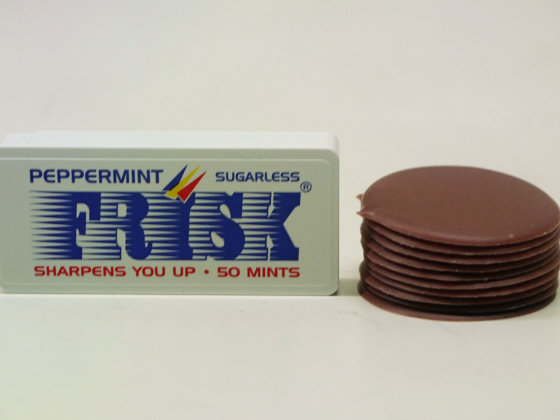 The essential taste is thin but rich taste. Spreading at the moment you put it in your mouth is like "Azuki flavored ice bar" rather than "Azuki", the aftertaste feels the flavor of chocolate. Because I think that there is no chewiness due to thinness, the texture of crisp chocolate is felt firmly, so expect it there. Because of the rich azuki taste, it is a sweet you want to eat while drinking tea like a Japanese sweet.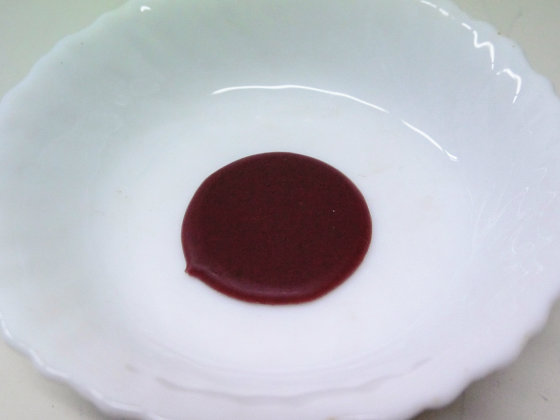 This is "super powdered tea chocolate". Looking only at the package, it looks like chocolate candy, it looks like Matcha itself.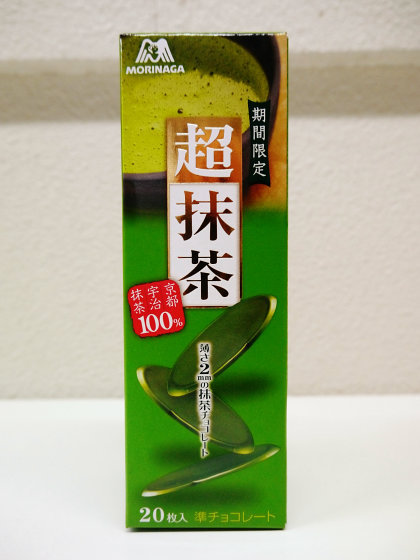 The gold color "Super Matcha" brings forth an indelible aura.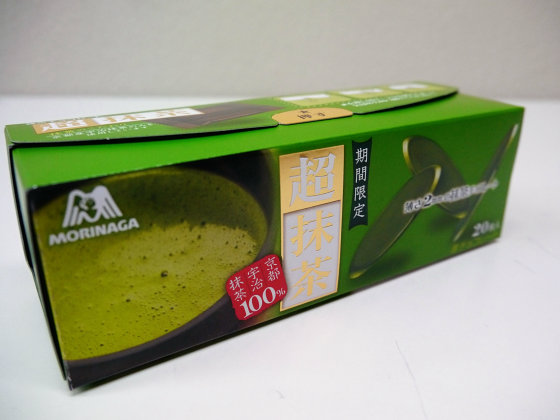 Raw materials are here.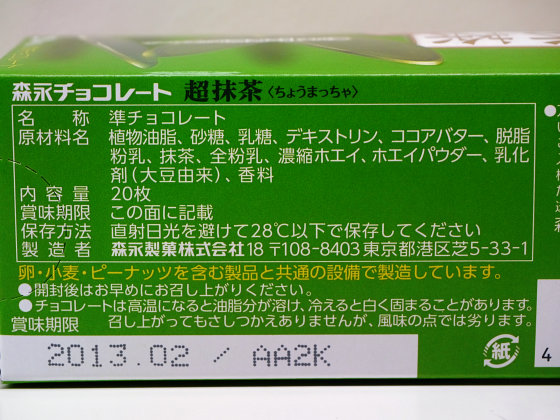 It is a nutritional ingredient. It is 15 kcal per 1 piece (standard 2.6 g) and this is the same as "Super Azuki chocolate".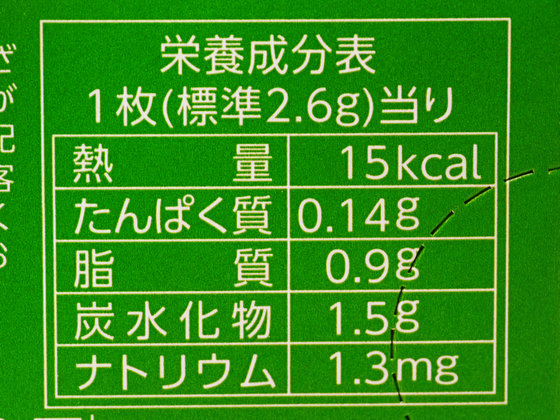 Kyoto Uji powdered green tea is used for the commitment material.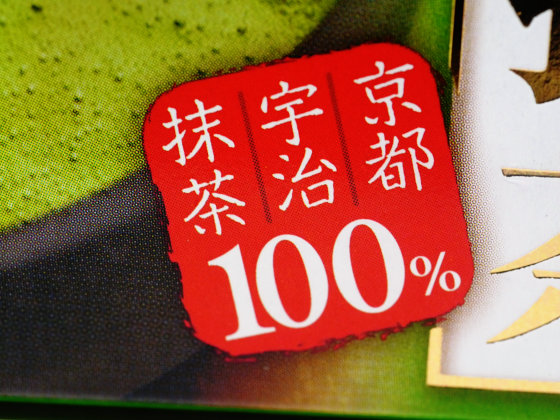 Let's open it.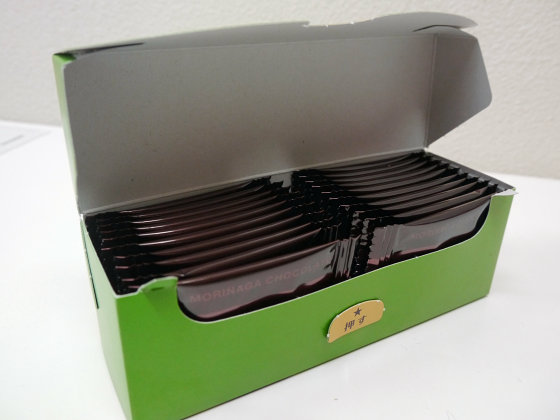 The bag that wraps the chocolate is brown.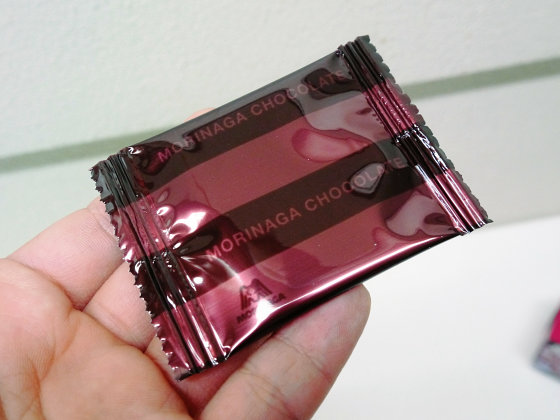 As you can see the taste of Matcha, the chocolate is tiny.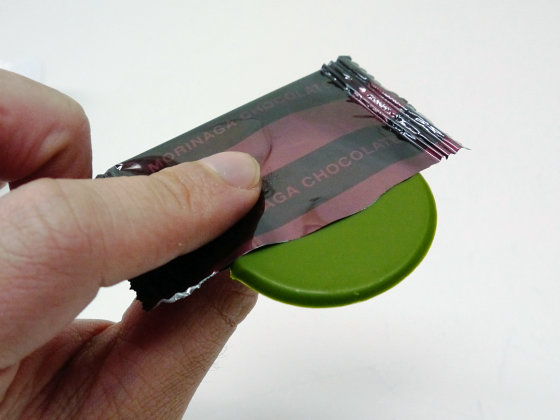 This is also 2mm and very thin.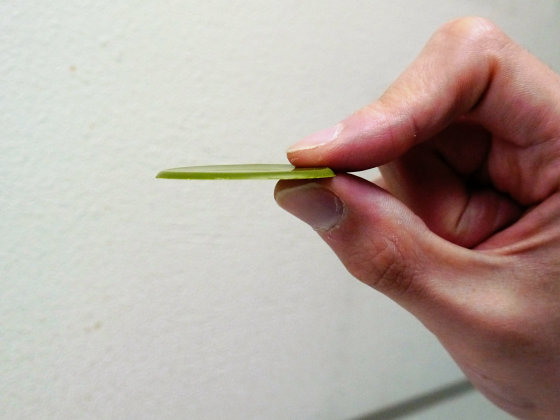 If you put it in your mouth it will spread the flavor of Matcha. It is a candy that chooses people to eat in that it keeps the astringent taste of Matcha firmly and keeps it in the aftertaste, but to draw a line with other Matcha style sweets, "There is that bitterness when it comes to Matcha The person who is committed to being "is a satisfactory dish. The crown of "super" is nothing new. I feel a little persistent when reproducing this astringent with the amount of ordinary sweets, but it is a miso that it is just fine for reasons of thinness.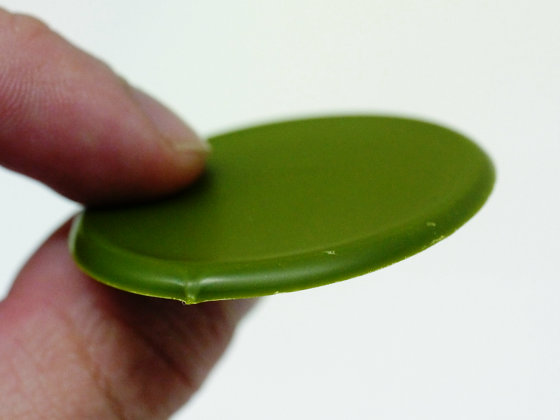 In other words, because it is an ultra-thin type, it is finished in a luxurious chocolate that you can enjoy from the moment you put a rich taste and scent into your mouth and you do not get bored, so you do not want to extend your hand to "another piece" That is why.