"Rurouni Kenshin - Meiji Kenkaku Romantan - Memory Edition" Simultaneous Free Live Broadcasting in Japan and the United States Canada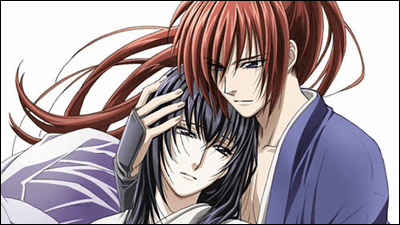 All 4 volumes of OVA "Rurouni Kenshin - Meiji Kenkaku Romantan - Memorial Edition" released in 1999 will be released as Blu - ray on August 24 and will be released in Japan and the USA, but prior to that Screening will be held on live Nico Nico on the 20th of the month. As BD will be released simultaneously in the US and Japan, at the screening, not only Japanese fans, but also broadcasts with English subtitles for fans in North America will be broadcast simultaneously in Japan, the United States and Canada.

Rurouni Kenshin - Meiji Ken Kaku Romantan - Memory Animation Screening - Nico Nico Live Broadcasting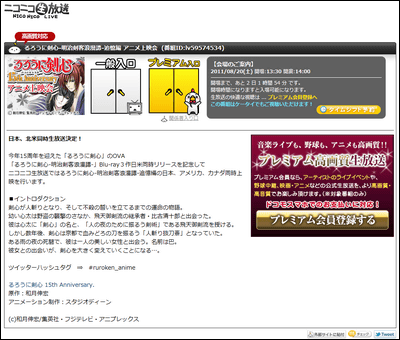 "Rurouni Kenshin - Meiji Kenkaku Romantan -" is a masterpiece of Nobuhiro Wagetsu, which was serialized from 1994 to 1999 in the Weekly Shonen Jump, a historical drama manga whose hero was the scarlet village Kenshin of the swordsmen who uses the Flying Sword Stream. The book is a hit hit of 50 million copies in 28 volumes, and from 1996 to 1998 TV animation was also produced.

This time, it will be shown in live broadcast in 1999 OVA "Rurouni Kenshin - Meiji Kenkaku Romantan - Memory Edition". Before the first episode of the original, the episode of the sword that came to be called "man sword dragon sword" is a picture of the episode (appeared in a form reminiscent of Kenshin in the original). Synopsis is like this.

A story of destiny until the sword heart becomes a man and a pledge of non - killing is made.
In the midst of a raid of fraud, a young Kota met the successor, Kotori Koshiro, of the Flying Sword Flow.
He gives the name of "Kenshin" and the swordmaster sword flow which is "Sword of swordsmen for the night of people".
But a few years later, Kenshin became a "swordmaster" wielding bloody swords in Kyoto.
In a death battle on a rainy night, he meets a beautiful lady. The name is Tomoe.
Encounter with her will change the knife heart greatly ....
The live broadcast starts from 14 o'clock on Saturday August 20, and starts in North America from 22 o'clock (Pacific time) on August 19 th (Pacific time). In September, it is said that free live broadcasting of the other OVA, the frost frog edition will also be conducted, so please take a look at someone who is interested.
in Anime, Posted by logc_nt