A lecture to review the history of struggle until the creators' group really wants to make a work to the world "The trail of the 10th year of nitroplus"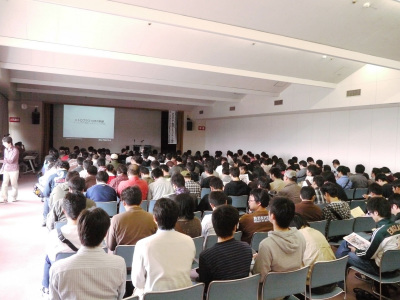 "Machi ★ Asobi vol.6"As one of the events,"Magical Girl Madoka ☆ Magica"A big lecture was held to tell the trajectory of 10 years from nitroplus, a giant gamemaker to a present form that releases popular works in multimedia.

From the speech of President Taro Masuro and Mr. Vice President Mr. Vice President, from the remarks "I do not want to make kids' games anymore" by Mr. Gen Ken, the main writer who worked in the evening and also played the script for "Magical Girl Madoka ☆ Magica" It was a story of the struggle for the creator group to bring out the work he wanted to make it to the world, such as a big turning point of the game, making the game after the game.

For details of Nitroplus 10 years trajectory from the following.Nitroplus Official Site Nitroplus Official Site

The lecture hall is "Awashin Hall" located about 5 minutes on foot from Tokushima Station.



The content of the lecture is "Nitroplus 10 Years of Truth ~ Content Production by Creator Distribution ~" This time it is designated as a public lecture of the university, so it is the only event as a gore ★ Asian entertainment fee will be charged. General entrance is 1000 yen, students are free.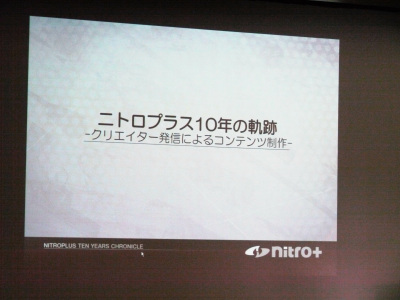 It was an early event from 9:30 in the morning, but the seat of 200 people is full.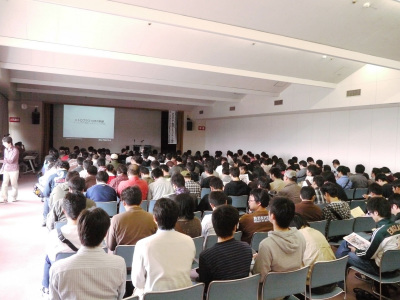 Mr. Tamrosu is the representative director and representative of Nitroplus.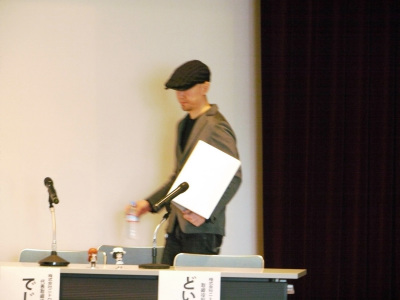 Twitter account"@ Digitarou"Profile. Mecha and animals, cool things and cute things are said to like.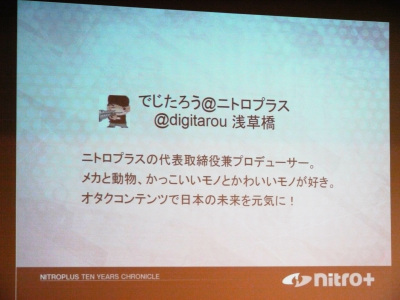 Mr. Yoshina Norio of the vice president also attended.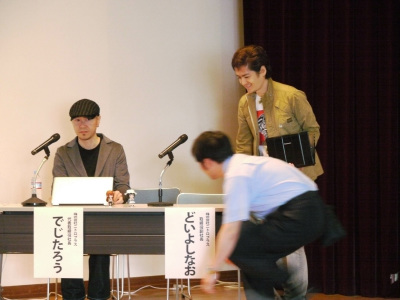 Dutch Twitter account"@ Doi_yoshinao". I can not imagine from the present figure, but it seems to be former metabolic. It is also a former garage kit modeler, which also triggered encounter with Mr. Tamejiro.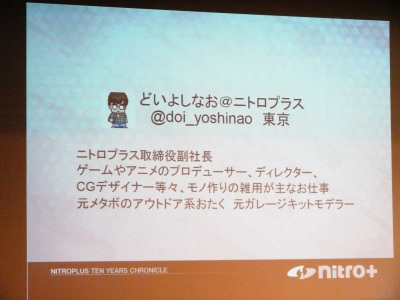 These two people will look back on the history of 10 years of nitroplus in a dialogue format.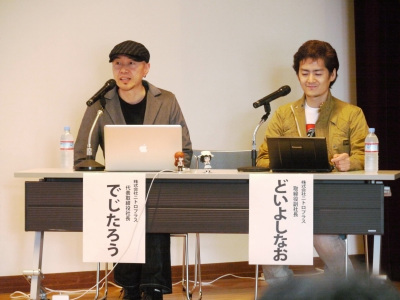 Nitro prince of nitroplus. It was scheduled to be hosted, but since we became a formal dialogue between Mr. Naotaro and Mr. Toshi, we are a PowerPoint clerk today. Twitter account"@ Nitorokun".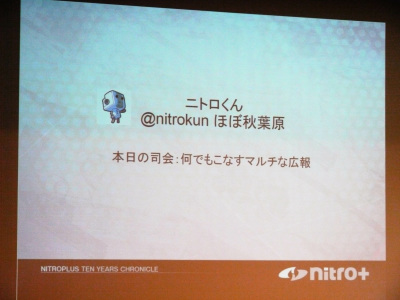 By the way, Nitoro is in his sixth year of joining. Half of the history of nitroplus is actually experienced.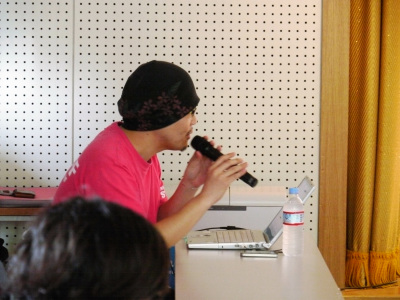 The first slide was "Question to visitors". Almost everyone raise hands to the question "people who know nitroplus". Because there were only a few people who knew nitroplus from "Magical girl Madoka ☆ Magica", the venue seems to have been quite a lot of people knowing PC games and animation rather than light layers.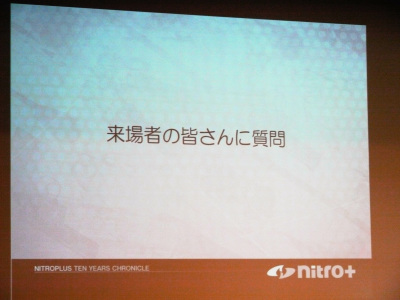 Nitroplus is a PC game maker that mainly produces novel adventure games that emphasize story nature. There is a reputation for the style stuck to firearms and mechanics. As a beautiful girl game maker, it was released in 2000"Phantom PHANTOM OF INFERNO"It is my first work. Since about 2006"Fate / Zero"Ya"Steins; Gate"Collaborative works such as collaborate, beyond the frame of the game of beauty girls, active in a wide range of areas such as novels, cartoons, animation.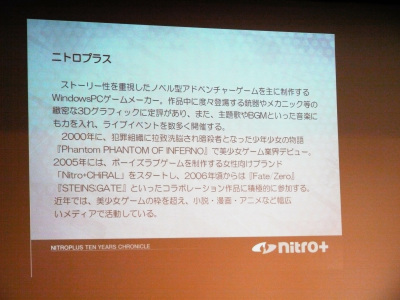 A movie for today was prepared, which edited the movie of the game created in 10 years.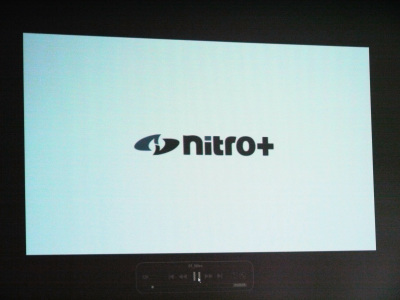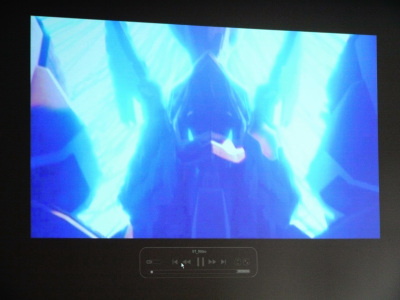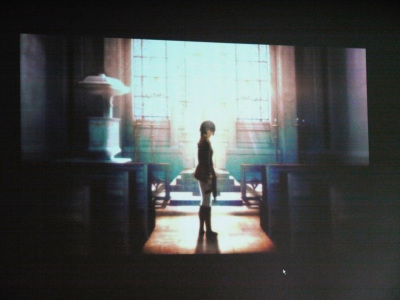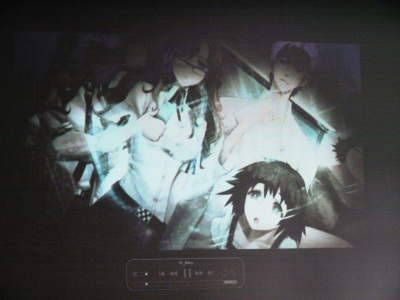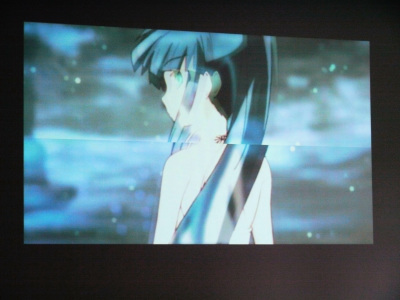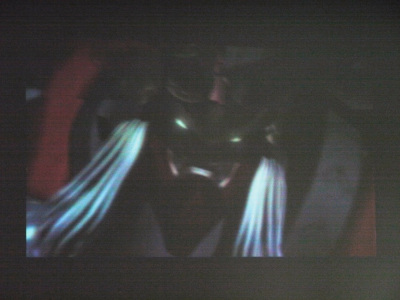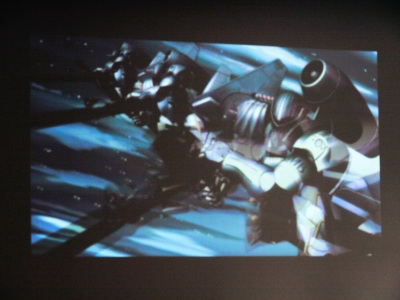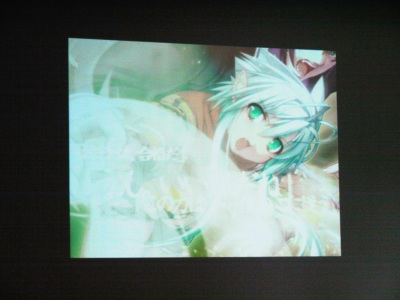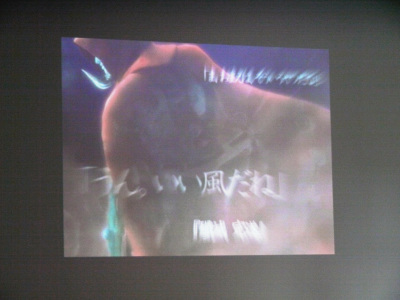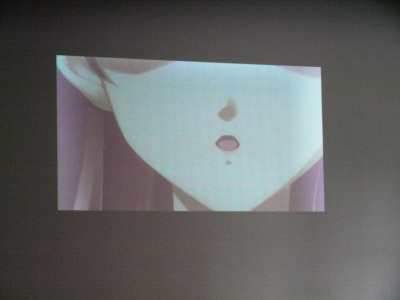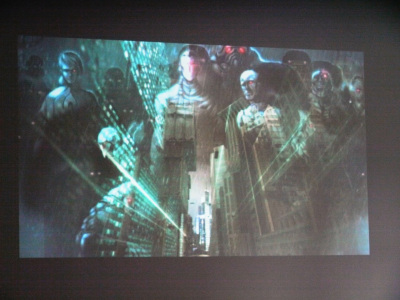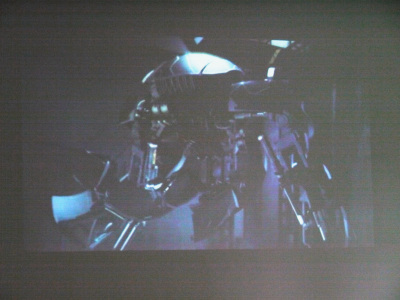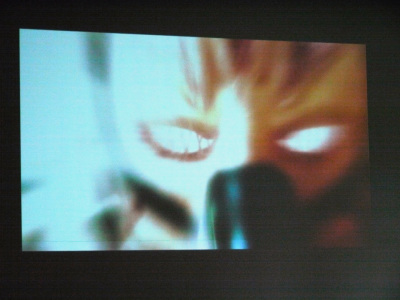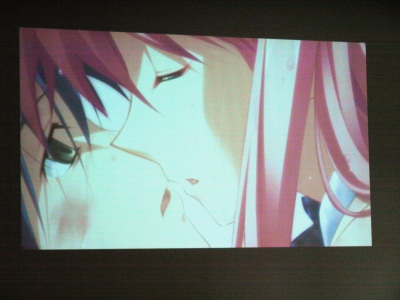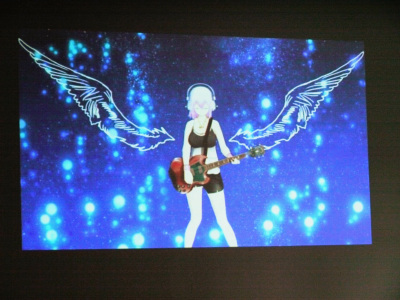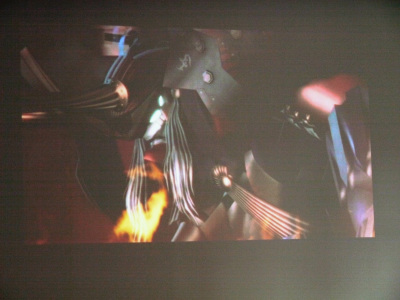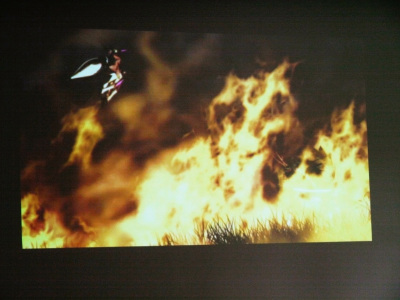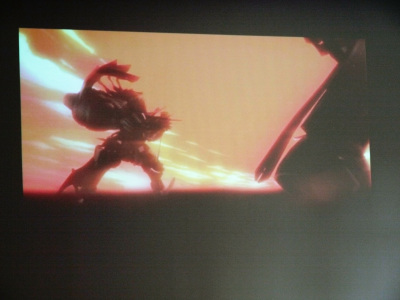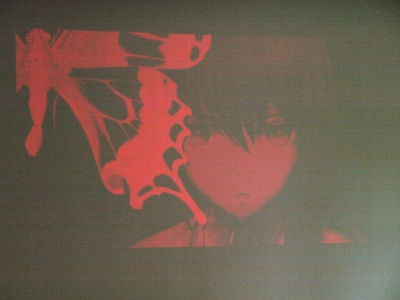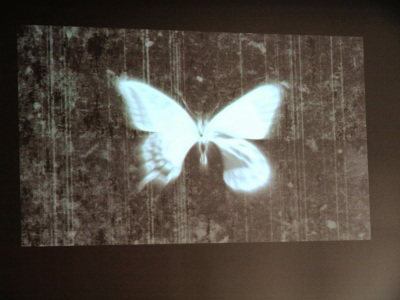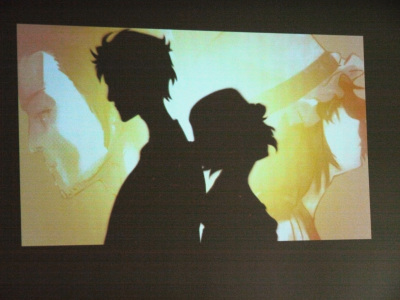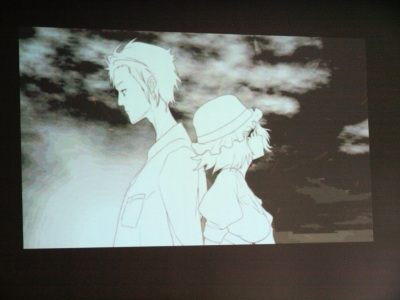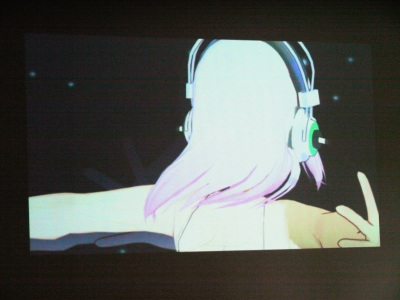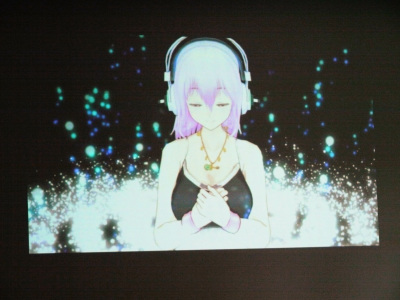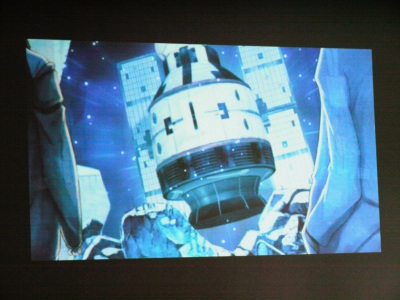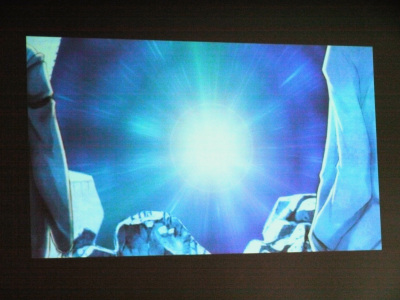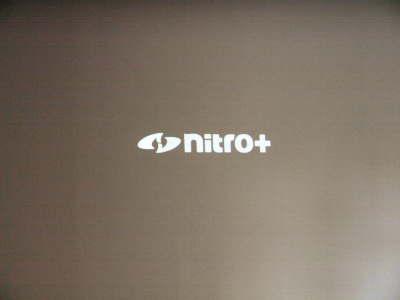 Company overview of nitroplus.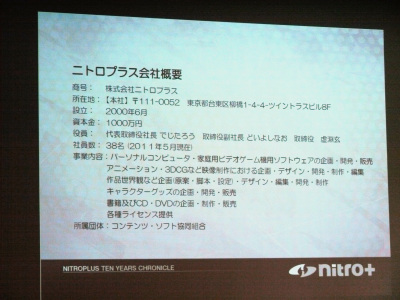 A member of the current nitroplus. It is characterized by employing most staff as employees, which is due to Mr. Tamejiro who wanted to create a company that he / she would like to stay at the time of establishment, Because the creative activities while having anxiety are hard, the concept of creating a friendly environment for creators is still inherited.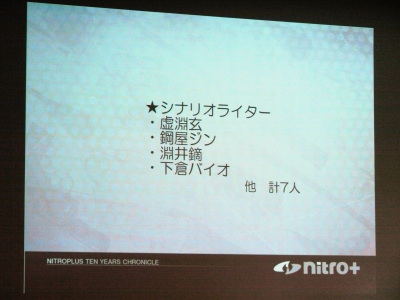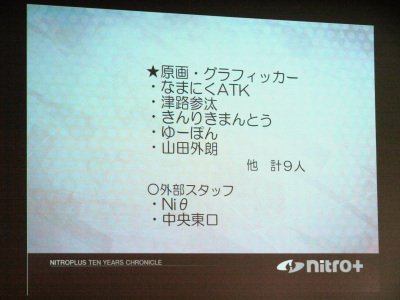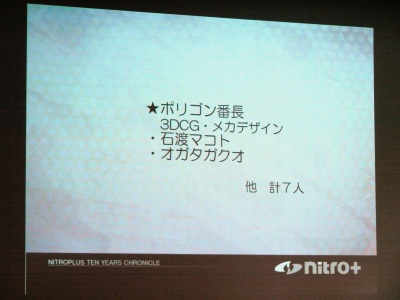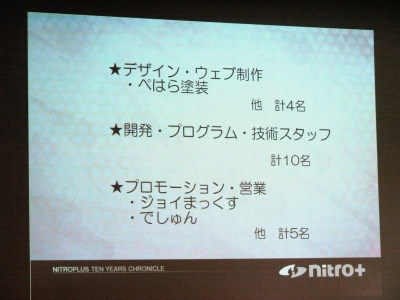 Representative works of nitroplus.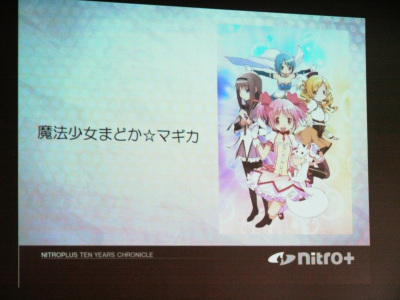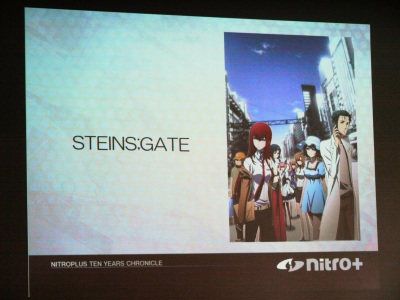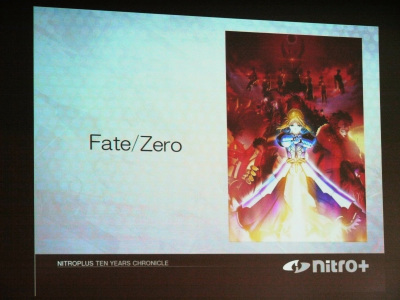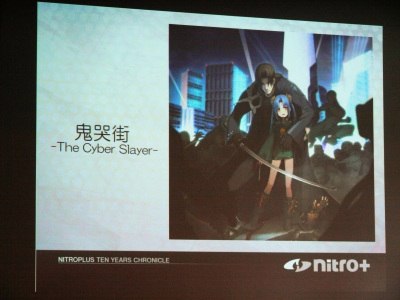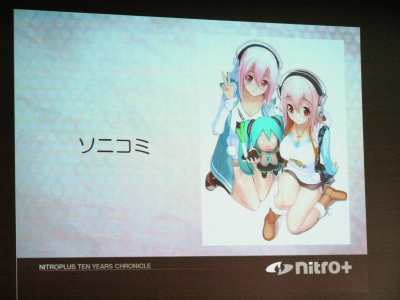 "What is a Bishoujo Adventure Game?"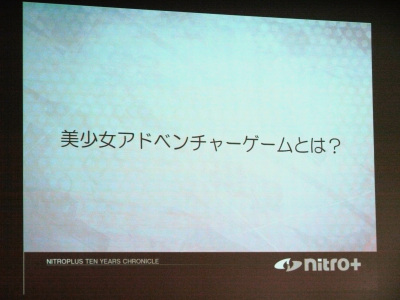 Bishoujo adventure games are roughly divided into three types, "Consumer" for PlayStation and Xbox etc. and "PC for Playing on PC", "18 forbid" including sexual description for adults even for PC .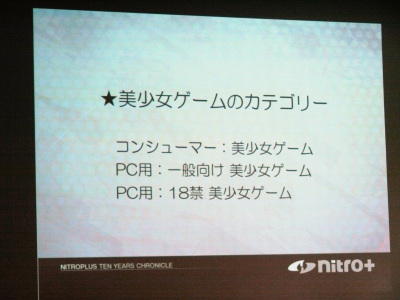 There are about 300 companies in the game game industry, about 500 companies are announced annually, about 500 to 600 titles are released a year, at a full price one 8800 yen is the market price, the average number of selling about 3000 books. As for market size, it seems that it will be about 16 billion yen in game software and about 20 billion yen combined goods.

Adventure games have the merit of being able to combine various content elements such as novels, graphics, sounds, and movies, and to reduce production costs inexpensively compared with other genres.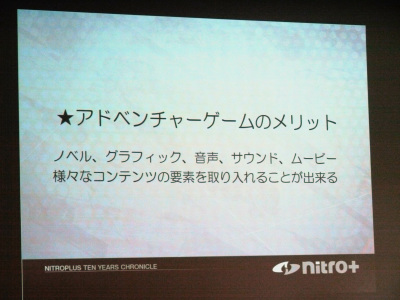 Developed by nitroplus"Sonikomi"Game screen. The adventure game so far has been a series of still images, but this character moves on the screen and makes various facial expressions.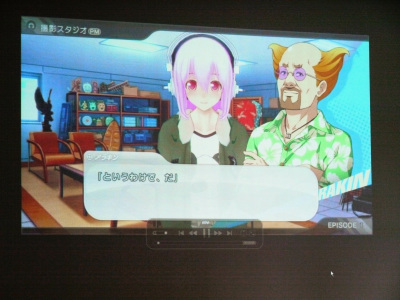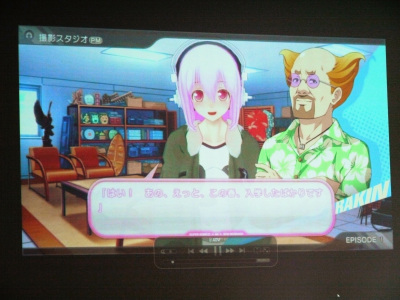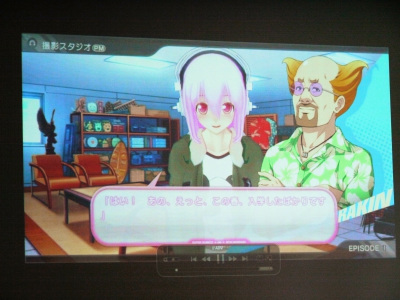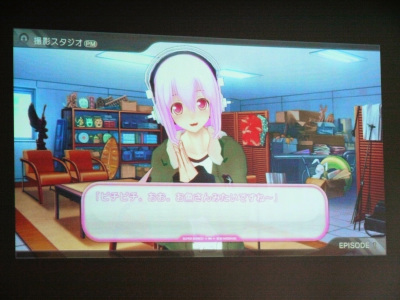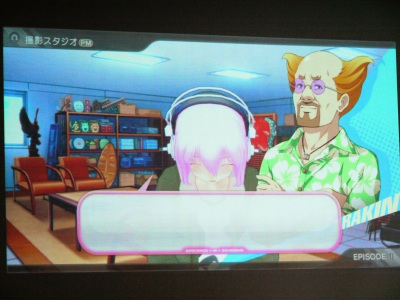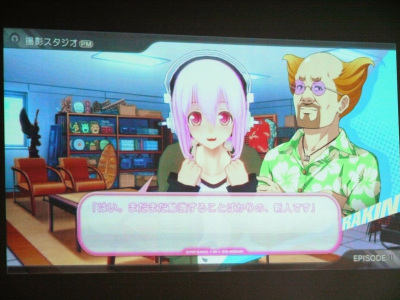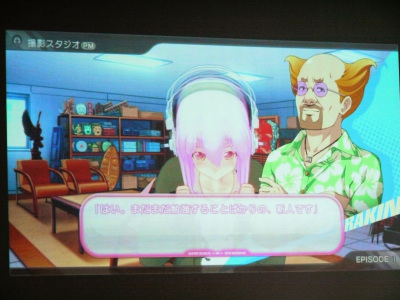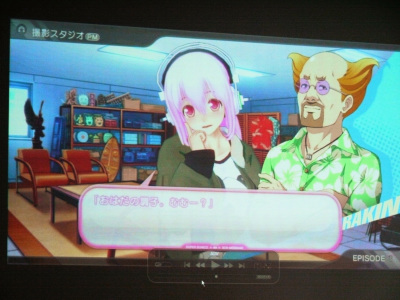 From here, the "Nitroplus tale" telling the history of 10 years of nitroplus will be developed.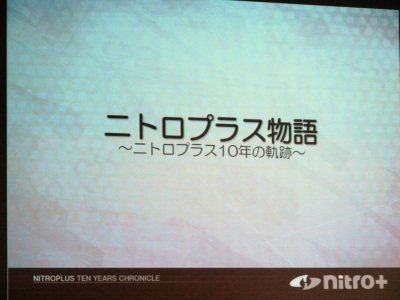 At first it was the recipient of the content that made a decisive influence on Mr. Tadarou,"Gundam Century"It was a mook.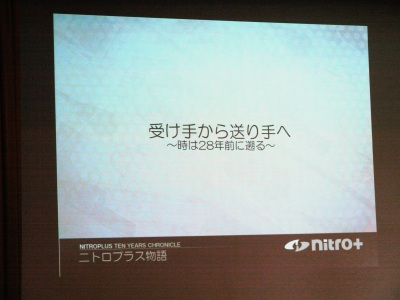 Mr. Masaharu Kawamori, Mr. Haruhiko Miki and other talents are impressed with the fateful encounters through this Mook. Moreover, it seems that Mr. Anno Hideaki and Okada Hojo Mr. and others met at Osaka University of Arts and feeling strong envy and jealousy to produce Evangelion later.

Mr. Takarazu Tadasuji, a young man who thought that his power and someone's power combined, thought that it would be a great work, joined the high school manga research group in search of those fellows and entered into doujinshi production ."The Super Dimension Fortress Macross"When I made Valkyrie's commentary book in Doujinshi's doujinshi, I gained the 1st ranking of the sales ranking of the creative division in the spring comic at that time. As a result of this, members of the research group will increase, but it seems that they could not find a friend who enters creative activities together.

What gave me that encounter was a model store named Volkswagen model that I was surprised. Through a brokerage of the store manager's store manager, we will encounter a fateful encounter with Mr. Masuda who was a modeler of the garage kit at the time, but the two will temporarily advance to separate paths.

"Start from the night flight"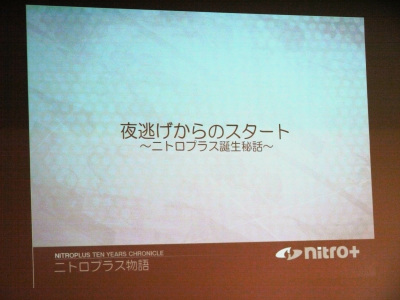 After that, after having crossed the editorial department of various magazines, Mr. Tasuro who was working on game production etc, is independent from the age of 27 at the age of "I want to do zero work". Mr. Tadafuro who wanted to work as a creator to the last worked as a director, and the president seems to have left it to a former salesperson above the age of 10.

One day, when noticing, debt collection came to the company, and it was discovered that the president was using various ways to investigate. Mr. Teruro troubled at that time, I would like to talk to Mr. Masuda who was also independent in another company.

It was decided to transfer employees to Mr. Moshi's company once including himself and to reoccur and it was decided to escape from the company at the time at night. I took a late-night truck to a condominium in which the company was in and when I met the inhabitants, I decided to negotiate negotiating to answer "I am moving". It seems that it was impressive that Mr. Joy McKrush who was enrolled in Mr. Tadamaro's company from that time was a moving veteran, moving quickly only with "Let's leave!"

"I do not want to make games for children anymore"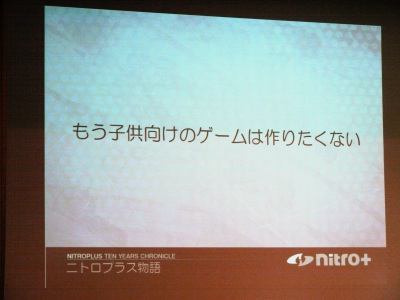 The first work of nitroplus formed in this way was development of learning game software for elementary school students. This hits and sells about 1 million books. At the time, Kabuchi Genki was in charge of the authoring program, but when he asked elementary school students to debug their game, they seemed to have had a strong dissatisfaction with being told "Tsuman" etc. .

Mr. Kagami Gen, finally said "I do not want to make games for children anymore", as the desire to create such a dissatisfaction and freedom work is overlapped. It seems that other members also wanted to do whatever they wanted because the company was just about stable.

"Choosing a Pretty Girl Game"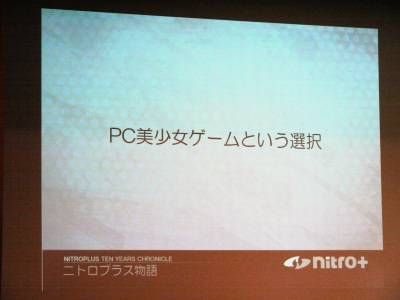 One of them is a staff member who loves 18 pretty girl games and he is advised Leaf's"Mark"As a result of playing,"Kamachitachi no Yoru"Mr. Taro Takuro who loved him was impressed. We have more freedom than the consumer industry and it turned out that there are users who will accept it, so the planning of "Phantom PHANTOM OF INFERNO" began.

"Nitroplus is white base"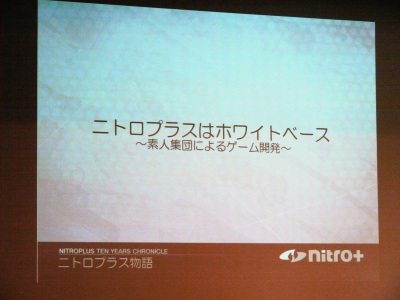 It was a nitroplus that started producing girls' games in this way, but Mr. Tadasuji was the only one who had the know-how of game production a little, so as to act like a captain like Bright. Because Mr. Kagami Gen was an aspiration for a novel, so if you write it, it is a sudden real battle introduction like Amuro. Mr. Yano, then, was able to draw pictures for kids, but for the first time in a beautiful girl game. Namaku ATK had no sociality at the time and was in a state to receive with one hand while sitting on a business card, but in charge of painting in Phantom in anticipation of talent for painting. In this way, a beginner group like the white base nitroplus will start to the universe called a beautiful girl game.

※ Namaku ATK's sociality did not exist at the time of joining the company, according to the public relations NitroCurrently it is an exemplary employeeThat's right.

"Maker's first challenge"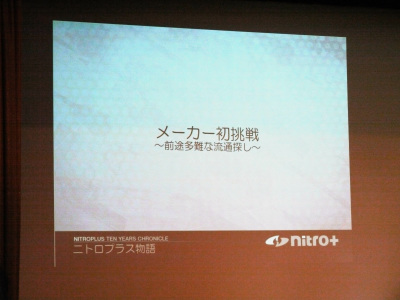 I could not leave everything to the plan of something that I could not sell or sell, in the daytime I did a contracted work and a state of making Phantom from the evening lasted a year and a half. As a manufacturer, I started from searching for a distribution company. Although "I can not sell like this", "more busty more", "costume is more exposed" is said to be said, depending on the industry, after considering whether it will fit in the industry or not,Hobby boxWhen I consult with the president, I am thankful that "Let's support you." By this edge, it seems that relations with Hobby boxes are good even now.

Many of the packages also blatantly make sexual depictions conscious, and adopt a stylish design.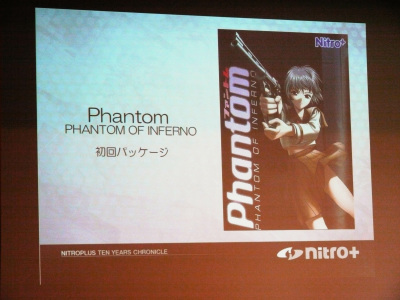 Promotion is also fumbling, as a result of seeking from where girl gamers gather information, advertisements are published in gun magazines. When presenting to the shop in Akihabara, it seems that it was a reaction that "This can not be sold".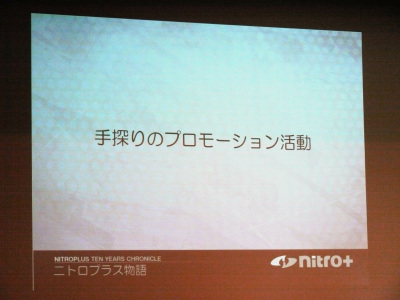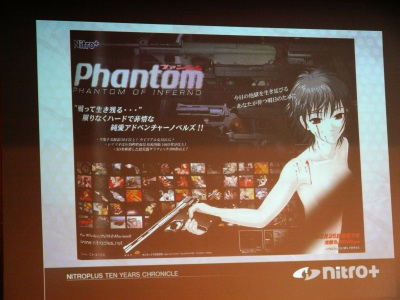 "After all I could not sell ... .... orz"



For the target of 20 thousand, 2000 orders before release. In the beauty girls game industry that 70% of the total sales will be decided in the first week, there were only numerous figures, but from the next week, from the next week some additional orders will increase little by little. I tried to investigate by saying that it was strange to sell, it turns out that it was talked about at Nifty Serve of those days. Also, at the time when 2 chan was just beginning, many users expanded their educational activities even on 2channels. Supported by the topics of the net, eventually we recorded sales of nearly 20,000 books.

"Phantom PHANTOM OF INFERNO", which became a hit movie in this way, continues to sell now and is currently being deployed in multimedia such as novels, PS 2, OVA, TV animation.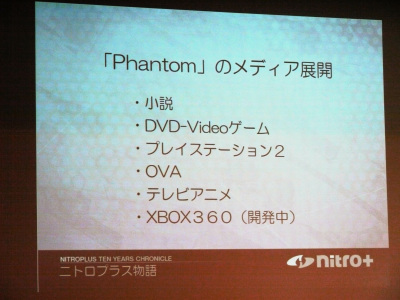 Porting to the DVD-Video game was also done, but this was a completely fraud port, and as a result it was a hit of 28,000 hits, but as it was too hard it should not be made twice about.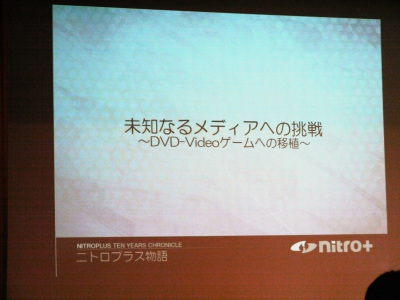 Next work"Vampire exorcist Vedogonia"Then insert the theme song with a red and white singer appointed probably for the first time in the industry. Mr. Masatoshi Ono sings the theme song.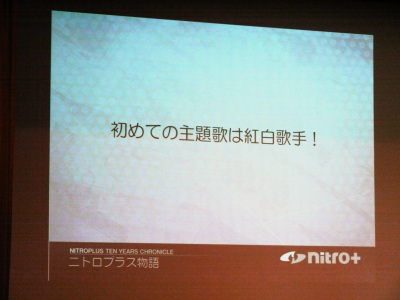 The concept is "a mask rider and a vampire."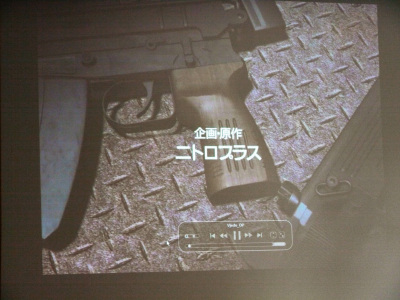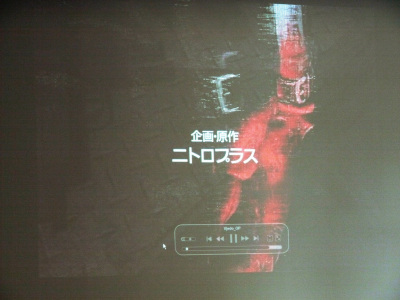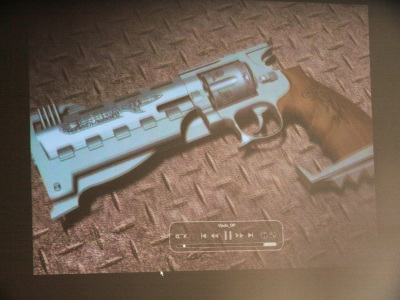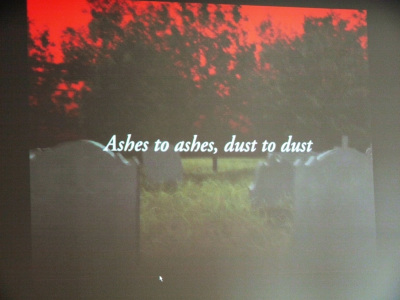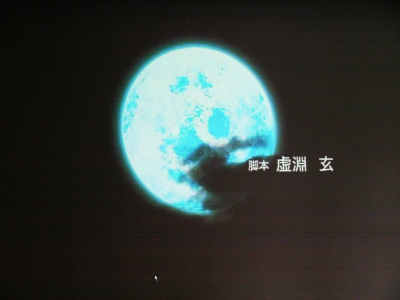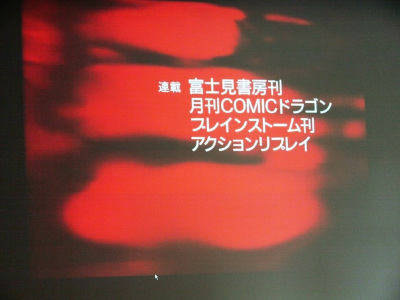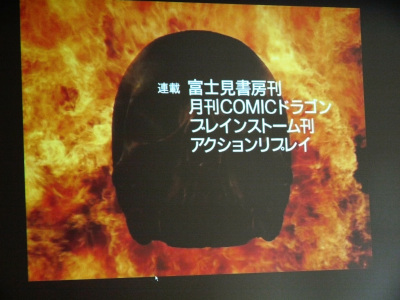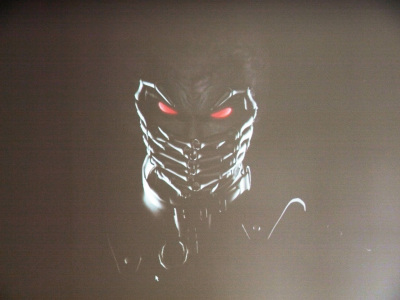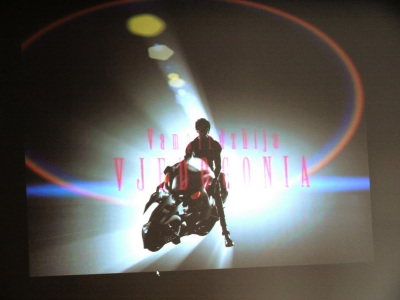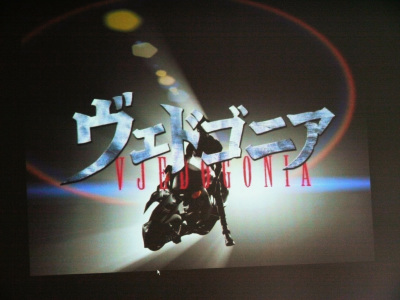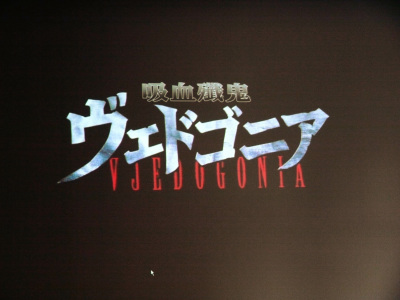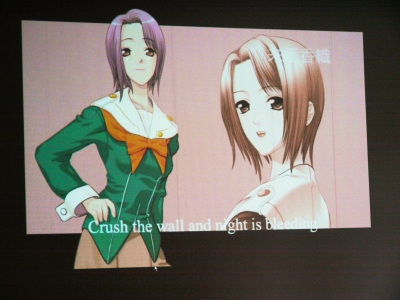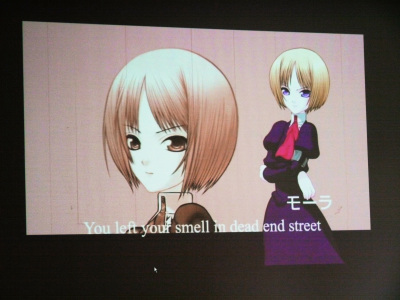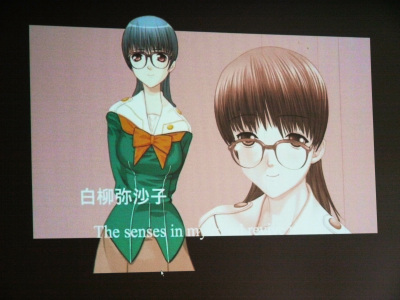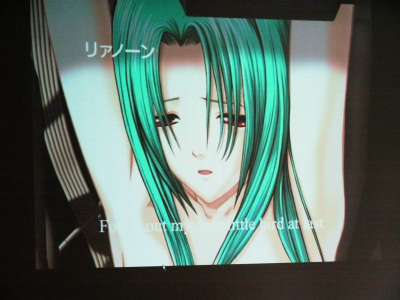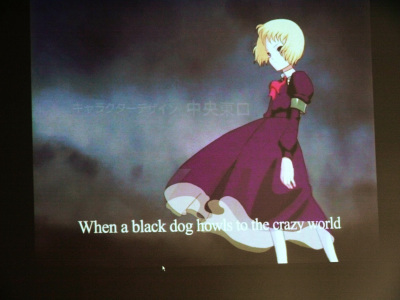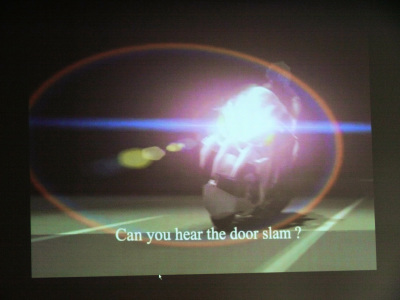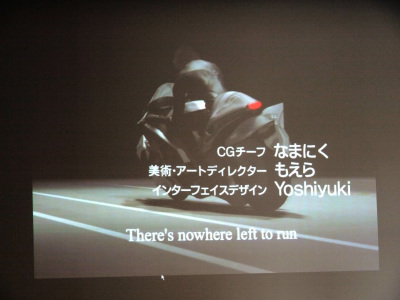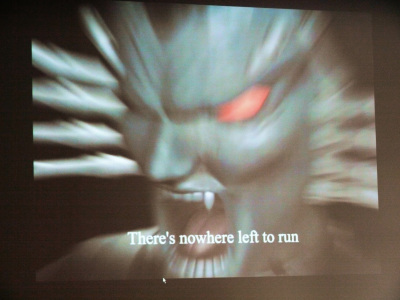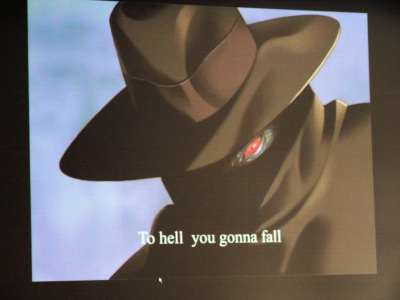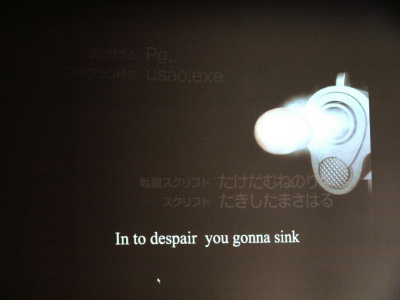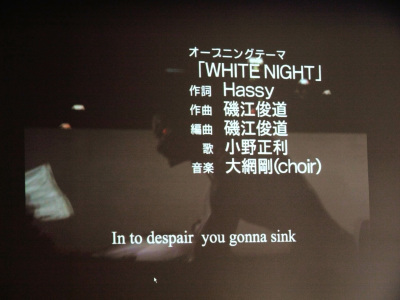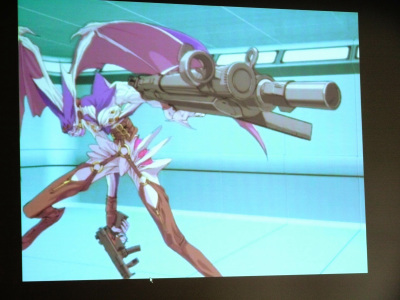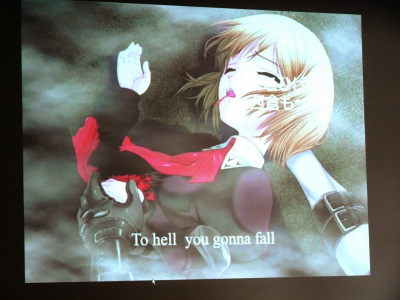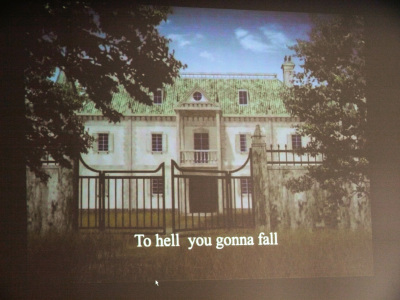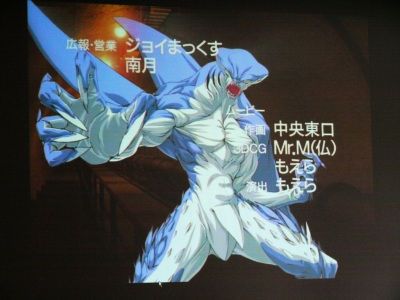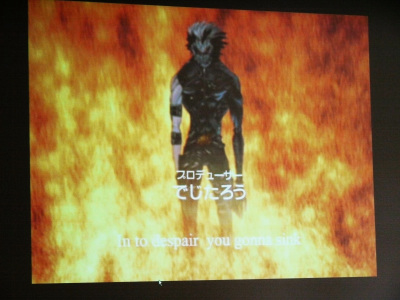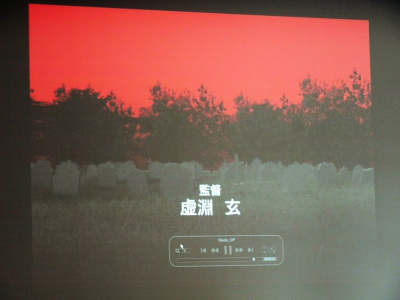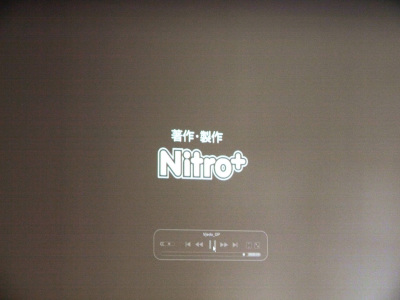 "Nitroplus = departure from fictitious virtue"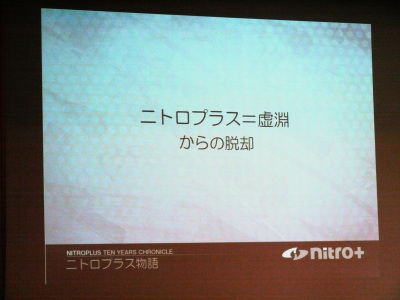 Although it was a nitroplus which issued two works in this way, the existence of Mr. Kabuse Genro got so much attention that it is even thought that even complaints are likely to complain about the work other than fictitious virgin I will.

In order to overcome this, although developing robot things and magical girls' respective projects by mixing internal staff and outside staff, development did not progress as I expected. Mr. Kazuma boils the business in the stagnant progression, "In that case let us do experimental work".

According to Mr. Kagabuchi, the choices in adventure games are unnatural, and it is said that they had a sense of incompatibility "I shoot guns, I choose not to shoot, but I have decided to shoot this character!" about. Thus a magical adventure game "There is no choice""Shiki town"It was decided to be born. Although the third work was also a successful nitroplus, furthermore it was the image of nitroplus = fictitious Xuan.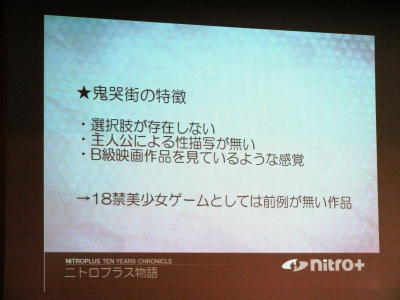 By making a beautiful girl game up to this point, it turns out that the fact that "the plan that began with marketing side gets too hard" SF.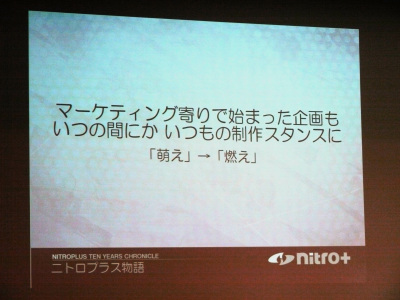 A work that can be said as a representative of that case,"Hello, world."was. Initially, it should have been planned as a game strongly conscious of "Moe", but as we continued development, the route changed to hard SF more and I got a lot of cute girls in the package, but rather than "Moe" It burned "and it became contents.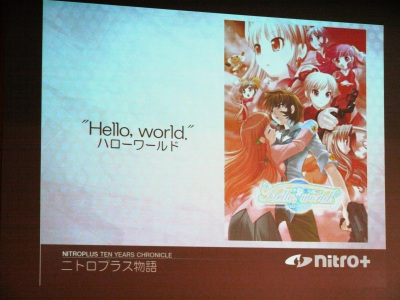 Nitroplus did not produce a hit work that goes beyond the first work 'Phantom PHANTOM OF INFERNO' while accumulating achievements as a girl game maker in this way.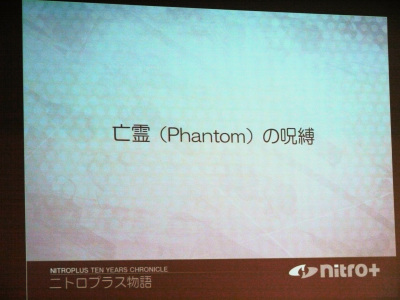 In the midst of thinking that "Nitro is just Phantom," he thought that he would be told, Mr. Kaibutsu recommends steel shop Jin who wrote SS on the net. We added the element of Qutto myth to the robot which was already written by Mr. Steel,"Death of Devil Bane"Planning started.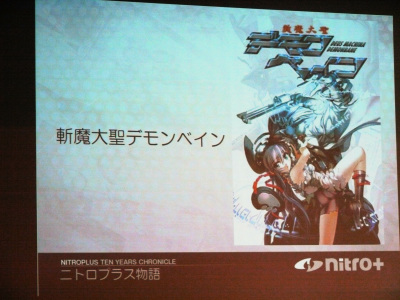 It seems that all strength of the nitroplus of those days was introduced to Demonbain. Successfully bringing in a plan of media mix to Kadokawa Shoten etc, etc. As a result, we achieved sales exceeding "Phantom PHANTOM OF INFERNO".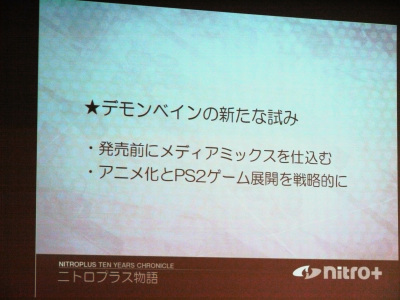 After this, there was a feeling that Demonbein achieved the goal, and at the stage of seeking direction.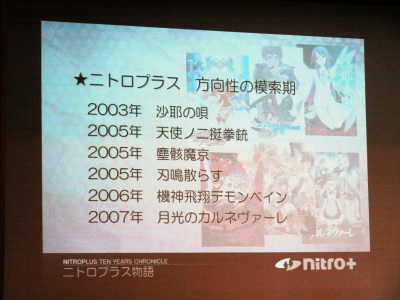 Among them, we also advance into a women's adventure game as a new direction. Brands for womenNitroplus chiralWill be launched. For women,"Togainu no Chi"Achieved top sales of the BL game market.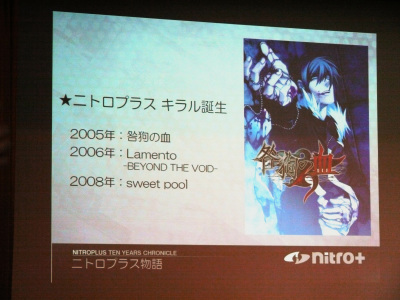 As Nitroplus knows that there are parts that run to their hobby and it is not good to mass produce hits, as a new goal, we plan to collaborate with other companies to make footholds to other media Started.



Collaborated with GONZO and produced "BLASSREITTER".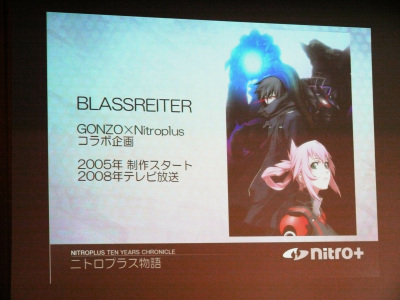 Collaborating with TYPE-MOON and writing "Fate / Zero" by Mr. Kayabuchi. To a record hit.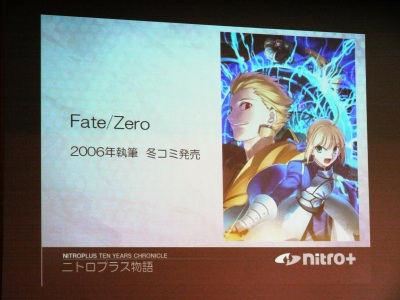 Due to the effect of collaboration, the place of activity also expanded to media which can not be handled independently, accumulation of knowledge and expertise on other media was also made.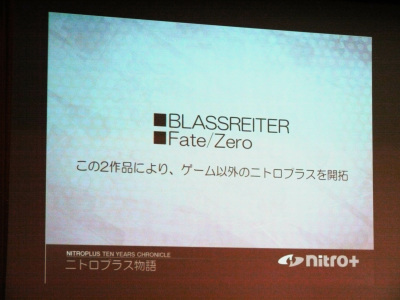 In 2007, Mr. Kakubuchi released his first game in four years, "Continuous - killing Jango".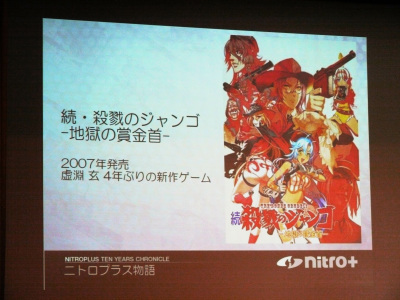 A screenwriter of magical girls' things comes in from Aniplex to the nitroplus which advanced to animation. In this way "Magical Girl Madoka ☆ Magica" was produced, leading to the present nitroplus, it was the 10 years trajectory.



And now, the girls game industry faces three problems. Three problems are "Mannerism of the girls game industry", "Decrease in sales due to illegal copying", "High production cost due to quality competition".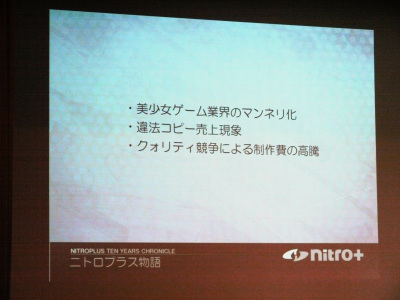 In order to overcome these problems, NitroPlus is reviewing the production scheme and actively promoting collaboration with external staff, and we are going to proceed in a new direction. Science adventure "CHAOS: HEAD" and "STEINSGATE" were born by collaboration with 5 pb.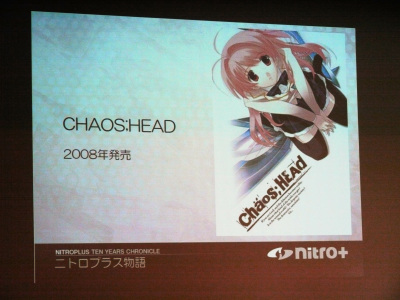 We also promote innovation through a new in-house production system. As creators do what they want to do, the cost rises, but if you do not lower the cost you risk dilemmas that the risk is too high and you can not make challenging works. So, I reviewed works of the company, worked such as "smagga", "Muramasen", "Azanael" etc, which was born by making a new work while reducing cost.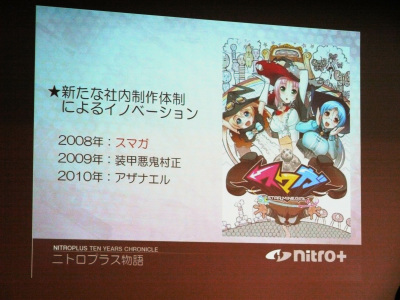 So what is the strength of nitroplus? As one of its biggest elements is still based on the "beautiful girl PC game", he says.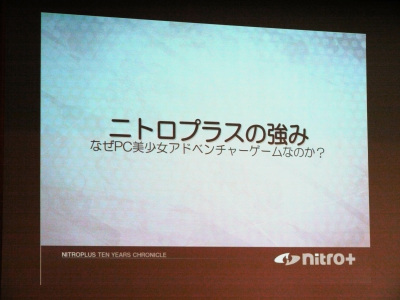 The beauty girl adventure game itself is an aggregation of elements of various contents, while having various expressive power and interactive nature, the charm of the genre itself, which is lower cost than animation and consumer games.



By sticking to it, by proactively developing it further to other areas, it is possible to train creators and at the same time secure profit from secondary use of contents.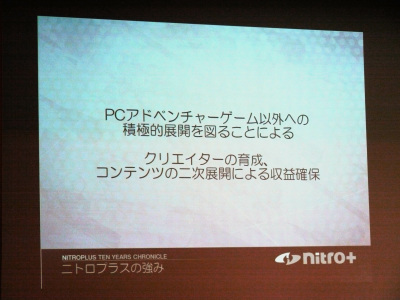 In addition to this, securing a self-funded, licensed by in-house production and a standardization strategy of making a work that remains even after 10 years, 10,000 of the target of 40,000 to 50,000 annual sales About a minute is settled by earnings from past works and it is trying to stabilize profit.

As a goal for the future, we will continue to produce beautiful girl PC games as a field of free production, develop multimedia such as general rating consumers, mobile, animation, comics, novel, etc., It is said that there is a strategy of securing profit from secondary commodities.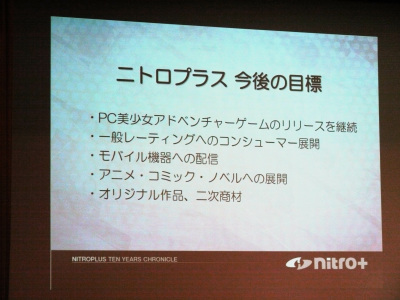 Future release schedule is scheduled to be "Oni" (latest edition, full voice, 15 years old or more recommended) on May 27, "Sonimi" on August 26. In addition, there are many titles under development.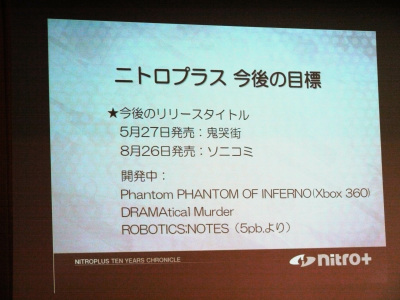 It actively develops in animation.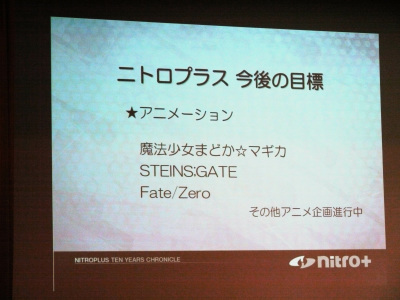 As a further ambition, we have set various goals. A plan to make showrooms on the 1st floor of Asakusabashi Bridge is also under consideration.



Ideally, in Odaiba to deliver the feeling like the Gundam standing behind the sea and the forest to the user. Mr. Naotaro said, "I did not imagine thirty years ago that such things would happen, I would like to provide an unimaginable impression." He seems to have made 2 meters of demon bain in Nitroplus, and he is still decorating in the meeting room of Nitroplus.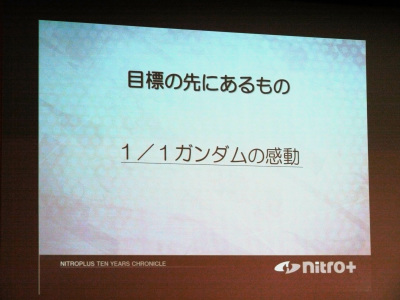 Nitroplus thinks about three things necessary for achieving such a goal: "work love", "challenge" and "trembling entertainment."

First of all, "work love" is a thought to a work. Mr. Tajima said that the easiest way to have a mindset is to engage in making that work. Nitroplus does not have the concept of "production line", the project I want to do is moving behind while doing the main work, when starting to start in earnest, people gather and steadily almost all members It will come to make it with. Nitroplus emphasizes importing love into works rather than competition within the company, and it is born by directly engaging in the work.

And Mr. Tagusa said "It's fun to challenge, I do not get bored." To do the same thing and continue to raise the quality is painful even if you like it. It is important to create a production environment that can always be enjoyed by preparing an environment where you can always challenge new areas.

When he saw the "legendary giant idea", Mr. Naotaro said that he felt a tremendous excitement, which was touched as "leaving a scar on his heart." "Entertainment trembling the heart" seems to be to make works that give intense impression, such as scoring something in the user's mind.



In addition to these, I heard that Taro Tazu strongly realized that "binding" is necessary, by involving animation. It is actually very rare that a work collaborated between manufacturers hits, but this is because I think that this is thanks to the importance of the bond that nitroplus thinks.



Regarding this earthquake disaster, in addition to making a reconstruction support song at "Sonikomi", we plan to turn that sale on the tour to donation.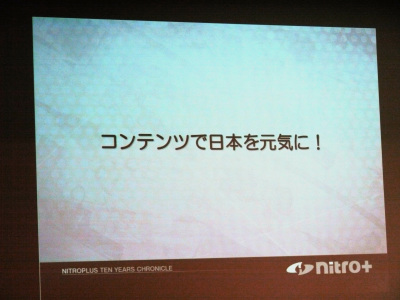 It was a lecture that I felt that nitroplus had spent quite a bit of time for ten years. Some people say that they do not see animation and games much, some people may have learned nitroplus at "Magical girl Madoka ☆ Magica", but if you are interested, touch the past works of Nitroplus please look. If you like weapons or "burning" you should have a work that touches the choto line in particular.