"Higurashi no Naku Koro ni" All 26 episodes are free to be delivered at once, a scourge again in Golden week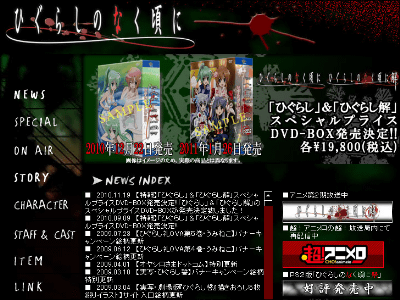 The first version of "Demon Hidden Hen" in the summer of 2002 was released as a doujin game, making it into TV animation, consumer games, comics, and even live action moviesHigurashi noWhatIn about time"It is decided that all 26 episodes of the first season of TV animation will be delivered free of charge at once.

Details are as below.
According to the official page of Nico Nico Live broadcast, the animated TV version "Higurashi noWhatIt seems to deliver all 26 episodes of the first season for free in a row for the second day in a row.

Delivery schedule is "demon hidden edition" ~ "祟 killing edition" opened on April 29 (Friday, congratulation) 17:50, opening 18:00, "killing time" ~ "killing death" is April 30th ( Saturday) open at 18:20, scheduled for opening 18: 30. In addition, this broadcast also supports viewing with "premium high-definition" for premium members of Nico Nico Douga and viewing from mobile phones.

The details of the first part below.

Nico Nico Animation Special "Higurashi na Kure ni ni" Two Night Continuous Broadcast ~ Part One - - Nico Nico Live Broadcasting



The details of Part 2 are as follows.

Nico Nico Anime Special "Higurashi na Kure ni ni" Two Night Continuous Broadcast - Part II - - Nico Nico Live Broadcasting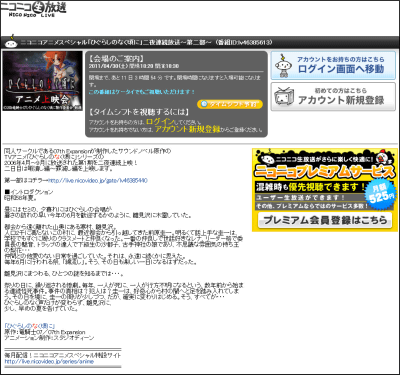 The introduction of this work is like this. What is the identity of a tragedy repeated every year on a festival day?


Showa 58 summer.

Semi in the noon, Higurashi choir in the evening
As if welcoming the early June of this year's hot weather, I was spirit in Hina Masuzawa.

A cold village in the mountains far from the city, Hina Masuzawa.
Keiichi Maehara has recently moved from this city to this village with a population less than 2,000. Keiichi who is bright and good at talking became friends with her classmates immediately at school. Rena who is the best friend and cheerlerer, she is a leader and chairman's attraction, trainee of a trap, a girl in a lower class, a daughter of an old hand shrine, a woman with a strange atmosphere ...
I had a daily life without companionship with my colleagues. It seemed like it would last forever.
A festival held in June every year, "cotton sink". Well, that day was supposed to be a fun day, too.

Until we know one mystery about Hina Masawa ....

A scourging tragedy repeated on the day of the festival. A continuous killing incident starting several years ago that one person dies every year, one person becomes missing. What is the truth of the case? The culprit? Keiichi step into the village's darkness from curiosity. Keiichi's surroundings gradually gradually start from that day, but it surely begins to change. Yes, everything ...
Only Higurashi without voice has changed, To Hina Masuzawa,
A little early summer was told.

"Higurashi noWhatThe official page is below.

Oyashiro-san dot.com - "Higurashi no Naku Koro ni" "Higurashi When They Cry:" "Higurashi no Naku Koro ni Rei" Official Site