"Sayonara Zetsubo sensei" All 38 talks are decided for free delivery at once, "15 hours endurance race of despair"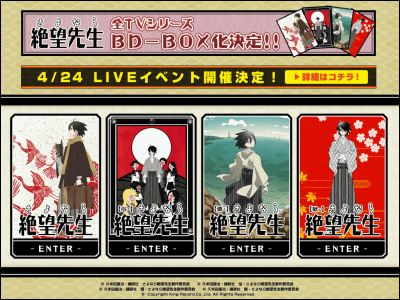 Koji Kumeida's original animation of the same name comic was animated, "Sayonara Zetsubo Sensei" series boasts very high popularity such as being released as OVA in addition to three times of TV animation,Blu-ray BOXWe decided that 38 episodes of the TV series will be delivered at once free of charge, to refrain from doing.

Because it is delivered for 15 hours continuous running, "lost hope! Desperate teacher despaired delivered through 15 hours!Although it is a plan that the voice that seems to be heard is heard, it is quite fun for fans that it is just a desperate sensei teacher.

Details are as below.
Nico Nico Animation Special "Sayonara Zetsubo Sensei Series" One Broadcast - Nico Nico Live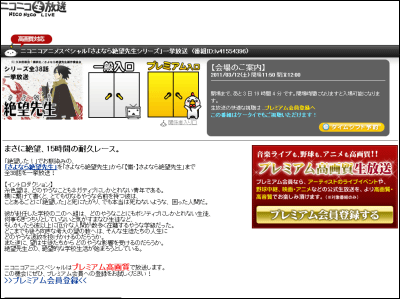 According to the official page of Nico Nico Live Broadcasting, it seems to broadcast all 38 episodes from "Sayonara Zetsubo sensei" to "【Compendent】 Sayonara Zetsubo Sensei" for 15 hours all at once. Broadcast date and time will be March 12 (Saturday), opening 11: 50, the opening of 12:00 will be scheduled. It can be viewed from mobile phones.

In addition, this broadcast also supports broadcasting at "premium high-definition", premium members of Nico Nico Douga will be able to view with high image quality.

The same introduction is below. In addition, the phrase "desperation teacher" in the title of the same work is derived from the hero's appearance as "despair" if the last name of the teacher's "Yomogi Nozomi" is written horizontally.


Yarn looking is a youth who can take just about anything negative.
He connects to the side and writes, he has a name that will be very disappointing,
It is an embarrassed person who wants to die "despairing" every time, but it really can not die.

The second group of schools he transferred to is a student who can take only positive in any case,
I am sorry that students do not have anything hurt,
Perhaps it was such a class that a lot of troublesome people would enroll over him.
To the teachings of the desires of retrospective ideas to the best, to such students' lives
What kind of ripple would you cast?
On the contrary, what kind of influence does the hope receive from the students?
Desperate school life with despairing teacher is about to begin.