"Anonymity is not a lack of reliability", the founder of the American anonymous bulletin board "4chan" criticizes Facebook's Mark Zuckerberg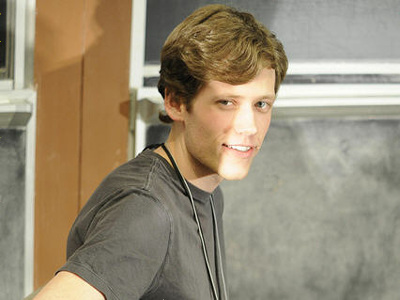 ByD I L L W E E D

SXSWIn his keynote speech, the same anonymous bulletin board in the US like 2 Channel "4chan"Founder of Chris" moot "Poole said"Mark · ザ ッ カ ー バ ー グ"The recognition of anonymity is wrong" was made.

Speaking of Mark · ザ ッ カ ー バ ー グ, real name registration type SNS which continues expanding at the momentum of bamboo now "FacebookFounder of ","Having two identities for yourself is an example of a lack of integrity."It is an example of lack of consistency to have two identities", and Mr. Poole is criticizing this as "it is a false recognition".

It seems that anonymity in the Internet is divided between pros and cons, but also in the United States it seems that opinion to review on anonymity appears. Details of the lecture are as follows.Privacy and Security Fanatic: 4Chan Founder Moot: 'Anonymity is authenticity,' Zuckerberg 'wrong'

Chris "moot" Mr. Poole made a keynote speech at SXSW (South by Southwest) on Sunday, giving lectures on anonymity, privacy and creativity, among which when a user logged in with a real name like Facebook "Compensation for failure is great."

For Facebook, which is proclaiming real name registration, 4chan created by Poole is a bulletin board of completely anonymous system. Despite being a media that users collect and make up as well, their attitude is in contrast.

Mr. Poole believes in freedom of anonymity in expression, "Users who do not know share one thing together", making the user more "flexible and creative", under the real name I will try to tackle something I did not do.

Poole also said, "Zuckerberg equates anonymity with lack of timidity or credibility, which is totally wrong, I regard anonymity as a reliable anonymity "We can share information as raw without any filtering," he criticizes Mr. Zuckerberg.

The video below is a keynote speech by Mr. Poole.

YouTube - moot gives a speech with a hangover @ SXSW part 1/3


YouTube - moot gives a speech with a hangover @ SXSW part 2/3


YouTube - moot gives a speech with a hangover @ SXSW part 3/3


On the other hand, however, Poole's newly launched "CanvasIn order to participate in the image sharing / collaboration project named "You need to log in to Facebook and create a profile. Mr. Poole said about thisAll users' identities remain anonymous. However, it differs from 4chan that all contents are archived and recorded on individual profiles"This registration also eliminates about 20% of potential trouble makers and prevents vandalism and spam. In the video, Mr. Poole says "You can post anonymously", but this does not mean that you can post without logging in to Facebook, but it seems to be necessary to log in to the end.

4chan initially started with fewer than 20 users, but now there are 25 million users per month. However,Number of users who are said to be 600 million people on FacebookSlightly compared to. Mr. Zuckerberg may still be weak enough to combat the claim that "having two IDs is lack of consistency".

Top page written in Japanese of "4chan". "Everyone can easily participate in 4chan, but please do not fight each other on this site, the fight just makes everyone's atmosphere worse.Please tell your friends by all means if you can protect even that." A message is written.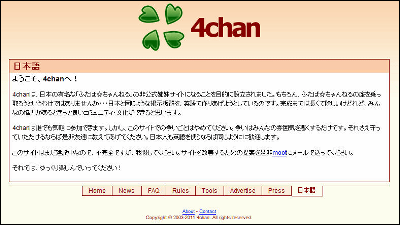 Richard Durbin of the Senate majority party hospital secretary,I'd like Mr. Zuckerberg to make Facebook available anonymously for political activities, But Facebook already has a huge ID ecosystem, as ifAs if trying to issue a driver's license on the InternetI am showing you.

In addition, Mr. Zuckerberg and Facebook do not seem to be trying to kill anonymity. Twenty years ago "Global catalog(Global catalog) "IssuedStuart BrandMr. tried to eliminate anonymity as Facebook did. Mr. Stuart BrandInterview with BBC"Although anonymity seems to be thought to make people saying important things free, it seems to me that it is becoming easy to insult the other party as it will not be retaliated even if I say bad things I was shocked when I saw a very responsible businessman or scientist who showed anonymous a place to speak and showed the same viciousness and violence as any other person. " I am talking.

Also, Google former CEO Eric Schmidt said "There will be no future anonymity on the InternetI am clarifying the opinion that. Mr. Schmidt further states that anonymity is dangerous and the government will demand that exclusion in the future.