Self-Defense Force fire-fighting vehicles start discharging from Fukushima Daiichi nuclear power plant from evening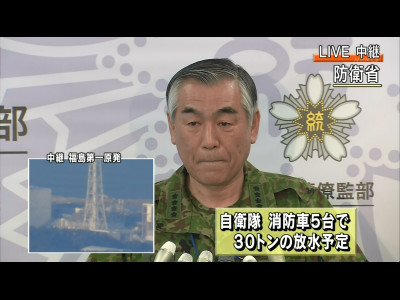 It was announced at the interview of the integrated staff president conducted at the Ministry of Defense that from the evening it is scheduled to discharge the SDF firefighters with firefighting vehicles.

Today there are problems with radiation figures so we have about 5 out of 11 units and we will consider efficient operation from tomorrow onwards.

Details are as below.
2011/03/17 16: 49
Ministry of Defense / Integrated Stewardship Contents The contents of the interview are as follows.

Currently undertaking missions with land, sea and sky. We are making efforts to support as much as possible centering on each SDF. We are doing living support and reconstruction assistance concurrently, but try to be able to meet the expectations of the people. As this disaster is a wide area disaster, we believe that we have to respond for a long time, so we will work with full power.

(Against Fukushima Daiichi Nuclear Power Plant) water was dropped by helicopter in the morning, fire fighters were dispatched from J Village in Hirono at 16: 12. We are planning to carry out firefighting from land, sea and air, today we have problems such as numerical values, so we will operate about 5 units and discharge 30 tons. I think that it can be drained in the evening. We will consider efficient operation while coordinating firefighting operations after tomorrow with countermeasures headquarters etc.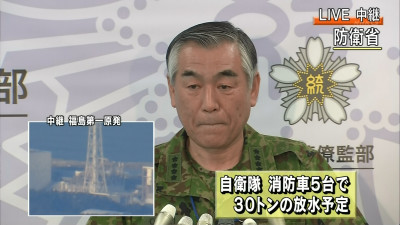 The way of discharging water is like this. Since it is necessary to consolidate when it is 11 and 11, it is said that we will operate on 5 and not needing consolidation.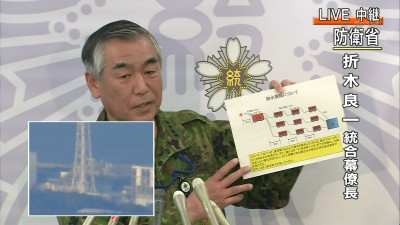 2011/03/17 16: 58
The Metropolitan Police Department plans to start draining water in about 10 minutes.

2011/03/17 17: 47
The SDF is expected to start draining water at 18 o'clock.

【Radioactivity Leakage】 Self-Defense Force Fire-fighting vehicles are scheduled to start draining at 6 pm Follow-up director-general forecast - MSN Sankei News

2011/03/17 18: 01
According to the NHK, the SDF is scheduled to discharge water shortly, and the riot police are planning to start draining soon.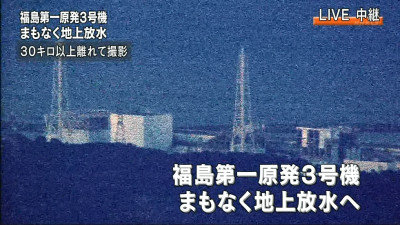 2011/03/17 18: 27
【Radioactivity Leaks】 Amano IAEA Executive Director, To Avoid Lack of Information Visit Japan - MSN Sankei News

Secretary General Yukiya Amano of the International Atomic Energy Agency (IAEA, Headquarters Vienna) said at a press conference on 16th, "It is difficult to grasp the facts by simply exchanging e-mails," he said Tuesday evening on Japan I showed my idea. We gather information in Japan and open an emergency council. A question mark is also placed on the ability of the IAEA to respond to the crisis "incorrect nuclear guard" who accidentally mistakenly evaluated the initial accident due to lack of information from Japan.

· Next report
Due to the high radiation dose, the Metropolitan Police Department suspended the water discharge by the high pressure water discharger - GIGAZINE
in Note, Posted by logc_nt