Product prices such as flash memory and liquid crystal display, soaring worldwide following the earthquake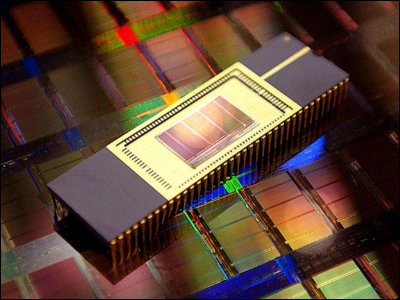 ByMtlin

Although the Tohoku Region Pacific Offshore Earthquake has affected domestic distribution, it became clear that prices of semiconductor products such as flash memory and products including liquid crystal display will soar worldwide in the future .

The price is already rising in some products already.

Details are as below.
Japanese Earthquake to Impact Component Supply and Pricing

According to the survey company iSuppli, which is familiar with the actual disassembly of the iPhone and iPad and investigating the manufacturing cost etc, according to the announcement of the iSuppli survey company, the Tohoku Region Pacific Offshore Earthquake caused the semiconductor such as NAND type flash memory and DRAM (Dynamic Random Access Memory) Products, liquid crystal display panels, liquid crystal parts, etc. are underpowered, and there is a possibility that the price may rise dramatically.

At present, damage reports on electronic equipment production facilities are few, but the impact on transportation and power infrastructure causes supply shortage and it is thought to cause price rise.

Toshiba's share of Japanese manufacturers accounts for approximately 35% of the world's NAND flash memory production, and the share of Japanese manufacturers including Sharp has reached 14% for LCD TV panels, Hitachi supplies small displays for the "Nintendo DS" series and LG Electronics' mobile phones.

In addition, the color polarizing plate that Fuji film handles is also an indispensable part for liquid crystal display, and if the supply drops, the product price will rise. The spot price of the large capacity NAND flash memory (the market price in the case of obtaining a relatively small amount) has already increased by 10% and the DRAM has increased by 7%.

In addition, at the time of the Tohoku Region Pacific Offshore Earthquake occurred, inventory of semiconductor products that had been circulating in the world market is high, it is thought that supply shortage will not occur until the end of March or early April, but the final It is pointed out that the possibility that the impact on the price of semiconductor products will continue until the third quarter of 2011 is high.

Japanese Quake's Impact on Wafer Fabs - IEEE Spectrum

By the way, the major semiconductor manufacturing bases in Japan are like this. Various bases such as Panasonic, NEC, Toshiba, Sony, ROHM, IBM, TI, Freescale, etc. are located throughout the country.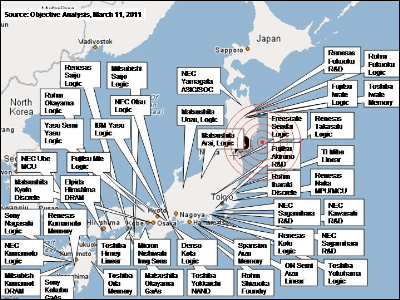 in Note, Posted by darkhorse_log