Apple will finally announce the event tonight and "iPad 2 (Tentative)" will appear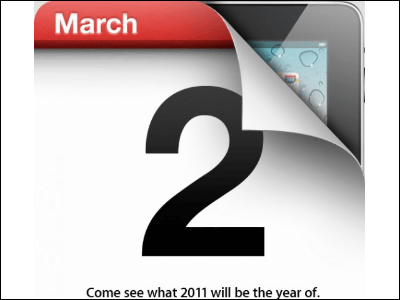 About one year or more since the official announcement of January last year, it is about the successor model of "iPad" thought that it is about time to appear, but at last the Apple will perform a recital today in Japan time tonight I will.

Of course there is a possibility that what is announced may not be the successor model of the iPad, but it is not likely to keep an eye on what kind of announcement will be done in any case.

Details are as below.
Apple Staffer: iPad 3 Is The One To "Make A Song & Dance About" | Cult of Mac

Four things to expect from Apple tomorrow | Apple - CNET News

According to these articles, Apple says it will be held on March 2nd at 10:00 AM (3:00 AM on March 3 in Japan time).

The announcement will be held at "The Yerba Buena Center" in San Francisco, which is familiar with Apple's new products such as "iPhone", "iPod touch", "iPad" being announced.

The image of the invitation card looks like this. It looks like a successor to the iPad ... ....?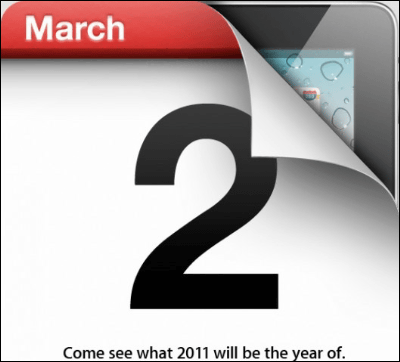 Although the specific announcement contents are not revealed, not only "iPad 2" but also the possibility of appearing later this year "iPad 3", a new version of iOS, Mobile Me service renewal , Services intended for business users, etc. are expected to appear.
in Note, Posted by darkhorse_log