I asked Sony directly what happens to the current PSP UMD software at the next generation PSP "NGP"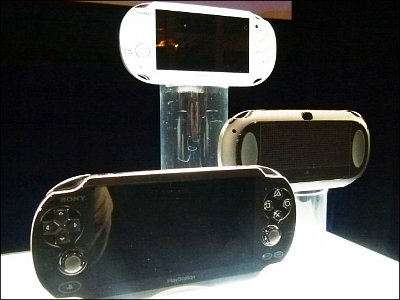 Performance improved dramatically at the event "PlayStation Meeting 2011" which took place in January 27 for the first time in about 5 yearsA new PSP "Next Generation Portable (NGP)" was announced extensivelyHowever, NGP employs a flash memory card instead of the optical media "UMD" that the current PSP adopted as game media.

If that happens then I am concerned about what UMD software purchased by current PSP users will be, but I directly contacted the public relations department of Sony Computer Entertainment (SCE).

Details are as below.
This time GIGAZINE editorial department to the SCE public relations department"What will happen to UMD's support adopted by existing PSP series at NGP?" "Are you planning to implement existing UMD assets in the future?"I asked about that.

The SCE Public Relations Department says, "Since there are overlapping parts, we will reply together at once" and answer as follows.

SCE Public Relations Department:
While receiving cooperation from software makers, we also distribute titles released in the past in the UMD from the PlayStation Store in order. However, as there are multiple items that need to be examined, such as rights relationships, in distribution, not all titles can be delivered. Regarding the correspondence schedule of individual titles, we will announce again.

Also, although you are asking whether users who already have UMD version titles will have to purchase titles again with the PlayStation Store or NGP card version to play those titles in NGP In this regard, we are also considering various possibilities, but there is nothing to guide you at the moment. Attachments like so-called "UMD readers" are not planned at this time.

A newly adopted flash memory card (right). Compared to the SDHC memory card (left), its size hardly changes.



In other words, although support of existing software assets is "currently under consideration", NGP does not seem to be able to directly play "UMD version".

Nintendo, which precedes the handheld game machine, also abolished the correspondence with the "Game Boy Advance" which was supported by the conventional Nintendo DS series when releasing "Nintendo DSi", so "support of the old generation media will be canceled someday I understand that you can say "It is a place where you want to avoid situations that are too suddenly aborted as much as possible.