Studio Ghibli latest work is published by "Mr. Miyazaki Goro" from "Kokurikozaka", released in the summer of 2011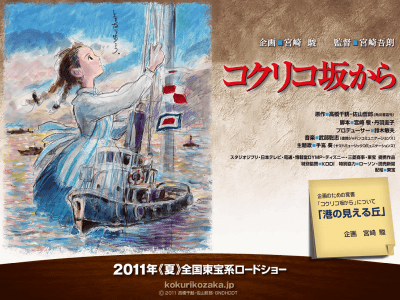 It is a world-renowned animation production companyStudio GhibliThe latest work of "From KokurikozakaIt became clear that it is.

This is based on a girl's manga serialized as "Nakayoshi" in 1980, and the director is Mr. Hayao Miyazaki's eldest son and he is said to be Mr. Goro Miyazaki who supervised "Gedo Senki". It's time to release is summer 2011.

Details are as below.
Official site from Kokurikozaka

Production of Studio Ghibli's latest work, "Kokurikozaka" was announced. Director is Goro Miyazaki since "Gedo Senki".

Ghibli latest work is directed by Mr. Goro Miyazaki "From Kokurikozaka": Movie News - Movie. Com

Speaking of Studio Ghibli, it is an animation production company that handles many feature animation movies, and it is an animation production company that covers a wide range of generations, such as "Princess Mononoke" by Hayao Miyazaki, "Spirited Away" "My Neighbor Totoro", "Tomb of the Fireflies" by Isao Takahata It is known to.

Since there are many feature films, the work has been released every other year since "Cat Returns" (Director Hiroyuki Morita) in 2002, "Borrower Arrietty" directed by Hiromasa Yonebayashi was released in 2010 However, it seems that Ghibli work will appear on the screen for the second consecutive long.

Summer of 2011TohoAnnounced as a work line-up "From Kokurikozaka"Is a girl's manga by Mr. Chizuru Takahashi and Mr. Tetsuro Sayama, a work serialized in" Nakayoshi "from January 1980 to August. Comics are two volumes. Director Hayao Miyazaki has been reading this work for many years, and when a new version was released in July of this year, he gave a nomination recommendation to the belt, and producer Toshio Suzuki told the girls' We are currently planning to consider it, "but apparently it seems that the decision to" be a movie "has come down.

Director Hayao Miyazaki's eldest son, Mr. Goro Miyazaki. In 2006, he made his directorial debut with "Gedo Senki", and box office earnings recorded the first of this year, but on the other hand, Le Figoin, the original author, showed discomfort when it was a different work from the original In addition, critic of film also received a strict evaluation.

Will "Kokurikozaka come from" be a proud work as masterpiece of Director Miyazaki Goro? I am looking forward to 2011.