A movie of the huge human tower "Castell" traditionally of Catalonia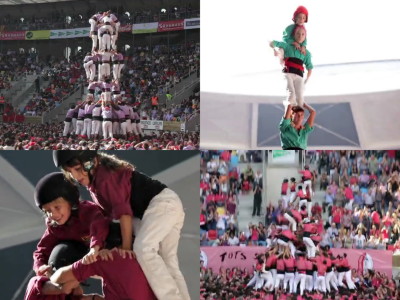 CatalunyaA human tower made in rural areas such as festivals "Castell"(Catalan languageAt the end of the 18th centuryTarragonaSuburbsVallsTraditional culture called birthplace. A complicated human tower that reaches as many as ten in the case of a high one is exactly to call "castle", it is a crystal of courage and team work.Franco administrationUnder the circumstances we have been banned for a long time, the tradition of "Castell" has revived in Spain when Franco's death was demolished, and in Tarragona the team called "Colla Castellera" once every two years is the human tower I am competing for making.

This "Castell" came on the 16th of November the other dayUNESCOofWorld Intangible Cultural HeritageIt is said that it was registered. So, I will introduce the image of the phenomenon of the astonishing human castle.

Details are as below.Casteller on Vimeo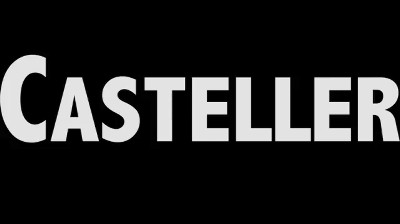 It is a state of the 2010 convention held in Tarragona the other day.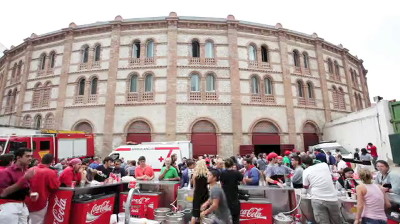 The uniform of "Casteller" is a team color shirt and white pants, with a black band called "Faixa" wrapped around the waist.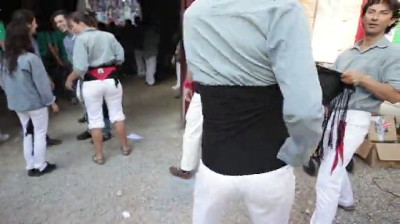 "Faixa" is a clue as a clue and a foothold when going up the person's back, and it is also a supporter to prevent the back from hurting for the winding principal. The length of the band is 1.5 meters for short ones and 12 meters for long ones, which seems to be wrapping a long strip as usually as Casteller in the lower layer.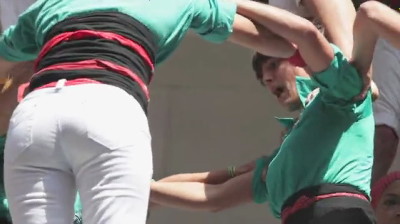 Casteller from the second row to the upper is usually a soup because it is to prevent people from injuring and the ease of balance.



Castellers and others filling the venue.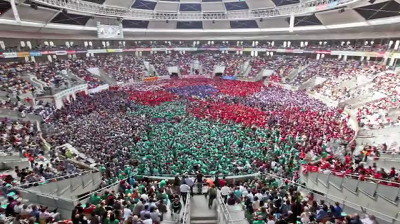 Although it may seem that it is made by circling teams and creating a circle, in fact this is the first stage of making Castell. It is called "Pinya" which consists of hundreds of people, which are the founders of the tower.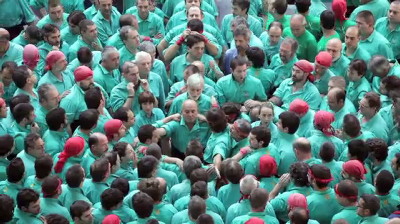 Hundreds of "Pinya" support the weight of Castell and also have a role to catch the fallen people.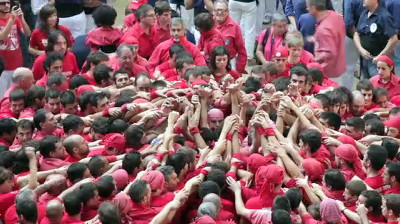 Pinya consists mainly of men, judges Castell's achievement, and takes command of making Castell from the ground.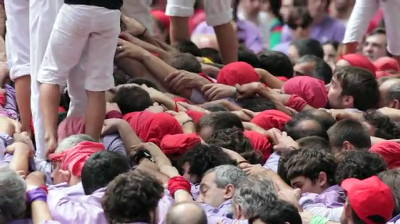 Casteller on the lower floor is only strong men, but still there is a limit to the amount of time that five people, six people can support up with their shoulders. Casteller of the third layer rises, the fourth layer rises above the third layer, and Casteller of the upper layer further rises above that, the setup and the speed are fighting is.



Castell stands here and there. Purple shirtTerrassaof"Colla Castellera Minyons de TerrassaThe team called.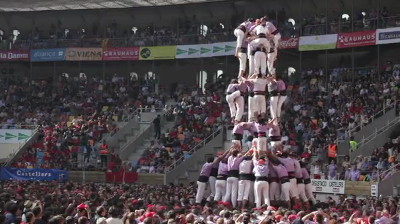 Red is the birthplace of CastellVallsof"Colla Joves Xiquets de Valls", GreenVilafrancaof"Castellers de VilafrancaThe team called.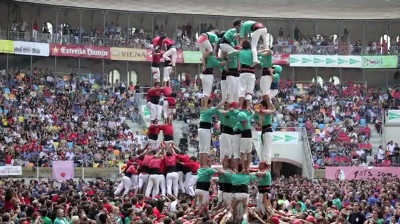 Pink is "Colla Vella dels Xiquets de VallsThis is also the team of Valls.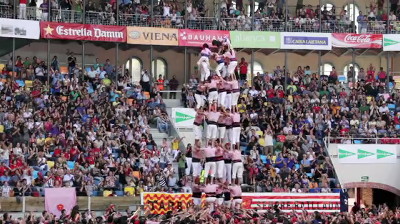 Blue is "Castellers de la Vila de GràciaThe team called. There are various forms of Castell. For example, if you have 8 layers of Castell with 1 layer consisting of 4 people, you can basically say "Quante de Vuit (4 × 8)" in the name of "First floor x Floor" Is decided. In the case of Castell, it seems that the second row on Pinya is not the 4 people but the foundation of the number of adults called "Folre", so it is called "Quatre de Vuit amb Folre".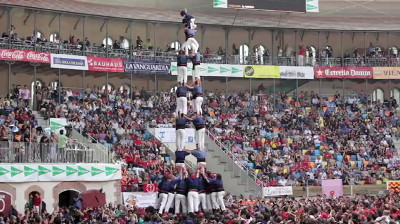 Casteller on the upper floor is mostly lightweight women.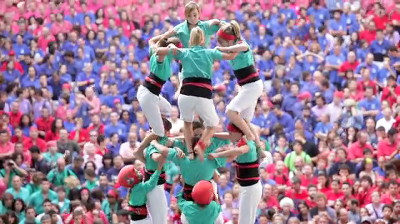 The top three layers are called "Pom de dalt" and in most cases they are the role of children.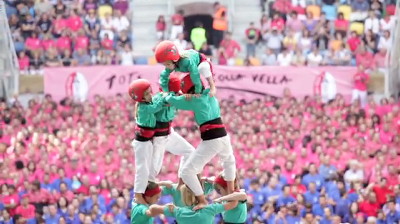 The top Casteller "Enxaneta" stands on top of the two people called "Dosos", but this Enxaneta has to raise one hand in order to be admitted that Castell was completed, so the two heads of Dosos And standing directly on the shoulder is unstable. So, it is supposed that a child called "Aixecador" is posted to lock the two of Dosos, and Enxaneta is on Aixecador.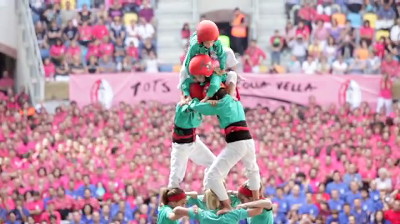 Even the top Enxaneta and Alixecador that supports it are very courageous and important roles.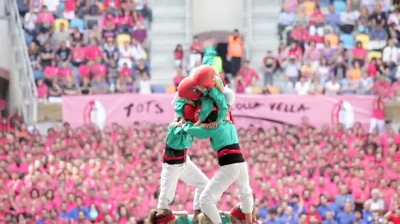 When Castell is completed, I will take turns from the children in the upper layer.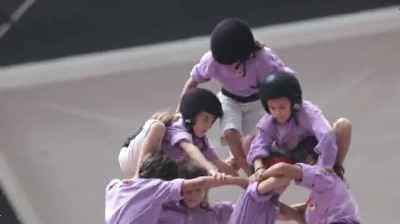 If you do, it will get downhill free ... ...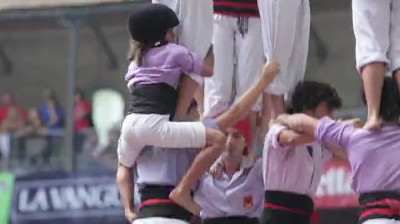 I will run over the people of Pinya as the foundation.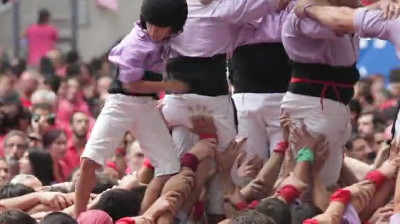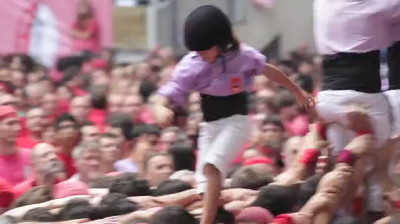 It seems he was running to his mother.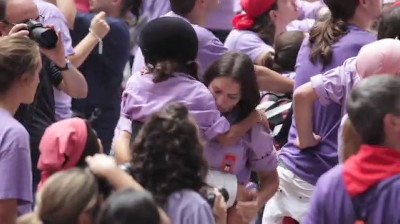 Children of "Pom de dalt" wear a helmet. Casteller sometimes falls by more than 10 m, but there are surprisingly few fatal accidents, only two in 30 years. There is a person's sea "Pinya" that will catch even if it falls, so the mortality rate at falling may be lower rather than cheerleading lifts or gymnastics at athletic meet.



Nonetheless, there are still a lot of injured people, and even during this festival, Castell is always prepared for relief, including festivals.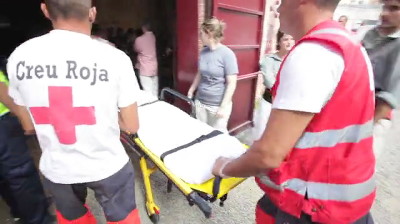 It seems that the nosebleed has come out of this man.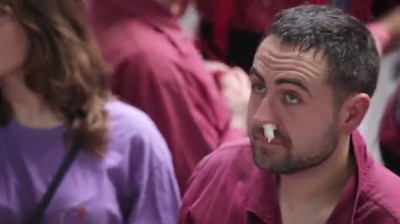 The first accident is likely to happen when Castell disassembles. When Enxaneta raises one hand and is completed, descends in descending order from the upper stage, and when nobody finishes dismantling without falling down, it is called "Descarregat", but when it was completed but the tower was dismantled If it collapses it is called "Carregat". Castellers and others aim for "Descarregat" in a higher and more complex tower.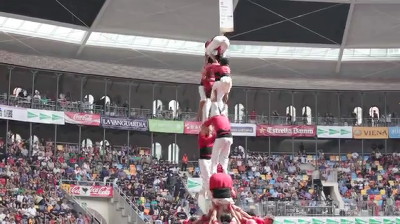 When collapsing it will be in a flash.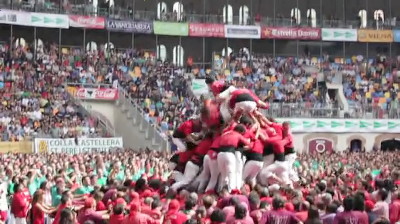 At the time of such collapse, I feel that there are many injured people on the foundation below the one falling from above. It seems that there are many cases where the top child collapses after getting off and Casteller who reaches the limit of muscle strength in the lower layer may be trying to keep on trying until the child gets down safely.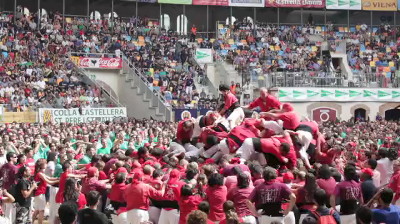 The top child "Enxaneta" stands up 4 fingers and raises one hand, but this 4 finger isFlag of CataloniaIt is said that it symbolizes the four lines.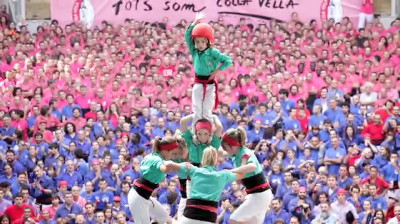 After completing this Castell, the surroundings descend while leaving a tower consisting of one layer at the center.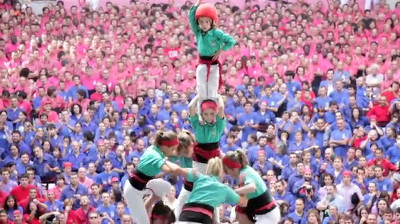 This tower is called "Agulla (needle)", for example if you have a tower of 1 person × 8 floor in a 4 person × 8 floor tower, it is called "Quatre de Vuit amb Agulla".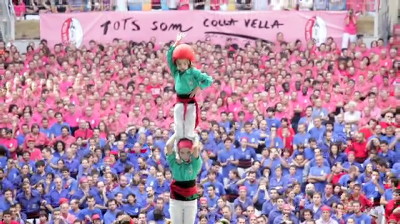 It is also convincing that it is said that "Força, equilibri, valor i seny (power and balance, reason and courage)" is required to become Casteller.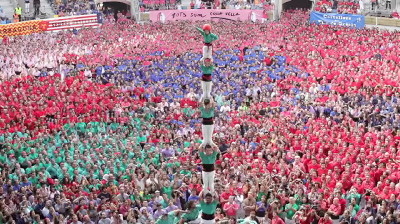 I will also dance and watch over the galleries of other teams.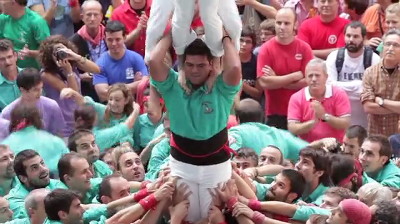 I got down from the top Enxaneta children in order, and I was able to disassemble without falling.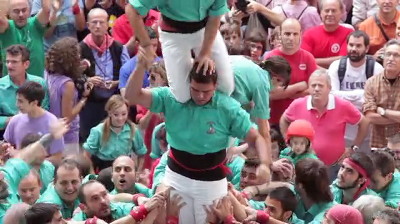 It seems that the green team "Castellers de Vilafranca" won the championship, confetti snow flying.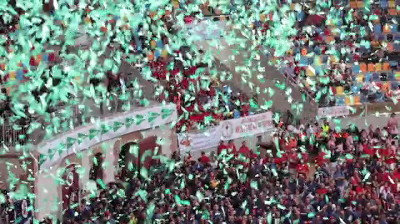 It is a really nice look.