It is only 3000 yen, how surprisingly low manufacturing cost of "iPod nano" revealed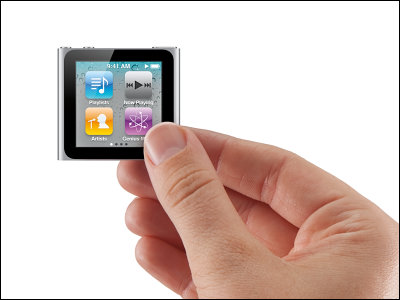 On September 2nd of Japan time Apple, including the new iPod touch with specifications closer to iPhone 4,We released the latest iPod seriesHowever, the manufacturing cost of "iPod nano" which made a bold change in model, such as loading a touch panel, became clear.

It is manufactured at an extremely low cost of 3000 yen, and it seems that the manufacturing cost has increased by mounting the touch panel, and it can be manufactured at lower cost than the conventional model.

Details are as below.
ISuppli Estimates New iPod nano Bill of Materials at $ 43.73

According to the survey company iSuppli which is investigating the manufacturing cost etc. of the iPhone and iPad, according to the announcement of the familiar survey company iSuppli, the 8 GB model of the newly released 6th generation "iPod nano" (selling price 149 dollars, about 12,500 yen ) Has a component cost of $ 43.73 (about 3670 yen), and the total cost of manufacturing is about $ 45.10 (about 3790 yen).

Breakdown of manufacturing costs. The most expensive parts are 8GB flash memory ($ 14.40, about 1210 yen), followed by the touch panel ($ 11.50, about 970 yen), which accounts for more than half of the manufacturing cost.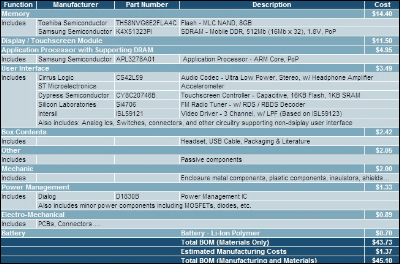 Although the iPod nano series basically keeps manufacturing costs down to about a third of the selling price, the new iPod nano omits the camera from the conventional model and does not increase the capacity of the flash memory, By making it unchanged, despite installing a touch panel newly, it seems that he succeeded in further increasing the profit margin over the conventional model.

New type "iPod nano" equipped with multi-touch compatible 1.54 inch (240 × 240) display, FM radio, acceleration sensor.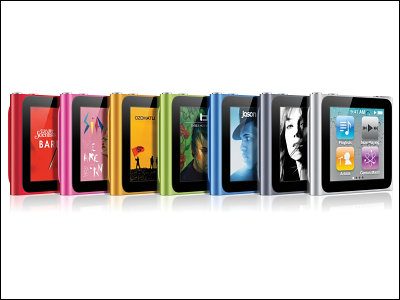 So Apple will combine a powerful content delivery platform called iTunes and the App Store with music professionals and mobile phones with a high profit margin, but will there be a presence to stop this momentum ...?