Toshiba officially announces Android tablet "FOLIO 100", 3G model also appears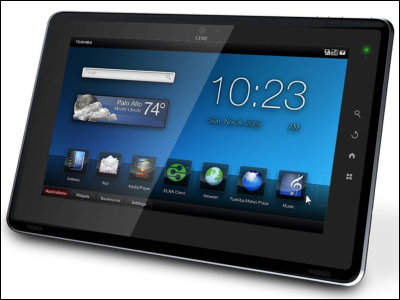 The other dayToshiba is planning to announce Android tablet soonWe announced, but the official announcement was done at last.

Although it is a model called "SmartPad" in advance information, the official name is "FOLIO 100It is "NVIDIA's Tegra 2 processor for high graphics performanceAnd 3G communication functions in addition to supporting FLASH content that rival iPad does not support.

Details are as below.
(PDF file)Intuitive interface, fully featured, Flash 10.1 support.
Introducing the Toshiba FOLIO 100 mobile internet device

Toshiba Folio 100 Goes Official, 399 Euros in Q4 | Android Phone Fans

According to the press release released by Toshiba's British corporation and the above mentioned article, the company is to release the Android tablet "FOLIO 100" for Europe, Middle East and Africa in the fourth quarter of 2010. The selling price in the UK is 329 pounds (about 42,700 yen).

"FOLIO 100" is a 10.1-inch multi-touch LCD and NVIDIA's Tegra 2 processor that drives at 1 GHz, a 16 GB internal memory, a wireless LAN compliant with IEEE 802.11 b / g / n, Bluetooth 2.1 + EDR, a 1.3 megapixel camera, an SD memory card Slot, miniHDMI terminal, USB2.0 port etc. model, etc., Android 2.2 is adopted as OS, also supports playback of FLASH contents and HD movies. Battery operation time is 7 hours.

This is "FOLIO 100". The main body size is 281 mm × 181 mm × 14 mm, and the weight is 760 g. Equipped with 9.7 inch liquid crystalThe main body size of the iPad is 242.8 mm × width: 189.7 mm × 13.4 mm, the weight is 680 g (in the case of the Wi-Fi model)Considering that it is, a slightly larger impression. A model that supports the 3G communication function will appear in the first quarter of 2011.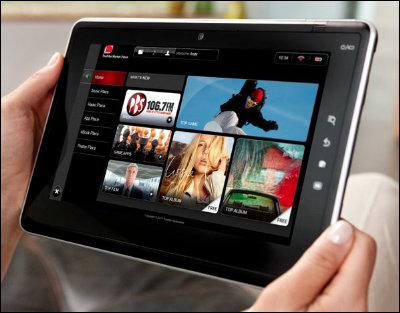 By the way, the release in Japan is undecided, but in 2008Mexico corporation of Toshiba announced netbook "NB 105"Also,A similar model was announced in Japan before less than a month agoConsidering that, it may not be long before there is a presentation on models for Japan.