Actresses in Cosplay announced "Magical Princess Minky Momo" musical at a conference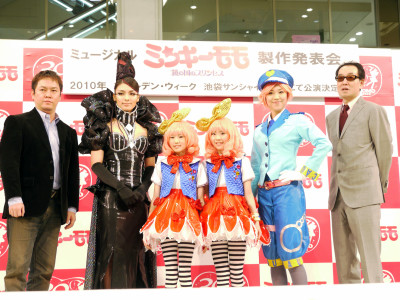 2012 is the 30th anniversary for Magical Princess Minky Momo(a.k.a. Magical Princess Gigi in some countries). Saluting this memorable year to come, they are launching various projects.

Some of them were already introduced on Tokyo Anime Fair 2009, including serialization on magazines and re-airings. And now we got another impressive act. This beloved magical-girl anime is coming theater musical and to be performed at Ikebukuro Sunshine Theater from April 29 to May 5th.

Script will be totally re-written but based truly on anime's original concept; "Story of a girl who struggle to make adults recall their dreams" but there will also be a new villain "Nightmare" appearing in the show. It's gonna be quite challenging.

Read on for detail.

Musical | Magical Princess Minky Momo Official Web Page

The press conference was held at Sunshine City, Ikebukuro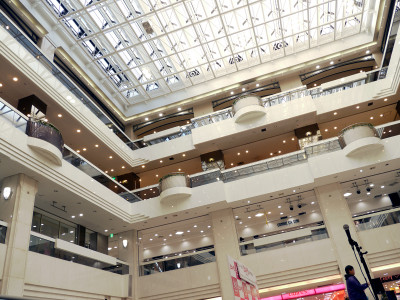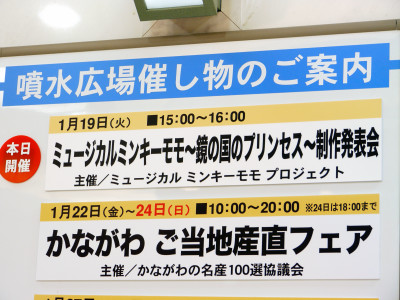 A poster.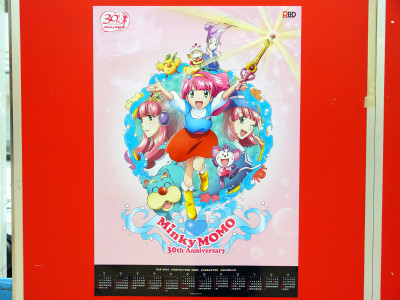 People of various generations stopped to see the poster.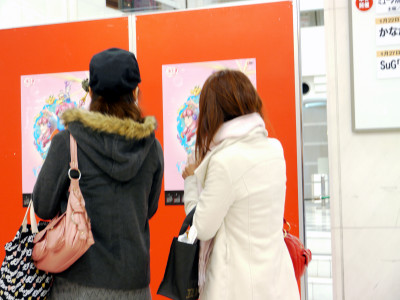 A stage waiting for the conference to begin.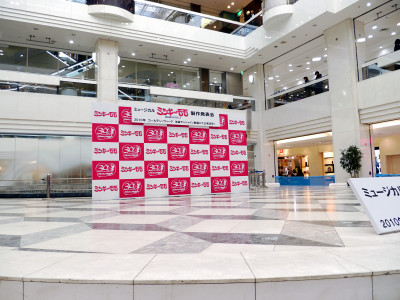 Emi Koizumi of Tokyo MX TV took a role as a hostess.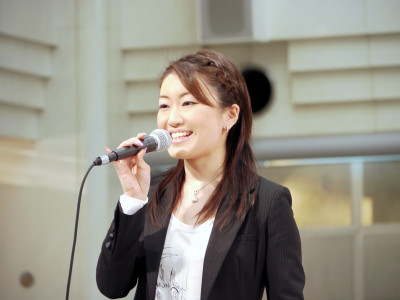 At the beginning of the show, "Dream Minkys" sang and danced "Love Love Minky Momo" the very theme song of the first anime series.
YouTube - "Dream Minkys" sang and danced "Love Love Minky Momo"


Now casts are coming on to the stage. Anna Ichioka and Miku Katsunuma plays Child Minky Momo(double cast)


Asami Katsura plays Adult Minky Momo. She appears in costume of female police officer.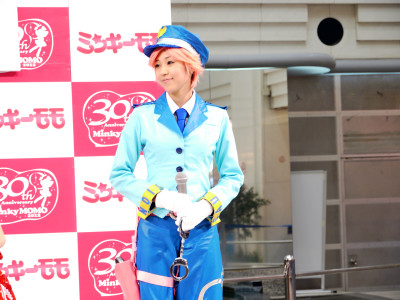 Armed heavily with a pistol and a handcuff.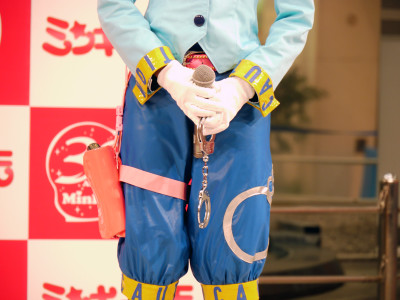 And Sayaka Akimoto from pop singer group AKB48 plays the villain Nightmare.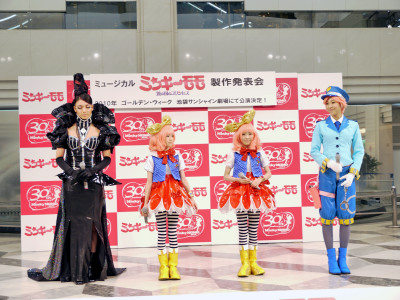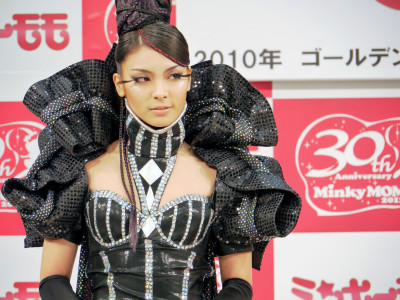 -Greetings from actresses;
Asami Katsura playing grown-up Minky Momo; "It has been long since my last musical. I will do my best to catch up and act darling Minky Momo. Thanks for coming today."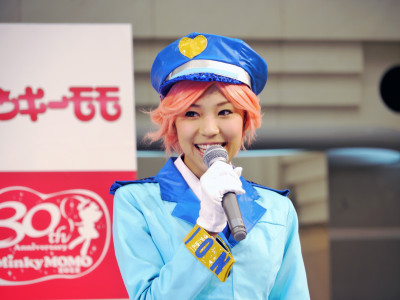 Anna Ichioka playing child Minky Momo; "I'm greatly looking forward to the show, for it's my first musical in such a beautiful costume. Please enjoy the conference today. Thank You."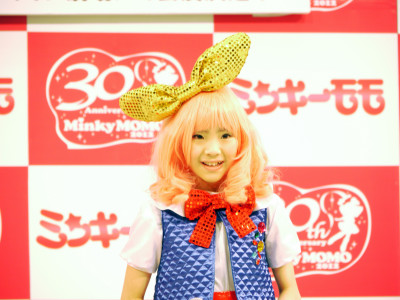 Miku Katsunuma playing Minky Momo; "It's my first musical so I'm a bit anxious, but I too am looking forward for the stage. Thank you for coming today."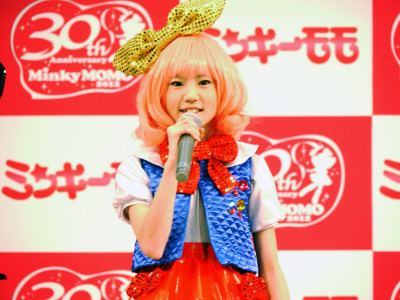 Sayaka Akimoto of AKB48 playing Nightmare; "This will be my first musical as Sayaka Akimoto, not as the one of AKB48. I will push myself to the edge. Thanks"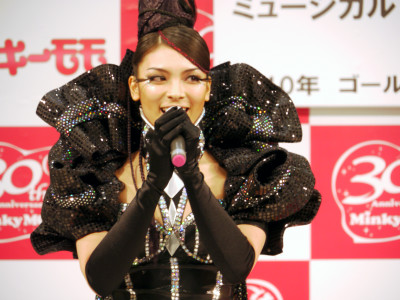 Questions from the hostess; "How did you feel when you were first offered your role?"

Asami Katsura: "I was quite anxious whether I could make it. But Minky Momo is a story of dream, and a musical was my catalyst as a actress, my career of dream. So I decided to take the offer"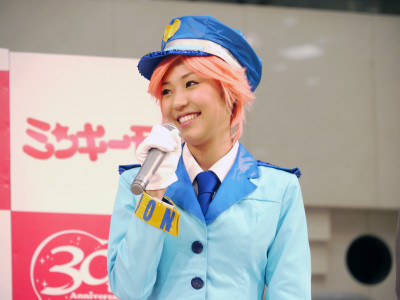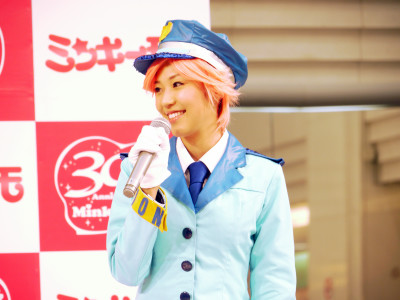 "Minky Momo turns into girls of various jobs. It's quite challenging to act them distinctly"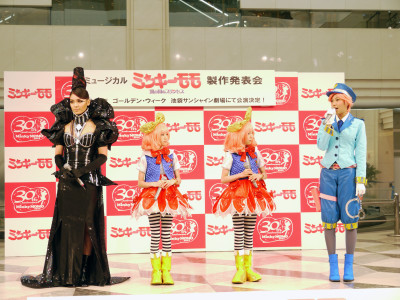 Anna Ichioka. She was selected from 700 auditionees and told about experience "The audition was held for two days. It inspired nervousness a lot but at the same time I could enjoyed it much. I felt great when I got the news" She also said "I don't know much about 'Minky Momo' but my mother did know very much about it. She helped me a lot during the audition"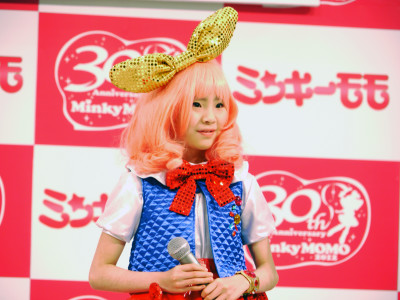 Miku Katsunuma, another Child Minky Momo. She told about her audition that "There were tests on dance, song and acting. I had been quite nervous so I didn't know I could have done them properly. So it was quite surprising to hear the news" Her mother was also a fan of Minky Momo.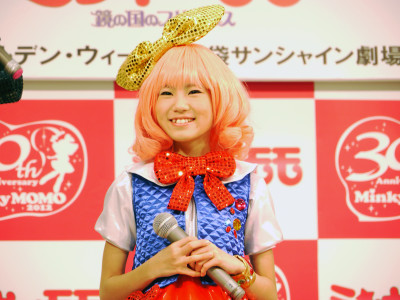 Sayaka Akimoto playing Nightmare. It's her first solo activity, out of her group AKB48. Questioned how's she going to act original villain Nightmare, she told "First of all, I need a deep contemplation on how I act her. But I also need to make conversation a lot with other staffs to create her character"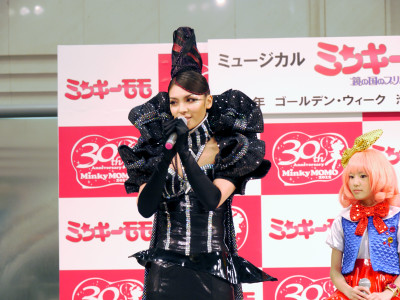 Her costume is the point of the show. Asked how did she feel about wearing the costume for the first time, she told "Fits me better than school uniforms like I wear in AKB48. It's an honor to have this beautiful costume"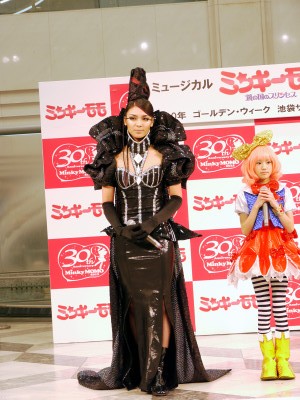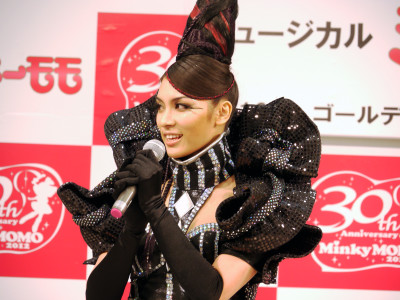 The best part of the costume she said is "It's quite sexy and figure-hugging"


Other staffs appeared; Ouji Hiroi(screenplay and words), Ichiro Fujimori(stage director) and producer Takezawa Toshiyuki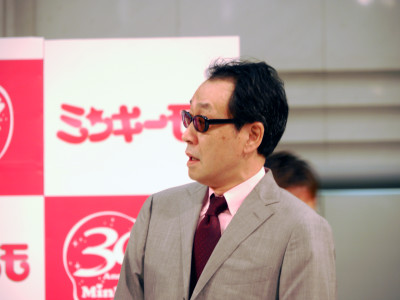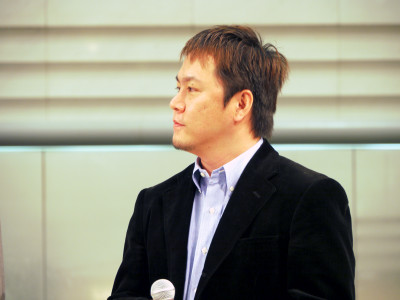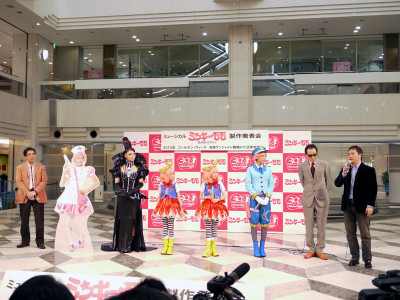 Mr. Takezawa brought photo panel of Asami Katsura in a nurse costume.


It's the first display. Asami Katsura told "I went swelled wearing such a cute costume "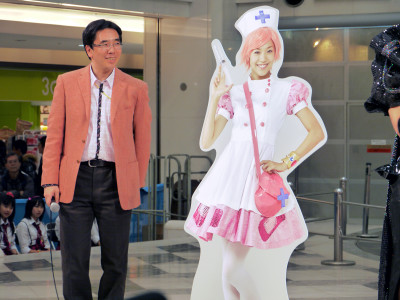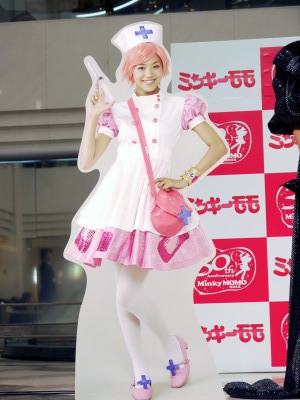 Mr. Hiroi; "Producer Takezawa told me to write a book about a year and a half ago. I thought it will be the toughest job I ever had to write a sequel for two great original stories, 'Sora-Momo(the 1st series)' and 'Umi-Momo(2nd series)' There are so many staffs and fans concerning this story. We went through some tough work not to disappoint them. Now the draft is up and we are working on lyrics part."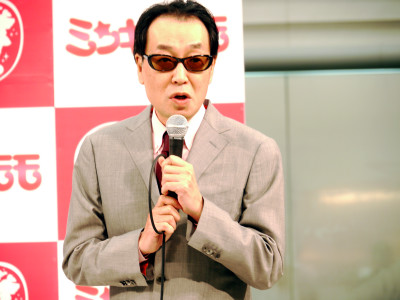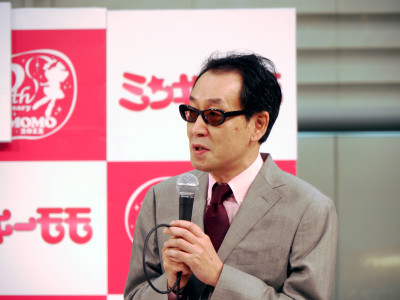 Stage director, Ichiro Fujimori. He's a veteran show-biz person and told about the musical that "rehearsals of musicals are always fun for us actors and staffs. Hope we can deliver it to you audiences."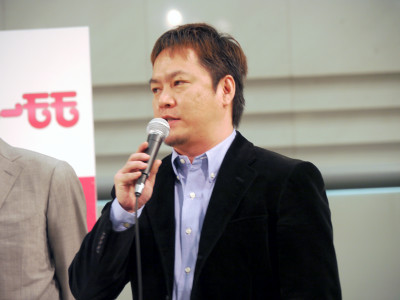 Producer Takezawa told "It's my pleasure to be here, Ikebukuro Sunshine again to perform musical" following Sailor Moon musical produced by himself.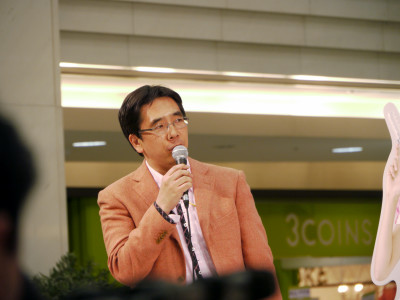 Mr. Hiroi mentioned the plot; "Like former series, people lost their dreams and Momo struggles for it. But the musical has only 2 hours so it needs obvious symbols of people losing their dream. So we created 'Nightmare', a new villain"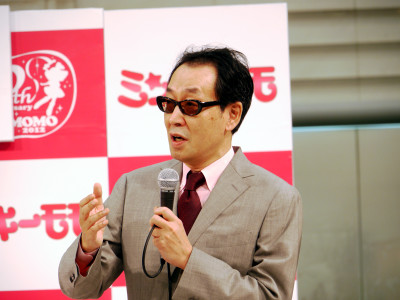 "All the lines of Nightmare were once written for male actor. But seeing Sayaka Akimoto doing a great job on November's AKB musical, producer Takezawa decided to offer Akimoto Nightmare's role" Hiroi Said. He also said "Relation between Nightmare and Momo will be quite interesting."

When asked impression about Akimoto, Mr. Hiroi, stage director of AKB's musical, told "I first thought that AKB is just another ordinary teen idol group. So I underestimated them. But, Akimoto, she's just great. She already has everything that great actress would have. I'm just looking forward to her achieving a great career.

By the way, Sayaka Akimoto told Mr. Hiroi is "not a strict disciplinarian. Every body say he's so...We AKB think of him rather genial. But he knows the perfect time and place to point out our bad part." Mr. Hiroi obscured "I won't be rendering this time"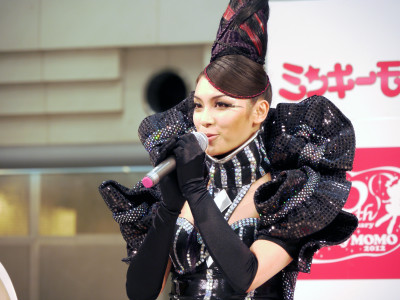 Mr. Fujimori is asked "Are you going to do strict rendition this time?" "Well...It's not sure...It hasn't even started yet."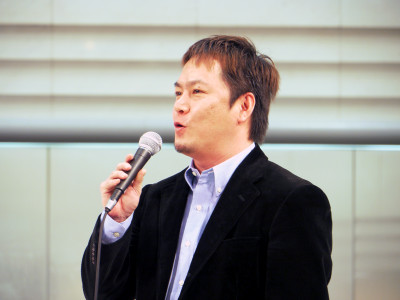 "We hope you are kind and gentle" Actresses joked around.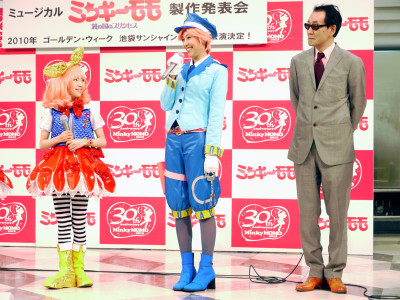 "I won't hesitate to do some spartan rehearsal. But saying this will make actresses gird up and I think it's not good for the play. On the other hand being gentle too much makes me disregarded. So, it's case by case"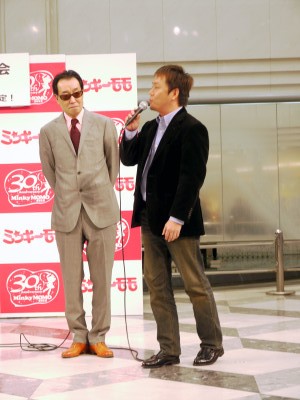 Mr. Takezawa once produced a stageplay "BOYS BE...ALIVE TRY AGAIN", which stars Asami Katsura. He told memory of her "She was only 14 or 15 years old then. So it's just like seeing adult Minky Momo today. She's now a matured lady"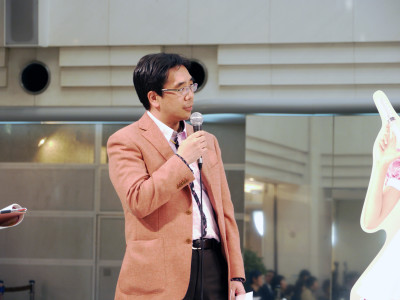 So how the stage will be? Mr. Takezawa told "It's true adaption from Minky Momo after all, but at the same time it's a musical. I hope this play to be impressive for all audiences, makes them want to sing with us."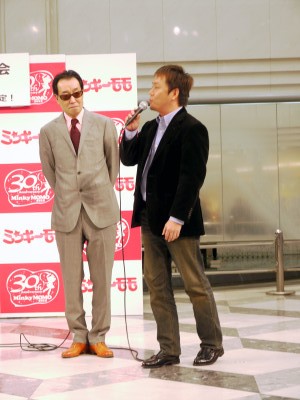 Performance description. There will be 12 performances. Other than these actors here, Chisa Yokoyama does Momo's mother, the queen of mirror world. Also other staffs like Miyako Kiura for costumes and Tomonori Nakamura for music scores will participate in the play.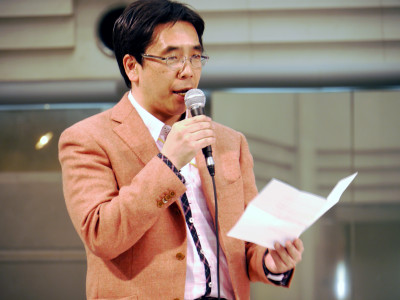 "We want to make this not only for kids, but also their parents and former Momo fans" said Takezawa.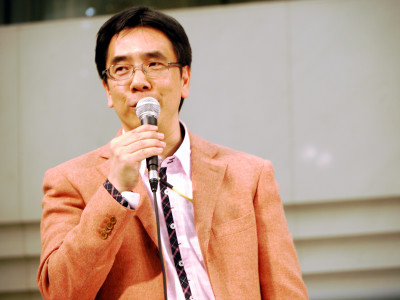 Question-and-Answer session by press peoples; "Minky Momo can turn into an adult doing any job. What you guys wanted to be when you are in childhood? And for two child actors, what you want to be in the future?"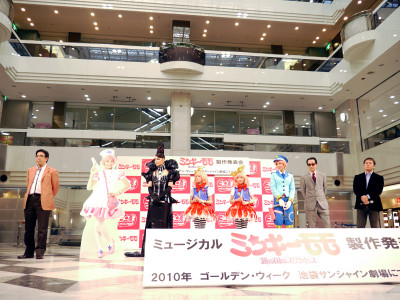 Katsura "I had been wanted to be a patisserie, like every other girls do, because I thought I may be able to eat delicious cake every day. I dreamed a dream"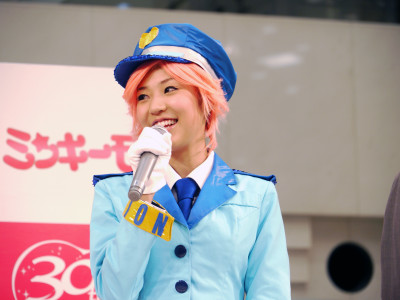 Akimoto "I wanted to be an icecream shop person...I loved it"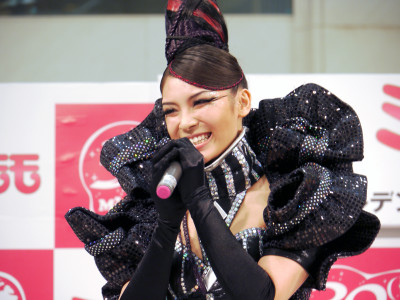 But child actors gave us a grown-up answer. Ichioka; "Other than an actress, I want to be a dancer or singer. Or the sort of occupation like Magicians"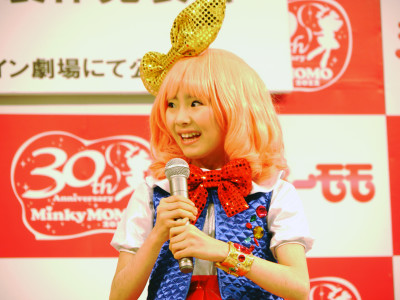 Katsunuma; "I would like to be a cabin attendant and serve guests so they can have a nice trip"


"Wow" "They think of their life much seriously than us"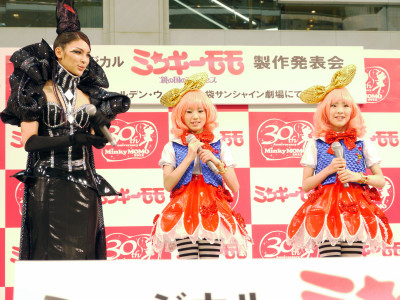 Now it's turn for guys. Mr. Hiroi wanted to be a "blonde, blue-eyed foreigner. I believed one day I could really be like that." Such a mysterious answer.


"Are there any other events for 30th anniversary?" Producer Takezawa answered the question "This anniversary project has been running since last March, and re-airing and comic serialization on magazines are on their way. Honestly, I long for its 3rd anime adaption"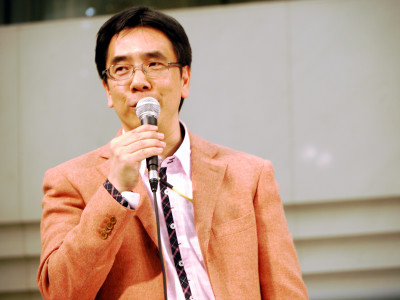 For the last part, they told what they think of this musical.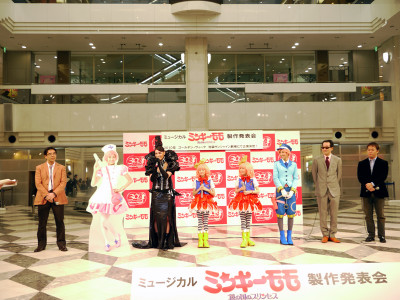 Hiroi; "I would like to make this musical enjoyable for every member of your family. So please come to the theater, thank you"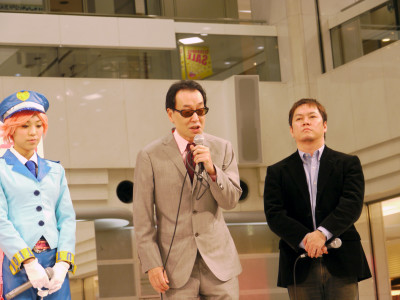 Fujimori; "I dreamed of being in stage play, and it comes true now. So I want to make this memorable, unforgettable for all children, what makes children recall it even after they have grown up"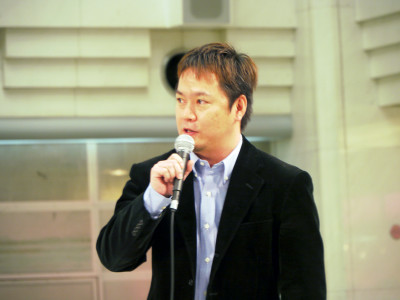 Takezawa; "Sakura Wars by Mr. Hiroi makes its 13th anniversary My Salor Moon is also 13 years old. I want to make this Minky Momo musical lasts for 14 years. I wonder how old I will be then, but I would dare for it."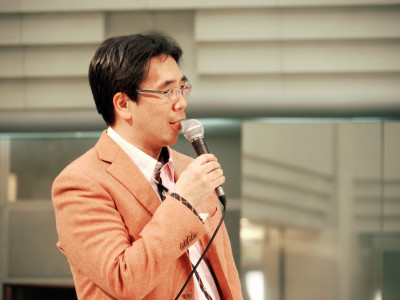 Akimoto; "This is my first musical so I'm getting a bit nervous. I will learn from every other actors and staffs what I need to know and do my best. Anna-chan and Miku-chan is much more experienced. I should follow their tracks. Thanks"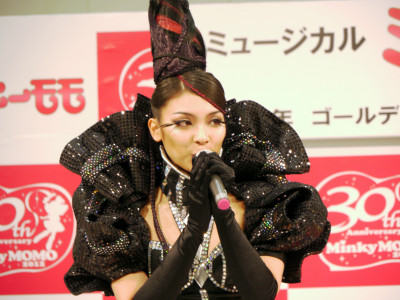 Katsunuma; "May all audiences coming to the theater take home at least a piece of dreams. I will work hard. Thank you."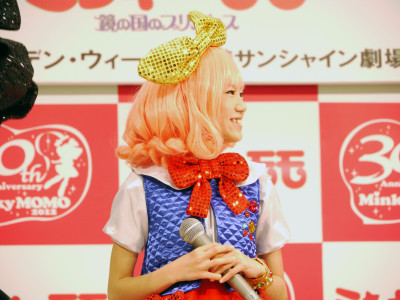 Ichioka; "My wish is to be a role model of the girls of same age through the musical. It's not a easy thing but I will give it a serious try. Thank you."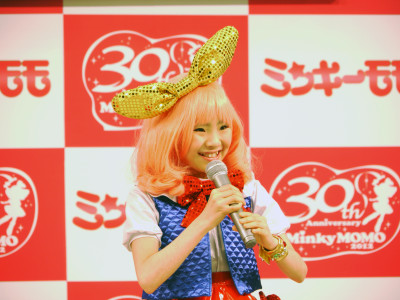 Katsura; "There are so many bad news out there and it has been quite difficult to have a positive dream. Through the musical I want to make all adults dream of bright future again, and for all children I want to tell how wonderful and happy it is to have a dream. Thank you for coming today."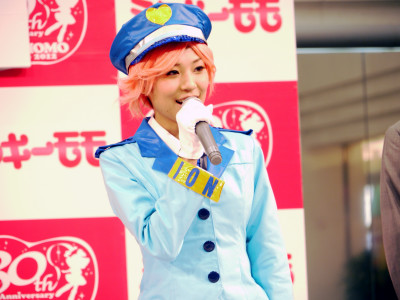 At the end of the conference, Dream Minkys came out again and sang Yume Miru Heart from second series of the anime.

YouTube - Dream Minkys came out again and sang Yume Miru Heart


Then to photo session.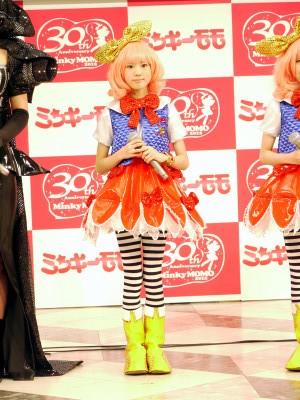 Two child actors.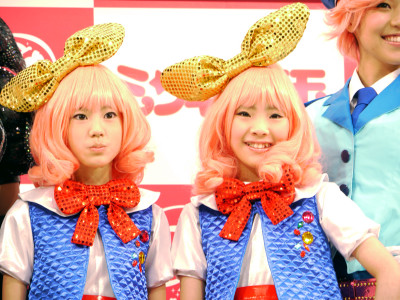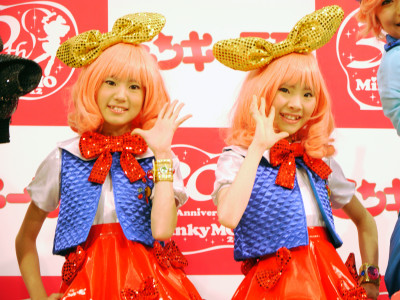 Some of visitors might mistake them as twins.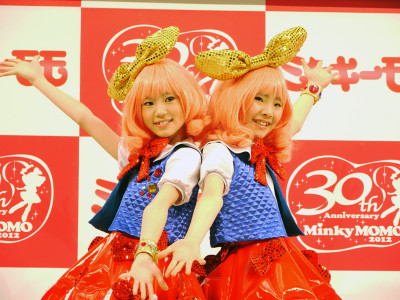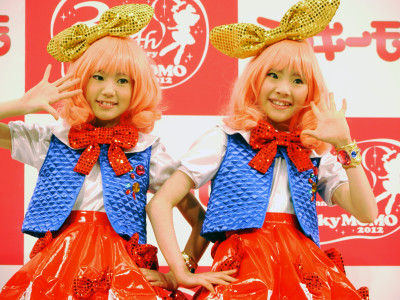 Katsura with grown-up atmosphere.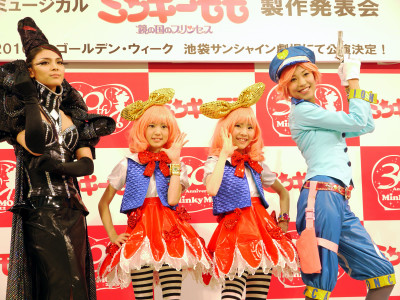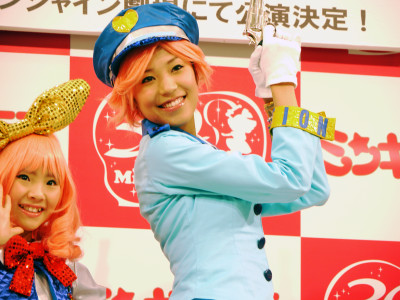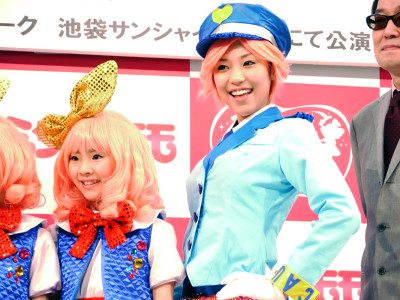 Akimoto Posing like deadly-foe.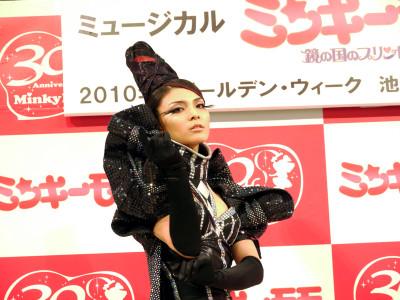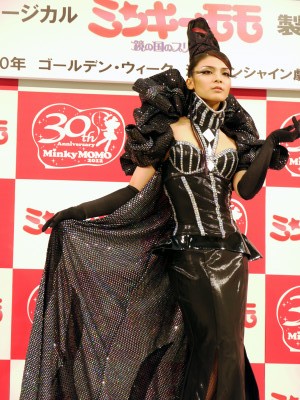 Two-shots.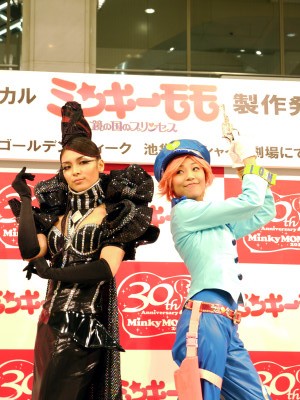 The video of photo session.
YouTube - Minky Momo Musical Photo Session


Exclusive solo shot of Asami Katsura. She's one of the rising actresses in Japan, participating in NHK's TV drama. She's also known as a motion actor of Vanilla in Final Fantasy XIII.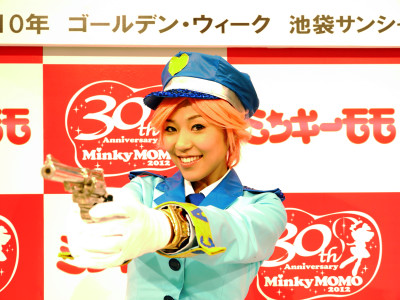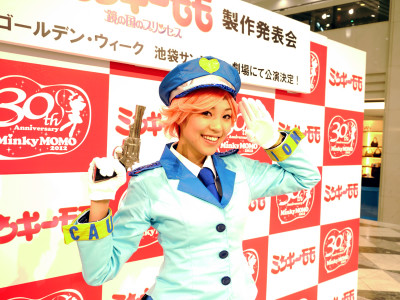 Video shooting for TV advertisement.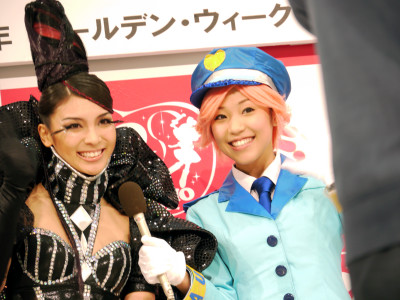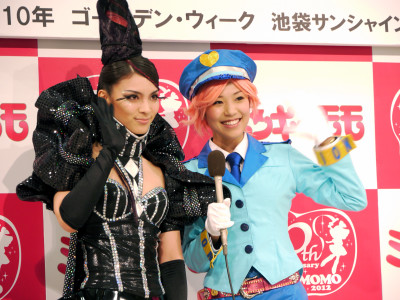 Related Post:
TAF 2009: New Project of MINKY MOMO kicking off for the 30th Anniversary, and a gigantic DANCOUGA - GIGAZINE

TAF 2009: MINKY MOMO Concert with original voice actress Mami Koyama and singer Manami Komori - GIGAZINE

FULL METAL PANIC! going live-action starring Zac Efron - GIGAZINE

Robo Geisha Director's Live Action "Dogu-Chan the Ancient Girl" now airing - GIGAZINE

"GANTZ" Going Live-Action Starring Ken'ichi Matsuyama and Kazuya Ninomiya - GIGAZINE