1222 people are invited to the Christmas present of "Chu bell's !!", the first episode online preview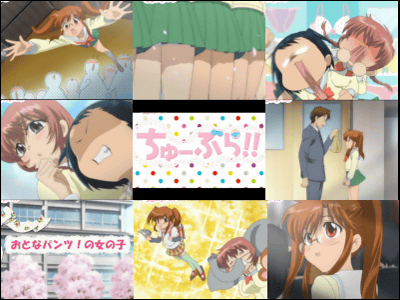 Animation scheduled to start broadcasting from January 2010 "Chu bell's !!"It seems that 1224 people will be invited to the online preview of the first episode as a Christmas gift. In view of Christmas viewing period,December 24 from 12:24 to December 25 from 12:25. Because it is an opportunity to watch it more than one week earlier than this broadcast, people interested please try accessing.

Details are as below.
BANDAI CHANNEL "Chuubu et al !!" Online preliminary preview

"Chubu et al !!" is "Futabasha"Comic high!Yumi Nakata's manga in the series. The leading character is a girl who has entered under a top grade on private junior high school and has excellent results, Yahana Hayama. However, she has an unusual sticking commitment to underwear, and in order to have people in the surrounding people know how to choose the right underwear / how to wear, we will set up an "underwear club" and strive for activities I will.

The first episode is "Girls of Adult Pants!" Kana will show off wearing adult pants in the race after spending time at the freshman greetings. Classmates Yako Jinguji and Haruhiro Shiraishi who saw it started to move to elucidate the truth by doubting whether Kaoru is doing a dating assistance. Yako deepening suspicion tries to take voyeur to grasp the evidence, but it is a story of the feeling that ......

There are also things inevitable that the panchira is inevitable only for works under the underwear theme, the broadcast is only AT - X. For those not subscribing to AT-X, this may be the last opportunity to be seen by DVD release, so please take a look.