"The Vanishment of Haruhi Suzumiya" Coming Movie in 2010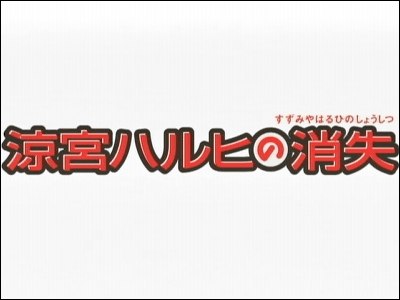 Since this February, we have been totally screwed up with Haruhi. All we got is a re-mixing of 14 existing episodes, 6 new episodes and notorious Endless Eight repetition.

But Kyoto Animation seems to be ready to reward our patience. In the last airing of Haruhi, they announced that they are working on the movie of The Vanishment of Haruhi Suzumiya.

Read on for detail.

SOS Dan web site

The 2nd airing consists of 14 existing episodes chronologically reordered, 5 new The Sigh of Haruhi Suzumiya episodes, Sasanoha Rhapsody and 8 Endless Eight repetition.

First, what began in April was taken as a "re-airing" of existing episodes, but on 8th airing, new episode Sasanoha Rhapsody appeared, which led us to believe the addition of 14 new episodes. Then Endless Eight repetition ate up the airing schedule and there were no chance for other new episodes.

But somehow authorities mentioned their fellow fans the coming of "Vanishment" by releasing illustrations from the episode. The expectation came true by the announcement of the movie.

Nagato showing anxiety, which should never happen.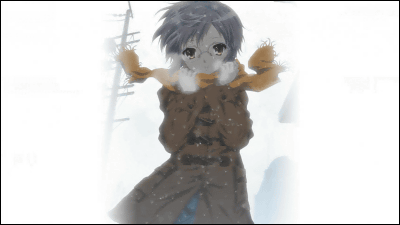 The Vanishment of Haruhi Suzumiya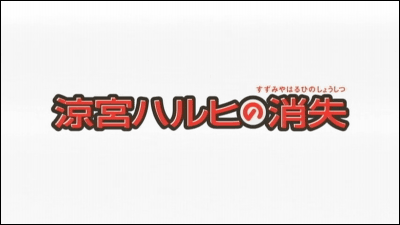 "To hit the theater in Spring 2010"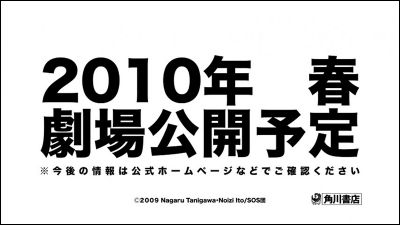 Recently it's common practice to announce about theatrical movie in the last airing of the anime, like you can see in Gundam 00 and Macross Frontier.

It's great that we can meet adorable protagonists and eye-popping episodes again at theatres. That will be a great experience.

But it's unconvincing that why they got to do this roundabout sort of way. They sell bunch of anime books, DVD(they even included eight whole Endless Eight episodes), figures, prizes...it's like a gold mine never run dry. Surely Haruhi is the cash cow for Kadokawa and Kyoto Animation.

Related Post:
Spoiler:"Haruhi" finally got out of their endless summer vacation - GIGAZINE

Haruhi's New Episode Aired! With New Ending Song! - GIGAZINE

Haruhi Suzumiya's new episode title revealed on a TV timetable web site - GIGAZINE

"Haruhi"started airing at last, with 14 NEW EPISODES!!! - GIGAZINE

"Melancholy of Haruhi Suzumiya" to start airing "afresh" from this April - GIGAZINE

Artful Ascii Arts of "Suzumiya Haruhi" and her company. - GIGAZINE

2nd Season of "Melancholy of Haruhi Suzumiya" starting from this April - GIGAZINE