KDDI's New Function Can Tell a Building's Name, Location, etc. by your Cell Phone Photo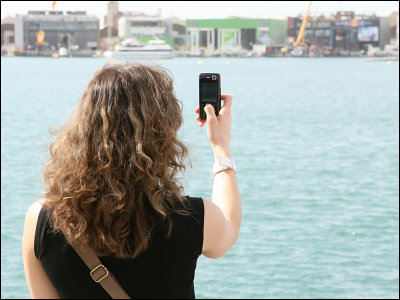 KDDI R&D Laboratories has developed a new technology to inform you the name, address and other general information on a building you took picture of, in a blink of an eye.

So if you get lost in a city and can't find a street sign, all you have to do is pull out your camera phone and take picture of a nearby building. Or if you're exploring a town and spot a interesting-looking building, say, a hundred yards away and across a busy street, you can contemplate whether it's worth checking out on your way to the crossing.

Read on for details.
(Japanese)Jiji.com: Shoot and Send on your Cell Phone, Search Building's Name in 1sec -KDDI

According to the report above by Jiji Press, KDDI R&D Lab, a subsidiary of KDDI, has developed a new technology to allow you access to wide range of information on a building you took picture of with a camera phone.

All you have to do is take picture of the building, send it to the dedicated server, and you'll get the name of the building, address, official website if it has one, information of tenants of the building, related blogs and videos and whatnot, just in a second.

Since it's kind of obvious there are numerous identical buildings out there one can't help but wonder how accurate it can be by image-recognition only, but it must be pretty useful for touristy things, and maybe quite reliable combined with GPS.