"Ita-Pla Grand Prix" to determine the most painful Ita-sha plastic model car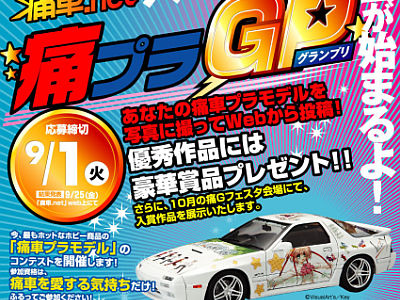 Veteran plastic model manufacturer Aoshima, also known as a manufacturer of Ita-sha plastic mode, is to hold "Ita-Pla Grand Prix", a competition for plastic model of Ita-Sha, an excessively moe-decorated car in collaboration with "Itasya.net", the community site for Ita-sha related person.

Feeling left out? Don't worry, it's a photo contest. No limitation for oversea application. Read on for detail!

(JP)Ita-sha portal site "Itasha.net" | Ita-Pla GP Special Page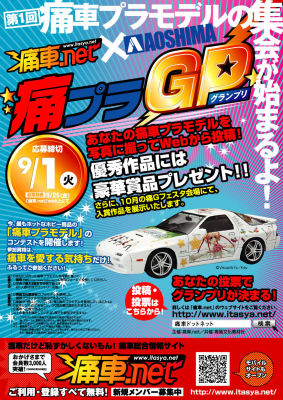 Entry to the contest is accepted from July 1, 2009. An account of Itasha.net must be needed for entry. Three entry per person will be allowed, and each entry can include up to five pictures.

The angle of the image is unregulated but at least one image taken from front left is needed, as shown below.


The logo for Grand Prix.



There are four qualification requirements:
1.You must use only Aoshima's plastic model for chassis.
2.There should be more than one wheels. No ships, planes et cetera allowed.
3.The model should be made by applicant himself.
4.Love for Itasha is absolutely necessary.

Several prizes like "Ita-Pla GP", "Ita-Pla Semi GP", "Aoshima Special Prizes", "Itasha.net Prize", "ITaG Exclusive Prize", "No-One-Ever-Thought-That Prize" and "Ita-Pla User Prize", chosen by Itasha.net members' vote.

Prizewinning models will be displayed at Aoshima's booth in "2nd Ita-G Festa in Odaiba" the Ita-Sha event held on early October 2009.

Related Post:
Incredible MINI 4WD Mods at "Mini Yonku Concours d'Elegance 2009" - GIGAZINE

The exhibition of "Itasha" held at Comiket place - GIGAZINE

Fancy owning an Itasha? How about a cute and tiny Itasha Plastic Model? - GIGAZINE

Ita-Chari helps you showing off your love to Anime voice actresses - GIGAZINE
in Note, Posted by darkhorse_log