McDonald's announces price increases soon, reviews prices of all products including main products such as hamburgers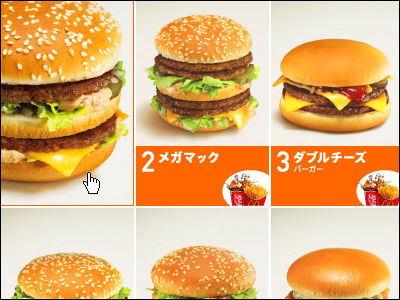 According to McDonald's Chairman, President and Chief Executive Officer and President and CEO of McDonald's at the interim settlement announcement presentation, it will announce a price increase soon. We are reviewing prices of all products including main products such as hamburgers.

Details on how much you plan to raise rates are from the following.
Japan McDonald's keeps its forecast for the year ending December 2008 unchanged, closes price increases | Reuters

McDonald's announced re-price increase with high raw material price Average less than 5% - MSN Sankei News

Mac re-priced up in the month Moving raw material costs soaring

Japan McDonald's: average hamburgers up to 5% on price increase - every day jp (Mainichi Shimbun)

Mac hamburgers and almost all goods, revaluation also in the month: economic news: money · economy: YOMIURI ONLINE (Yomiuri Shimbun)

The reason for raising the price is to increase the cost burden burden. As for the cost increase of about 10%, the average price increase is "not exceeding 5%". In addition, although we are reviewing the price of all products, we not only price up but also we are considering price cuts for some products as well as price deferment of "100 yen Mac".

Although it is still unknown about exactly when the price revision is done from around, it is "I want to carry out as soon as possible".

Everything will rise quickly ....