That Goodwill Group is looking for a new group name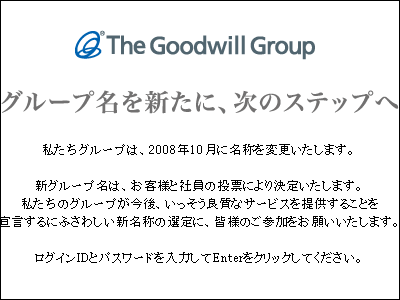 In response to violation of the Employment Security Law by employee's non-permission dispatch, the temporary staffing company decided to close down business "Goodwill"Welfare nursing care company that received a new and renewal designation disposition by the Ministry of Health, Labor and Welfare from the Ministry of Health, Labor and Welfare due to unlawful request for nursing care remuneration and transferred the business to the Nichii Gakkan"ComsunWe are managingGoodwill GroupIt seems he decided to renew the group name.

And to decide the name of the new group, we also accept votes from customers.

Details are as follows.
This site is Goodwill Group Co., Ltd. New company name voting site.

According to this page, Goodwill group seems to change group name in October. The new group name will be decided by voting by customers and employees. In addition, we would like you to participate in the selection of a new name suitable for declaring to offer better quality service in the future.

During the voting period, the Goodwill Group employee is until 21:00 on Thursday, August 7, the voting period by the business company is until 21:00 on August 8 (Friday), and the login ID Enter your password and click "Enter" to vote. Voting for each login ID is valid only once.

What exactly is the name?
in Note, Posted by darkhorse_log