A girl who swims in the bikini female sword fighter "Big chan bells" turns into a live-action film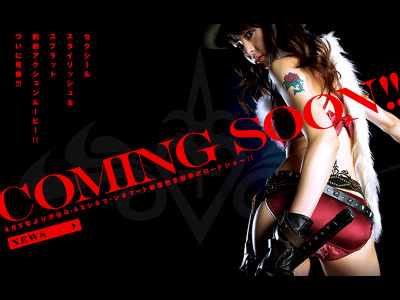 A popular game title familiar with PS2's "SIMPLE 2000 series", etc., a female swordsman of bikini appearance fighting Chamera Ran Zai "Older elder sister CharaIt was decided to make it a live-action movie.

"Sexy & Stylish & Splat Sword Action MovieIt is said that the release will be scheduled for late April.

Details are as below.
Older elder sister Chara

According to this page, the theater version "Older sister Chamera" is famous for the role of Bowen Yellow of Gogo Sentai BowkengerTomoyo NakamuraYaOtori Eri,Himimoto HashimotoIt seems that they will be starring. Directed by Yohei Fukuda.

By the way, although it is "Older sister's chamberra", now it's beyond the framework of software for SIMPLE 2000 series, the latest work by Wii "Older elder sister RevolutionIt is released from February 7, 2008 and it seems that it is becoming a big hit title.