LAWSON, Shoko Nakagawa Produce Sweet Bun "SKASHI CASIPAN" released.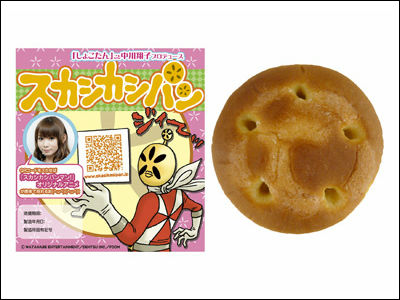 As the queen of the new · blog, I updated blogs up to 86 times a day,Tengen Toppa Gurren LagannOf the opening song "Sorairo Days" in 2007Participate in red and white singing fightMulti-talent who works everywhere and everywhereNakagawa Shoko(Common name Shokotan) is going to produce sweet bread. The name is "SKASHI KASSIBAN", which will be released in Lawson nationwide from Tuesday, January 29, 2008.

The purchaser of bread is called "SKASHIKASHI PANMAN"Norio WakamotoI can see the animation that plays the leading role.

Details are as follows.
"Nakagawa Shoko Produce" confection bread will be released

According to the release, sweet bun "SKASHI KASSIBAN" has its own blog "Shokotan ♡ Blog"It was decided to be made at the opportunity that introduced SKASHI KASPAN. SKASHI Kashipan is a type of sea urchin of the cassava type and it is so called because the body has a hole. The sweet bun has a round shape with a diameter of 15 cm, which imaged the sea urchin 's sky cassivan, and the taste is sugar margarine taste. Package will be decorated with Scandal Panaman drawn by Shoko Nakagawa.

Sky Kashipan - Shokotan ☆ Blog

SKASHI Pastry - Shokotan ☆ Blog

Skashi Kasipan - Wikipedia, the free encyclopedia

The purchaser seems to be able to see an animated piece of SKASHIKASHI PANMAN at the mobile site of Skashi Kashipan, and Noriko Wakamoto is appointed as a role of SKASHIKASHI PANMAN, and Nakagawa Shoko himself also appears as a voice actor. As the price is 125 yen (tax included), I think that it is enough ant to buy bread for anime only.