Developer officially comments on Hatsune Miku special feature of TBS "Leave it to Akko"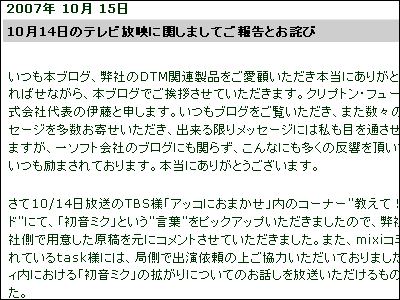 In GIGAZINE earlierHatsune Miku special feature at TBS's variety show "Ako to Random" is too bad and it makes a fussAlthough I tell you, Miku Hatsune 's developerKrypton · Future · MediaA representative of the company officially announced the comment and apologized to the user.

Apparently, within the program, instead of the comment that the developer wanted to tell, it seems there was a problem with TBS's news posture, such as the comment that was guided by the production side at the time of interview was used.

Details are as follows.
Regarding reporting and apology regarding TV broadcast on October 14th: Media phage business department blog

According to this article, when "Hatsune Miku" is picked up in the corner "Tell me! Ru keyword" in TBS's "Aku to Raku" that was broadcast on October 14, manuscript prepared by Krypton employee in advance It seems that he intends to comment on the program based on.

And since Mr. Task who operates the community of "Hatsune Miku" at mixi had been cooperating, such as TBS requesting to appear, clearly the krypton side broadcasted the spread of "Hatsune Miku" in the community Although I thought that, in lieu of the comment that I actually wanted to convey, in addition to the fact that the comment that was induced by the production side was used at the time of the interview, the singing voice that demonstrates the origin of "Hatsune Miku" is almost introduced He said that it was a really regrettable content that it will not be done. That is, it seems that there was absolutely no matter of Krypton's intention, etc. It was as if I was making it with conclusion completely from the beginning ....

Also, from the broadcast contents, the program production side thought that "Hatsune Miku" itself was "not interested" from the beginning and "I did not have attachment", and on this matter I will summarize what I summarized at a later date I will announce it again on Krypton's blog.

Furthermore, on the one hand Krypton side apologizes as follows after assuming that they have been arrogant (treat).


However, on the other hand, I think that there was also an arrogance on our side that "it is a good product that can not be broadcast well". As a matter of fact, as much as the users love "Hatsune Miku" heartily and focusing on its possibilities, people in the media have also taken "the same experience" and interviewed our company I had misunderstood it without permission. I think that we should be blamed on our side who did not see it. Even without measuring it has become a form that the sweetness of recognition to the media is revealed. To everyone who is extremely embarrassed, for everyone who cooperated with the program recording, and for users who have patronized "Hatsune Miku", I sincerely apologize for making you feel so uncomfortable. M (_ _) m

And then I conclude with the following.


In addition, I am very thankful to Mr. task, Bong-G, who was cooperating with TBS's interview. Although there may be various criticisms for Akiba culture, I think that there should be no constraints on the expression of people. Whatever culture or artistic activity, I think that there is a free place in the net where people are kind and race, where the person lives, can announce anything without such things at all. Without fear of misunderstanding, we think that Japanese people in particular have the wisdom of "inclusion" instead of "denial". Please thank you for your understanding.

But why did you make such a broadcast content that causes such a situation? Also, as mentioned in the following link, it is very disappointing that the user made a malicious remark such as "It is fine, it is impressive" to the fact that the user is working part-time at a convenience store .

Soft company criticizing TBS "Hatsune Miku" program "Akko" Festival Issue - MSN Sankei News

· October 15, 2007 18:29 Addendum

In addition, the blog of a new voice actor "Fujita Saki" who took charge of the voice of "Hatsune Miku" is touched only a little about this subject.

Indeed. - Saki Fujita's Electronic Garden ☆ ~ Minatakatake's Discourse ~

I heard that there was sad thing about Miku yesterday.


I can not see you at work,
Only in your mail
I do not know the outline of things.

but,
No matter what coverage,
The feeling that everyone loves Miku
Is not it relaxed?


Never mind
Easy feelings
Feelings to love singing
Feelings that seriously face DTM
I will not betray you.


So, everyone
Do not act on deeds.

Incidentally TBS in March this yearA person in charge made a site on which the "Voice of the Fans" posting K-1's Sakuraba players was posted and broadcasted itBesides, at about the same time, we report differently from facts due to Fujiya scandal, and such history has no enumeration in enumeration. It is said that TBS 's news posture became a problem in this way since 1968, and it has been taken up at the following site.

Blurredly relaxed | History of TBS's fabrication / scandals
in Note, Posted by darkhorse_log