T-shirt that detects wireless LAN "Wi-Fi Detector Shirt"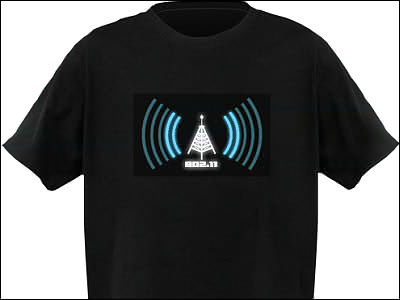 Wireless LAN detectors and wireless LAN checkers to find nearby wireless LANs are on sale, but the "Wi - Fi Detector Shirt" this time is a T - shirt that detects wireless LAN as its name suggests. If there is a wireless LAN in the vicinity, the bar indicating the strength of the radio wave of the chest reacts and stretches and shrinks.

Details of the price etc. from the following.
ThinkGeek :: Wi-Fi Detector Shirt

The price is $ 29.99 (about 3495 yen), and there are two types of detectable, 802.11b and 802.11g. The shirt itself is made of 100% cotton, and the parts itself that detects wireless LAN can be removed, so it is okay to wash shirts. It is quite nice dish, but is it selling somewhere in Japan, this ... ....