Flame radiator made of Lego block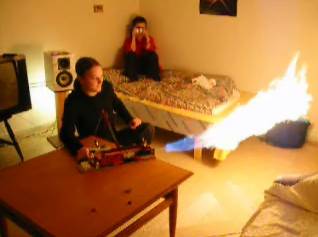 When I see the movie that I am trying to use for testing it is extremely dangerous, I use a flamethrower in the room ... ....

Playback is from the following.
YouTube - LEGO - TechEBlog.com

The size of the flame is roughly 1.5 meters.

The downloadable WMV format movie and the photo of LEGO flame radiator are from the following.

Homemade LEGO Flamethrower (Do not do it yourself)

I wonder if I use it like baking grass ... ....