Stylish checkboxes and radio buttons in CSS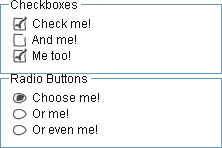 We will make what looks different from ordinary check boxes and radio buttons with pre-prepared images and CSS.

For an explanation of actual examples and how to make it to the following site.
Styling Checkbox and Radio Graphics With Only CSS
http://pdatabase.dyndns.biz/tutorial02.php

However, IE does not work, sorry.