"Maseno tofu shop handsome swing" appeared in Gashapon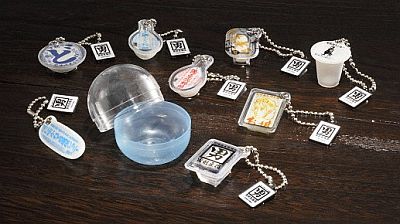 "Tofu shop Johnny blown in the wind" is smooth and delicious so we sometimes have bought things cheaper on the verge of expiration date, it is delicious.

In this gashapon, a tofu which is a hit item of a masaemasa tofu shop (Nantan City, Kyoto prefecture) was made into a mini figure with a ball chain "Maseno Tofu shop handsome swing" (1 capsule 1 piece entered 100 yen · tax included) It seems to be.

We plan to sell it as a capsule product exclusively for vending machines (so-called gashapon) from the beginning of May in all eight species.
~ First topic licensed product from topic boiling shop ~ Appearance of "Men front tofu shop man swing" in early May 2006 Popular unique tofu is a capsule toy product! | BANDAI | Press Release
http://www.bandai.co.jp/releases/J2006042401.html

The target is male and female over 20 's, and it sells at vending machines where the vending machines such as toy shops, supermarkets etc throughout the country are set up.

The breakdown of 8 types is as follows.

1. Oshi tofu
2. Blown in the wind tofu store Johnny
3. Fighting fighting bastards
4. Quarrel with squirts
5. Tomoko Tofu
6. Daughter
7. Soy milk Rokenro
8. Oatama Tofu

Is not there secret or something?
in Note, Posted by darkhorse_log