Following Italy, which blocked access to ChatGPT, EU countries such as Germany are also considering blocking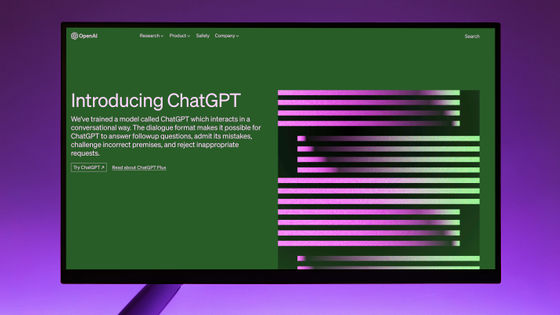 The Italian data protection agency has issued an order to AI research group
OpenAI
to block access to ChatGPT from Italy due to data protection and privacy concerns. Following the order, on April 1, 2023, OpenAI
blocked
access to ChatGPT from Italian IP addresses. Meanwhile, it is reported that data regulators in EU countries such as Germany are considering taking similar measures as in Italy.
Germany considers following Italy in banning Chat GPT
https://sg.news.yahoo.com/germany-chatgpt-considers-following-italy-banning-chatgpt-openai-ai-artificial-intelligence-101058703.html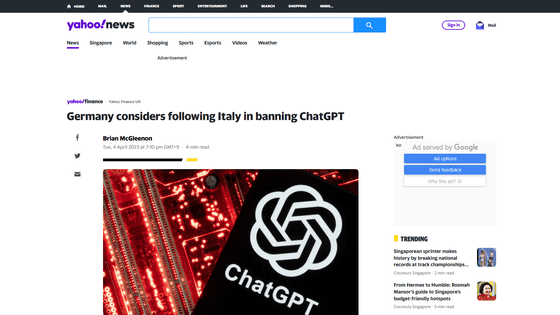 Italy's ChatGPT ban attracts EU privacy regulators | Reuters

https://www.reuters.com/technology/germany-principle-could-block-chat-gpt-if-needed-data-protection-chief-2023-04-03/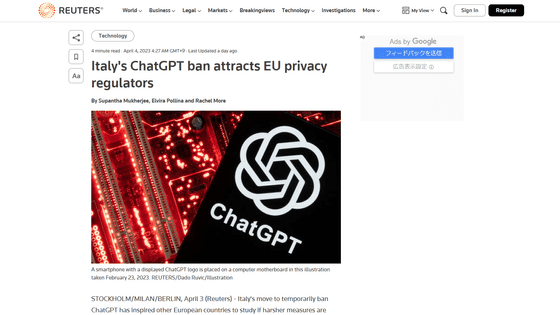 Italian minister says country's ban on ChatGPT is excessive | Reuters

https://www.reuters.com/technology/italian-minister-says-countrys-ban-chatgpt-is-excessive-2023-04-02/
In Italy, Garante, a data protection agency, launched an investigation on March 31, 2023, saying, ``There is a concern that ChatGPT, a chat AI provided by OpenAI, violates
the EU General Data Protection Regulation
(GDPR).'' It was pointed out that ChatGPT was concerned about illegally processing user data, and that it may have neglected to introduce a function to prevent minors from accessing ChatGPT.
Garante said, 'There is no legal basis to justify the acquisition and storage of large amounts of personal data for the purpose of training the algorithms underlying ChatGPT's operation.' It may present inappropriate answers for adults.'
Due to these concerns, Garante has ordered OpenAI to stop collecting data from Italian users on ChatGPT and disclose steps to resolve the issue.
As a result, on April 1, 2023, OpenAI began blocking access to ChatGPT from Italian IP addresses as instructed. When accessing ChatGPT with an Italian IP address, it seems that 'OpenAI is sorry to inform you that access from Italian users has been disabled at the request of the data protection authority.'
OpenAI blocks access to ChatGPT from Italy - GIGAZINE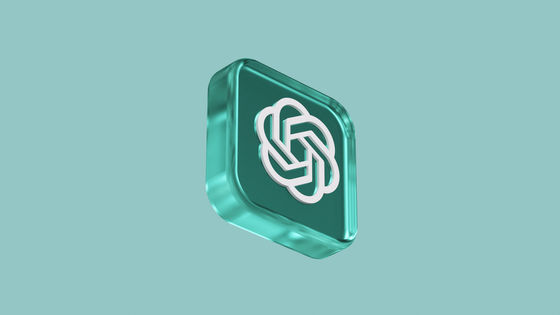 Similar moves are being considered in Germany and other EU countries, and Germany's data protection commissioner, Ulrich Kerber, said, ``In principle, the same regulations as in Italy are possible in Germany.'' claims that it may follow ``The German data regulator has been in contact with the Italian data regulator since the decision to regulate ChatGPT in Italy,'' Kerber said.
Data privacy watchdogs in other EU countries such as France and Ireland are also reportedly contacting Italian data regulators to discuss findings on ChatGPT, according to a spokeswoman for Ireland's data protection authority,
the Data Protection Commissioner
(DPC). "We are following up to understand the rationale for the actions of the Italian data regulators and will coordinate with all EU data regulators on this matter," the agency said.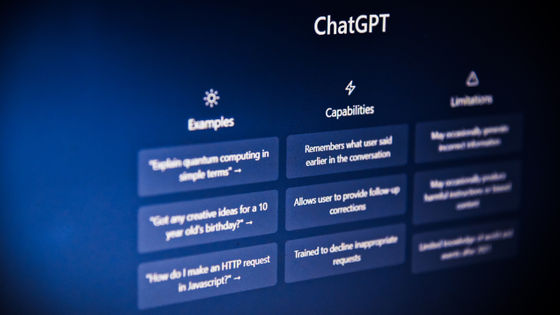 On the other hand, Matteo Salvini, Italy's Minister of Infrastructure and Deputy Prime Minister, said, `` Blocking ChatGPT due to privacy concerns seems excessive, '' criticizing Garante's order. Salvini added, 'All technological innovations bring with them great changes and opportunities, as well as risks. Control and regulation through international cooperation between regulators and legislators is the right thing to do, but we cannot block it.' '' is stated.

OpenAI declined to comment on EU countries other than Italy investigating privacy concerns.