Apple launches postpaid service `` Postpaid with Apple Pay ''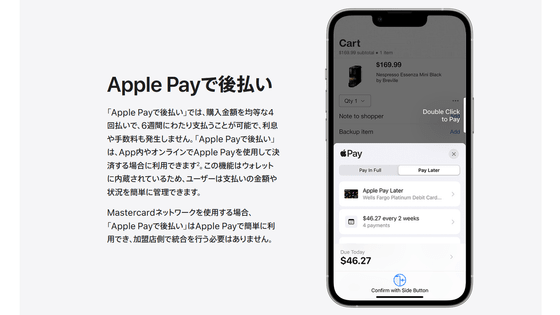 On March 28, 2023, Apple announced that it has started offering the postpaid payment service `` Postpaid with Apple Pay '' in the United States. Users using this service can pay for their purchases in four installments without interest.

Apple introduces Apple Pay Later - Apple

https://www.apple.com/newsroom/2023/03/apple-introduces-apple-pay-later/
With 'Postpay with Apple Pay', users can pay products from $ 50 (about 6600 yen) to $ 1000 (about 131,500 yen) in 4 installments over 6 weeks. No interest or fees will be charged at this time.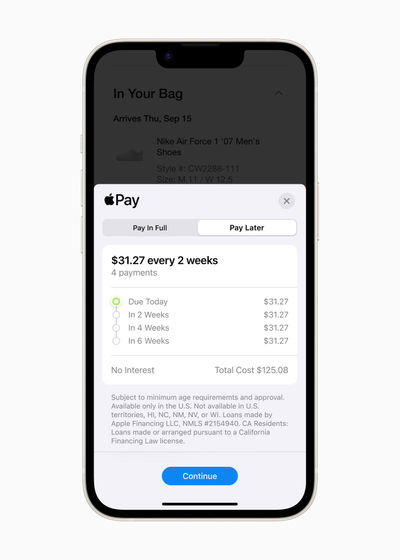 Postpay with Apple Pay is only available for product purchases and in-app purchases at online stores that accept Apple Pay. If you select Apple Pay at checkout, you'll see the option to pay later with Apple Pay. Loans can be managed and repaid from
Wallet
, where you can see all your upcoming payments in the wallet's calendar view, receive notifications from your wallet and email when payments are due, and more. In addition, credit cards cannot be used to prevent increasing debts to repay the loan.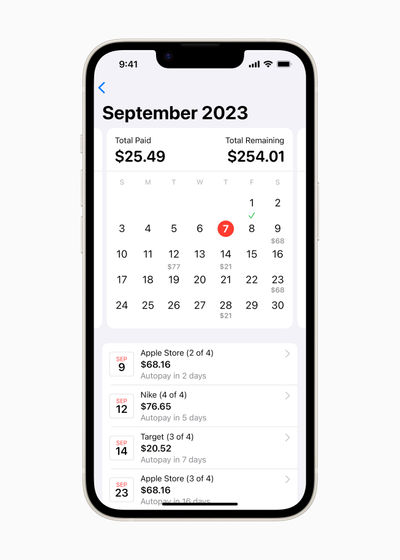 You can apply from your wallet. When applying, a soft credit pull (a survey that does not affect creditworthiness) will be performed after the user has entered the amount they wish to borrow and agrees to the terms.

Postpay with Apple Pay is enabled through Mastercard's
Installments
program, so merchants that accept Apple Pay don't need to do anything. Once a merchant accepts Apple Pay, postpay with Apple Pay becomes an option when checking out online and in iPhone/iPad applications.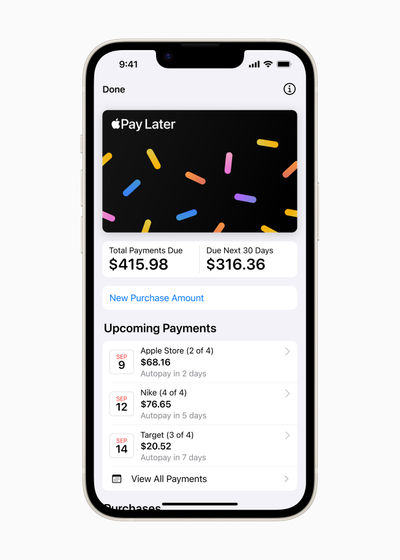 In addition, Apple has established a subsidiary named Apple Financing for deferred payment with Apple Pay, and will conduct credit evaluation and financing through this company. Apple Financing will be reported to US credit bureaus in the fall of 2023.

Beginning March 28th, randomly selected users will be given early access to pre-release versions through their wallet and Apple ID email. Apple plans to roll it out to all eligible users in the coming months.