AnimeJapan 2023 anime ``<span translate="no">Demon Slayer: Kimetsu no Yaiba</span>'' stage report where the cast of Tanjiro, Nezuko, Muichiro, and Mitsuri passionately talked about their expectations and thoughts for ``Swordsmith Village''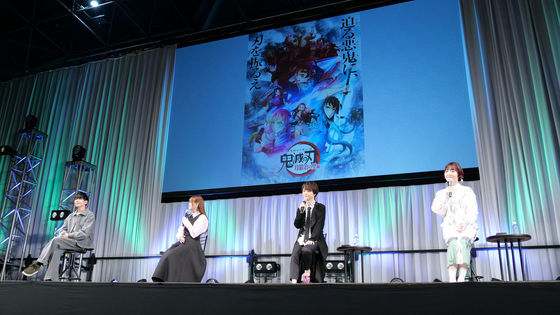 At

AnimeJapan 2023

held on March 25th and 26th, 2023 at Tokyo Big Sight, the stage of the anime '

Demon Slayer: Kimetsu no Yaiba

' was held. New information has been announced with four cast members appearing in the anime '

Demon Slayer: Kimetsu no Yaiba

', which will start broadcasting from April 9, 2023.

TV anime 'Demon Slayer:

Demon Slayer: Kimetsu no Yaiba

' Swordsmith Village https://kimetsu.com/anime/katanakajinosatohen/

Producer

Yuma Takahashi

of Aniplex is in charge of the stage of the anime '

Demon Slayer: Kimetsu no Yaiba

'.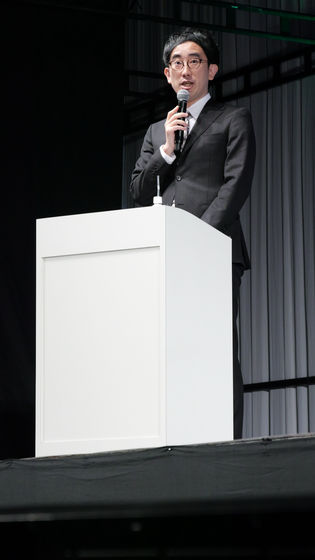 The guest speakers are Natsuki Hanae, who plays the role of Tanjiro Kamado, Akari Kito, who plays the role of Nezuko Kamado, Kengo Kawanishi, who plays the role of Muichiro Tokito, and Kana Hanazawa, who plays the role of Mitsuri Kanroji. On this day, shouting was OK, and there was a scene where the audience at the venue called out the name of the guest waiting on the side of the stage under the direction of producer Takahashi.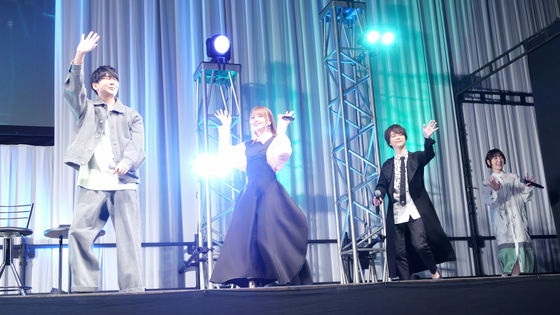 First of all, the debriefing session of '
World Tour Screening
' was held. This world tour screening is titled 'World Tour Screening '
Demon Slayer: Kimetsu no Yaiba
' End of First Quarter, and Towards the Village of Swordsmiths', the final two episodes of the 'Yukaku' arc, episodes 10 and 11, and 2023. The stage greetings were held in theaters around the world as it was developed in conjunction with the first episode of '
Swordsmith's Village
', which is scheduled to be broadcast and distributed from April.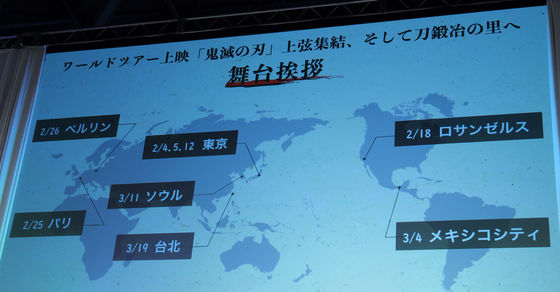 "The excitement in the venue was so great that everyone was like, 'I've been waiting impatiently! .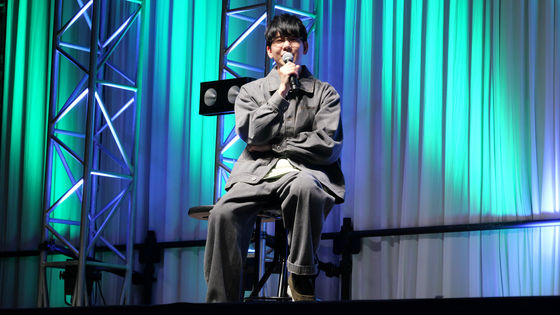 Mr. Kito, who gave a stage greeting in Seoul, South Korea, said that in South Korea, not only the work but also the character Nezuko is popular, and some people were cosplaying at the stage greeting venue. "Everyone at the venue was really enthusiastic, and every time I said a word, they got excited. Some people responded without going through an interpreter. I said.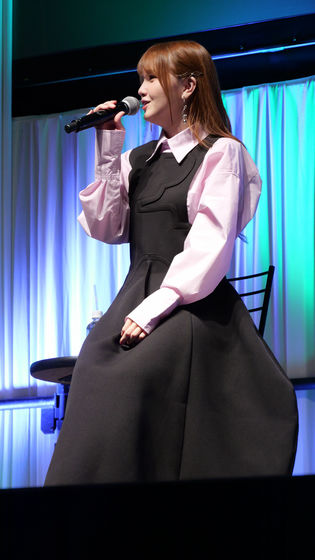 "At the stage greeting in Paris, I felt the power of getting 10 back when I played 1, and I thought I was glad I went," said Mr. Kawanishi. In addition, although it was not recorded in the movie shot for the debriefing session, it seems that Mr. Kasai was throwing a kiss to the audience at the stage greeting theater.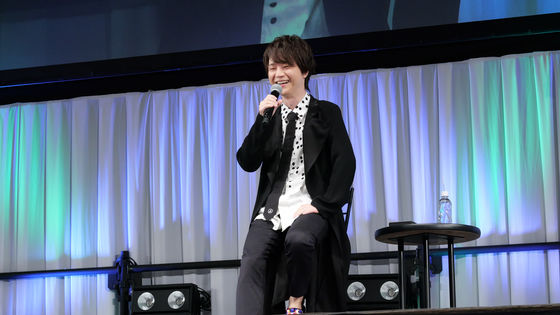 Mr. Hanazawa, who pretended to be a VTR in Chinese, said, '(In Taipei's stage greeting), even if I don't say it in Chinese, everyone understands Japanese, so I will respond at all. Mitsuri's There were people who were dressed up...it was fun,' he commented.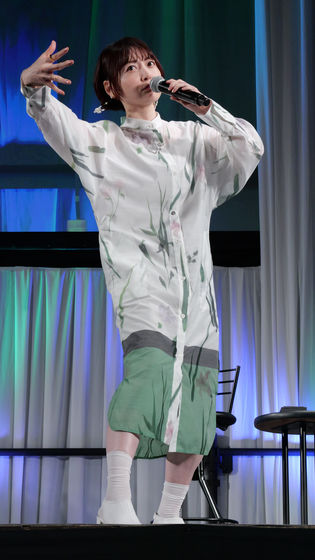 In addition, a new design of the poster announcing 'Swordsmith's Village Edition' was announced. There are two types, the Muichiro version and the Mitsuri version, which will be the key person in the swordsmith village edition.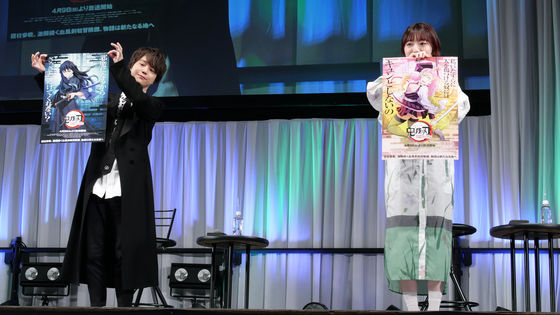 And just before the 'Swordsmith's Village Edition' was aired, a non-credit version of the 'Swordsmith's Village Edition' opening video, which can only be seen at the movie theater at the time of writing the article, was screened.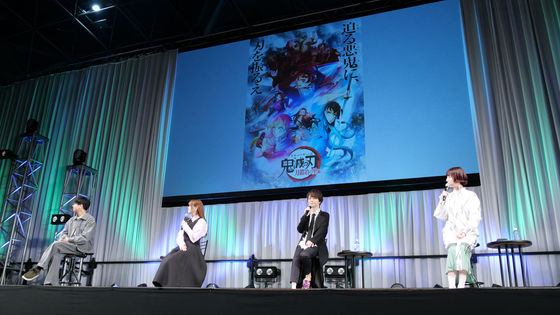 After watching the opening video, Mr. Hanae wiped his eyes while saying, 'I cried...'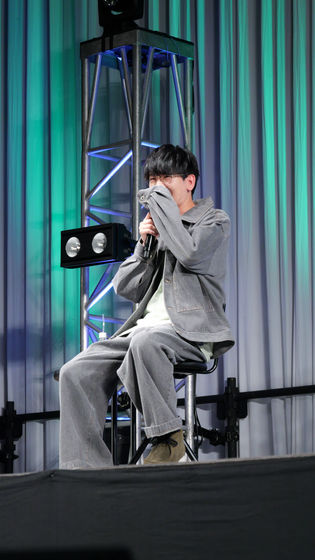 In addition, the newly drawn illustration used for the limited edition CD jacket of MAN WITH A MISSION x milet's 'Kizuna no Kiseki', which is the opening theme song of 'Swordsmith no Sato Hen', has been released.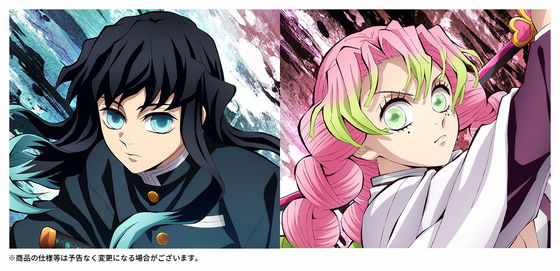 Also, as a new element unique to TV animation that was not included in the world tour screening, it was announced that a new eye catch and a new end roll by ufotable will be added to the TV broadcast / distribution version.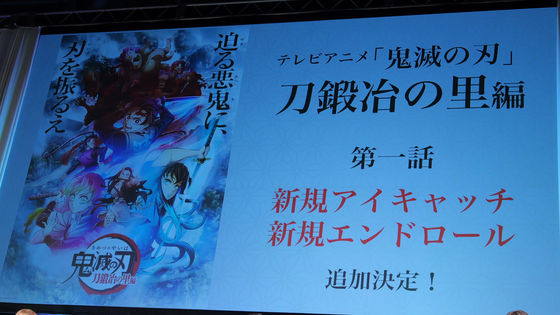 In addition, 'Yukaku Infiltration Edition' and 'Yukaku Decisive Battle Edition', which are edited into two episodes, will be aired on
Saturday Premium
on April 1st and April 8th. At the same time, a documentary video of the world tour screening will be aired.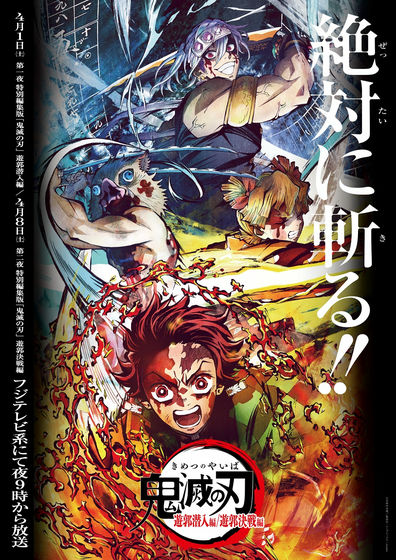 And in commemoration of the special edition of 'Yukaku' on Saturday Premium on April 1st and 8th, and the broadcast of 'Swordsmith's Village' from April 9th,
Tanjiro
, Muichiro, Mitsuri will appear.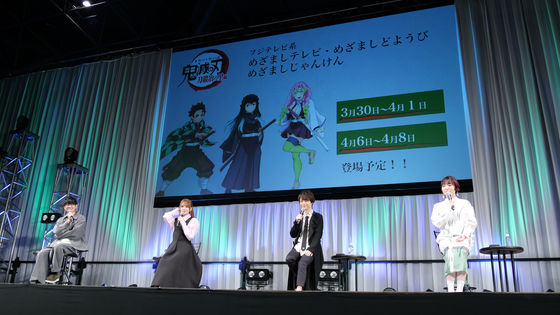 The TV anime ``Demon Slayer: Kimetsu no Yaiba Swordsmith Village Edition'' will be broadcast on Fuji TV nationwide from 23:15 on Sunday, April 9, 2023. The first episode is a one hour special.



In addition, it was announced that the second edition of the ``Record Collection'', which summarizes the illustrations of the anime ``Demon Slayer: Kimetsu no Yaiba'', will be released on June 2, 2023 (Friday). Contains more than 500 illustrations (published from April 2020 to June 2021) centered on the 'Infinite Train Edition' drawn by ufotable, and the cover illustration is character design and animation director Akira Matsushima. drawn down. A cover illustration visual was also released at the venue.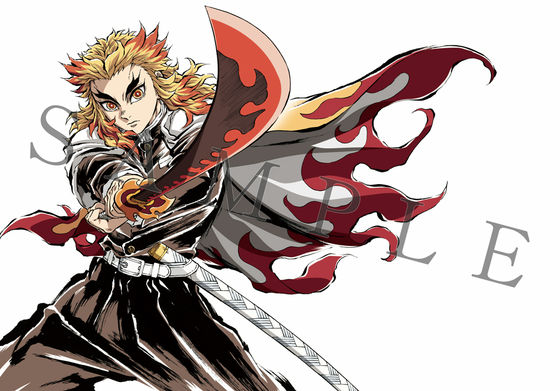 Guests shouting, 'It's so cool!' and 'I want it quickly!'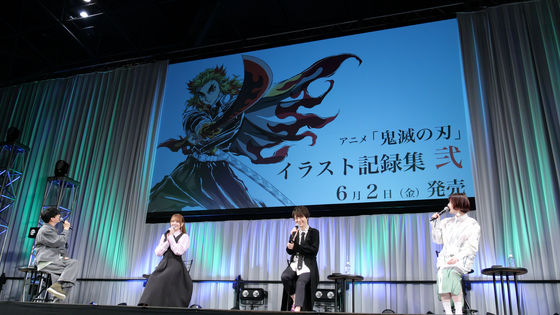 With that, the 35-minute stage was over in no time, and it was time for the closing remarks. "From here on, Muichiro-kun is also really good. It's also interesting to see how he will collapse from here while he is doing it. In exchanges, I've become a bit of a big sister... Please take a look at every corner of it.Thank you very much,' said Hanazawa.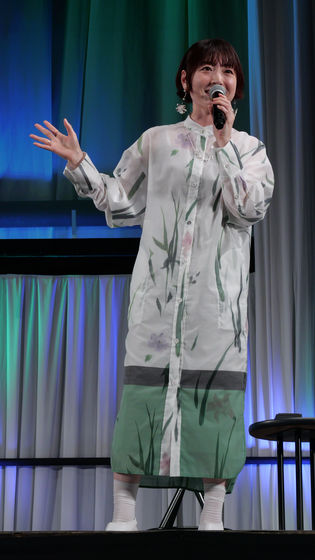 Mr. Kasai said, 'I think it might come true if I keep saying it, but isn't Mugen Castle an amazing gimmick? I'd like a certain U○J to make it an attraction. Let's make it happen with everyone's support. '' he said emphatically.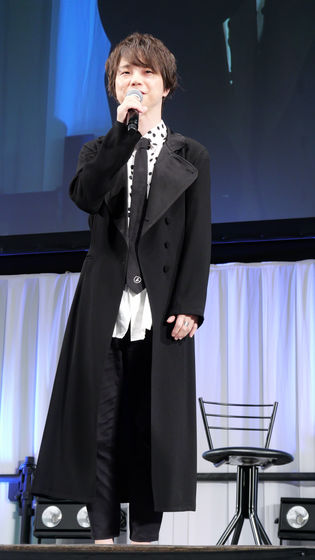 Mr. Kito said, 'I think many people have already seen the beginning of ``Swordsmith's Village'', but I heard that the continuation will finally be broadcast as a TV animation. It's going to be an important story, so I hope you'll watch over Tanjiro, Nezuko, and everyone else and see it through to the end.'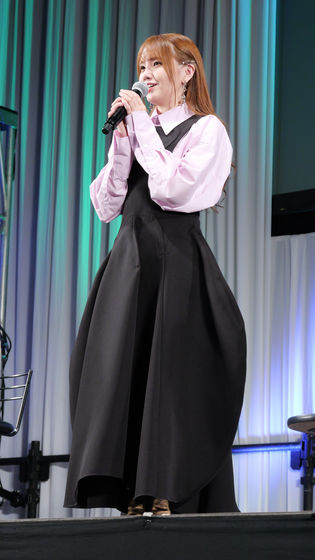 Hanae said, "Thank you very much for today. It was a short time, but I was very happy to meet you all. It is also a story that features.We are on stage like this this time, but there are many people who usually support everyone behind the scenes.Those people are all working together. I'm making an animation.And I think it's only possible because of everyone who supports it.I will continue to support you in the future, just like the Demon Slayer Corps who work together to defeat Muzan Kibutsuji. I would be happy if you could give us strength while doing so. Thank you for your support until the end.'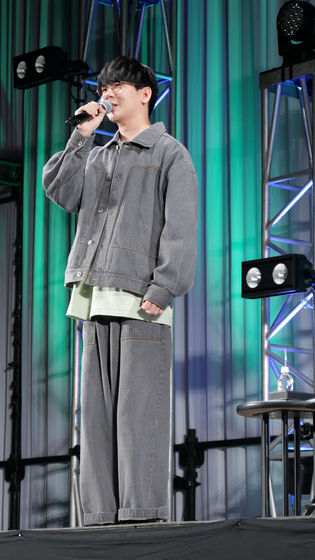 The TV anime 'Devil's Blade' Swordsmith's Village will be broadcast on Fuji TV nationwide from 23:15 on Sunday, April 9th, and on TOKYO MX, BS11, from 23:30 on Saturday, April 15th. Started broadcasting on Gunma TV and Tochigi TV. The first time will be a one-hour special, and will be distributed on each distribution platform at any time.

・Work information
TV animation 'Demon Slayer: Demon Slayer: Kimetsu no Yaiba' Swordsmith Village
■ Broadcast start date
Broadcast on TOKYO MX, BS11, Gunma TV, and Tochigi TV from 23:30 on April 15 (Sat) on Fuji TV affiliates nationwide from 23:15 on April 9 (Sun).
■ Staff
Original: Koyoharu Gotouge
Director: Haruo Tonozaki
Character design total drawing director: Akira Matsushima
Screenplay: ufotable
Sub-character designs: Miyuki Sato, Yoko Kajiyama, Mika Kikuchi
Prop Design: Shoji Koyama
Art Director: Koji Eto
Director of Photography: Yuichi Terao
3D Director: Kazuki Nishiwaki
Color setting: Yuko Omae
Editing: Manabu Jinno
Music: Yuki Kajiura, Go Shiina
Animation production: ufotable
© Koyoharu Gotoge / Shueisha, Aniplex, ufotable

World Tour Screening 'Demon Slayer: Kimetsu no Yaiba' Upper Limit Gathering, and to the Village of Swordsmiths
Distribution: Toho, Aniplex
acclaimed public
© Koyoharu Gotoge / Shueisha, Aniplex, ufotable