Fortnite's new tool 'Unreal Editor for Fortnite' will appear one after another to reproduce other games such as Mario Kart, Minecraft, and Pathfinder with super quality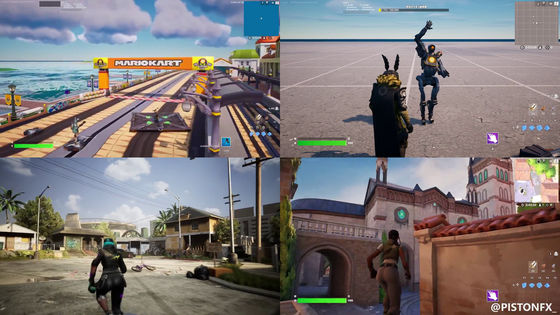 Epic Games, which develops the popular battle royale game 'Fortnite', has created a new creator tool for Fortnite ' Unreal Editor for Fortnite (UEFN) ' that can use many functions of the game engine '
Unreal Engine
' independently developed. announced. A fierce man who reproduces another game such as Mario Kart and Minecraft using this UEFN has appeared at once.
Fortnite Players Are Already Making Incredible Things With Unreal
https://kotaku.com/fortnite-2-0-creative-map-unreal-epic-minecraft-mario-1850259046
On March 23, 2023, Epic Games launched a new creator tool ``
Unreal Editor for Fortnite (UEFN)
'', a new programming language ``Verse'', and ``
Creator Economy 2.0
'' that supports creators active in Fortnite. Released.
Unreal Editor for Fortnite Beta Now Available - Unreal Engine
https://www.unrealengine.com/ja/blog/unreal-editor-for-fortnite-is-now-available-in-beta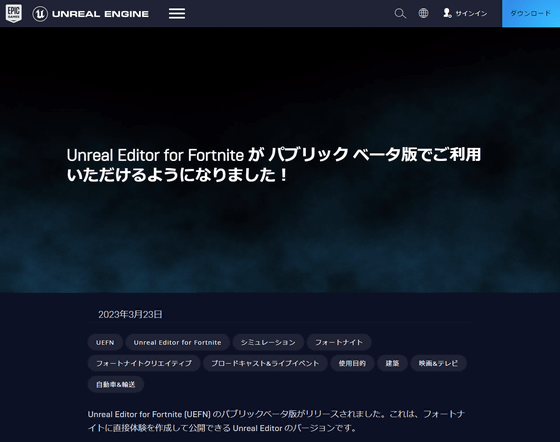 Introducing the Unreal Editor for Fortnite and Creator Economy 2.0.
https://www.fortnite.com/news/unreal-editor-for-fortnite-and-creator-economy-2-0-are-here-new-worlds-await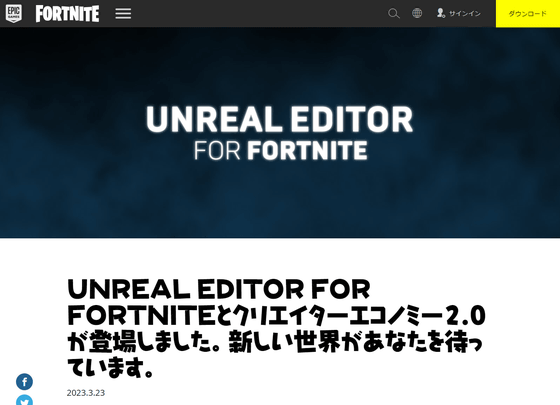 Create amazing experiences with the Unreal Editor for Fortnite - YouTube
Fortnite already has a game mode called 'Fortnite Creative' where creators can build their own 'islands' and create games freely. Fortnite players spend more than 40% of their game play time on this island, and the total number of islands exceeds 1 million at the time of writing. UEFN is positioned as an addition to this Fortnite creative toolset and can be used in conjunction with existing tools.
UEFN is a new PC app for designing, developing and publishing games and experiences that will help you build your Fortnite creative island while leveraging the power of Epic Games' game engine, the Unreal Engine. Unreal Engine's proven tools and workflows can be combined with existing tools to build new games and gaming experiences never before possible.
UEFN is in public beta at the time of writing, allowing you to create rigs and animations with control rigs and sequencers, use Unreal Engine's modeling tools to block geometry directly, and use the Niagara VFX system and post-process volumes. can be used to add visual effects, and more Unreal Engine features will be available in the future.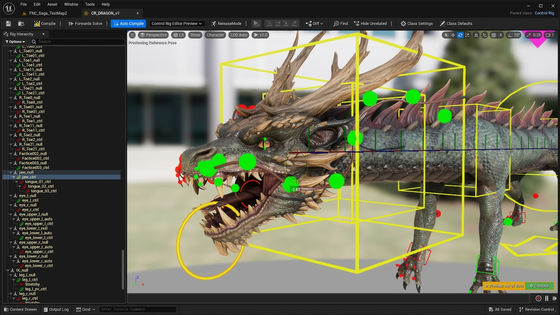 Furthermore, if you use the new programming language 'Verse', by creating scripts in parallel with tools such as UEFN, you can easily create new game logic such as operating in-game tricks and functions, chaining, etc. is possible. Verse is designed not only for Fortnite but also as a programming language for Metaverse, and it is planned to support open world scalability in the future.

And in Creator Economy 2.0, it was announced that creators who publish islands in Fortnite Creative will be paid according to engagement. Up to 40% of net revenue generated from real-money transactions on Fortnite's item shops and islands (both independent creator-created islands and Epic Games' own built islands such as Battle Royale) will go towards engagements It seems that it will be paid to individual creators according to.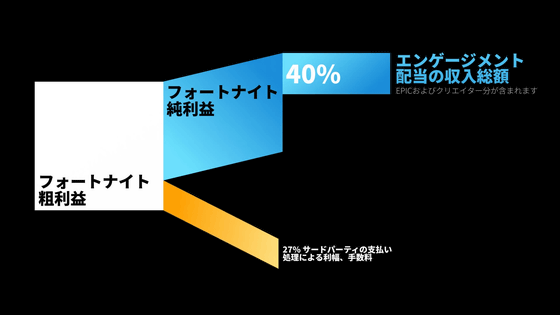 Overseas game media Kotaku has picked up such a high-quality island created using UEFN that has just been released.

Below is an island that reproduces the course ' Kinopio Harbor ' that appears inMario Kart 8 Deluxe . The cart is a bike that appears in Fort Knight, but you can see that the course itself is fairly faithfully reproduced. Although the developer Lucas created the island, it is not open to the public.

Meanwhile #Fortnite #UEFN pic.twitter.com/1IgBvDm1ft

— Lucas7yoshi-UEFN Fanboy (@Lucas7yoshi) March 23, 2023


In addition, some people have reproduced Shrek with UEFN.

UEFN is sick
by u/matheuscsg08 in Fortnite Creative


Creators at game studio BeyondCreative use UEFN to recreate Grove Street from Grand Theft Auto and create original fantasy games. Daniel , who reproduced Grove Street in Grand Theft Auto, explained that it took about three weeks to create.

Beyond has been working in #UEFN for the past few months and @kurmay3d and Paulo Corona have prepared two impressive demos that showcase the power of UEFN! This is just the beginning, and we're excited to unveil more of what we've been working on in the upcoming months.pic.twitter.com/EudKokuPsZ

—BeyondCreative (@BeyondFN) March 22, 2023


Paulo Corona, creator of the original fantasy game, explains that he used assets from Quixel to build the game.

I'm very happy to share this #UEFN demo I did for @BeyondFN using mainly @quixeltools assets. Very excited for what 's coming to the future of Fortnite and gaming, and what other teams will be creating this revolutionary tool! #CreatedinFortnite pic.twitter.com/tpZKbdlp3Z

—Paulo Corona (@Paulo_Corona) March 22, 2023


Mr. Shinmau reproduces a certain popular character of a rival game and Minecraft.

My name is Pathfinder! ! #Fortnite Creative #FortniteCreative2 #UEFN pic.twitter.com/d4pYdGRqU7

— Shinmau (@ sinmau06) March 23, 2023
The world of Minecraft in Fortnite! ! #Fortnite Creative #FortniteCreative2 #UEFN pic.twitter.com/g6mSsNchVq

— Shinmau (@ sinmau06) March 23, 2023


Some have recreated Overwatch maps. However, author Piston said, ``I would like to clarify that all Overwatch-related assets used were extracted from the game files. Also, I do not plan to release this map to the general public, "he emphasized that it was created as a part of confirming what is possible with UEFN.

????An Overwatch map recreated in Fortnite using the new Unreal Editor for Fortnite #Overwatch #FortniteCreative2 #UEFN #UnrealEngine5 pic.twitter.com/MGXPl7ybEN

— Piston ????????? (@pistonfx_) March 23, 2023


On Reddit, there is a post saying 'I ported the Mirage (map) of Counter-Strike: Global Offensive (CS: GO)', and it is reported that the map data of CS: GO was successfully ported. .

Imported Mirage from CS:GO (WIP) : FortniteCreative
https://www.reddit.com/r/FortniteCreative/comments/11zadsm/imported_mirage_from_csgo_wip/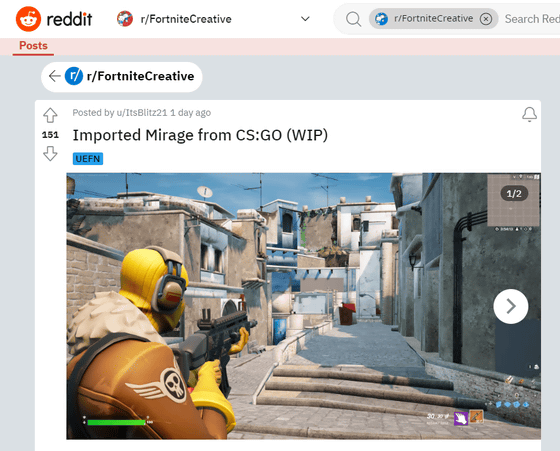 Others have used UEFN to create first-person game footage that differs from the Fortnite game screen. Kotaku explained, 'You can also use Fortnite's creator tool to create animations that don't look like Fortnite.'

It's finally here.

Welcome to UEFN

I can't believe I'm saying this, but #CreatedInFortnite #UEFN @FNCreate pic.twitter.com/t6BqIuw25X

—Rynex (@RynexGD) March 22, 2023


Others have started learning the basics of UEFN and made a clip of a motorcycle blasting through the desert overnight.

Me: Today I am gonna start with a few basics of UEFN

Also me: Working at 4am with 3 coffees creating the biggest terrain possible and reading half of the #UEFN docs #Fortnite pic.twitter.com/UYLejEBhkB

—Chrisp (@chrisp_games) March 23, 2023


Some people have imported Super Mario 64's Peach Castle.

#FortniteCreative #UEFN

Chapter 1 is the last thing on my mind rn???? pic.twitter.com/FHXbEyFFwM

—Dogboi76YT (@Dogboi76YT) March 22, 2023


In addition, Tim Sweeney, co-founder of Epic Games, explained in an interview with The Verge that the tool announced this time is one of the new steps to create a metaverse.

With the advent of UEFN, existing data can be imported directly into UEFN, so in the future, games other than Fortnite may port characters and skins to Fortnite and implement them in games. Kotaku points out that there is.