Elon Musk suffers from sleep deprivation and 'severe back pain' after working more than 120 hours a week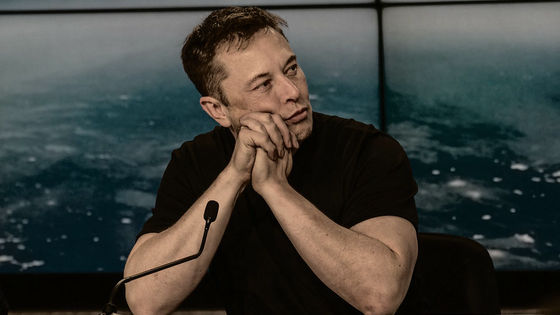 by Daniel Oberhaus

Elon Musk, who acquired Twitter and became its CEO, not only worked on large-scale personnel reductions and released new services to improve Twitter's management situation, but also electric car maker Tesla and space development company SpaceX. The Wall Street Journal reported that Mr. Mask's workload exceeds 120 hours a week, and he complains of back pain due to lack of sleep.

When Does Elon Musk Sleep? Billionaire Speaks of Limits to Fixing Twitter and His Back Pain - WSJ
https://www.wsj.com/articles/when-does-elon-musk-sleep-billionaire-speaks-of-limits-to-fixing-twitter-and-his-back-pain-11675604800

Elon Musk Says He Saved Twitter From Bankruptcy, On Track to 'Breakeven' - Bloomberg
https://www.bloomberg.com/news/articles/2023-02-05/elon-musk-says-he-saved-twitter-from-bankruptcy-on-track-to-breakeven

According to The Wall Street Journal, Musk told his lawyer during the trial, 'I'm sorry I didn't sleep last night so I'm not in the best shape. I'm sorry I'm fidgeting. I have a pretty bad back ache.' that's right.

The Wall Street Journal said, 'Mr. Mask runs multiple companies such as SpaceX and Tesla, and it seems that the days of working late at night and hardly sleeping have become commonplace. It led to the birth of usable rockets and sexy electric cars, but Mr. Musk is 51 years old and if he continues to work hard at this age, he will pay a big price.'

In November 2022, Musk told investor Ron Baron that his work week had exploded from 80 hours to more than 120 hours since he acquired Twitter and became CEO. That's right. In addition, Mr. Mask said, 'I sleep, wake up and work, sleep, wake up and work, seven days a week.' 'But if Twitter can get back on the right track, SpaceX And it should be much easier to manage than Tesla.'

``The past three months have been very tough as I had to save Twitter from bankruptcy while fulfilling key duties at Tesla and SpaceX,'' Musk said in a statement to The Wall Street Journal. You don't want to struggle like this. Twitter still has a lot of work to do, but we are close to breaking even.Public support for us is welcome!' I am appealing how hard the days from have been.

Last 3 months were extremely tough, as had to save Twitter from bankruptcy, while fulfilling essential Tesla & SpaceX duties. Wouldn't wish that pain on anyone.

Twitter still has challenges, but is now trending to breakeven if we keep at it. Public support is much appreciated!

— Elon Musk (@elonmusk) February 5, 2023


Some Tesla investors are concerned about Mr. Mask's concentration on Twitter's management, and there are calls for him to withdraw from Twitter's management. To deal with these voices, Musk said, `` If anyone is stupid enough to take over as CEO of Twitter, I will resign immediately ,'' and skipped important Tesla meetings even after becoming Twitter CEO. I'm appealing that I've never been able to do it.

In fact, Musk said after the Twitter acquisition, ``I still have a lot of work to do at Tesla! I tweeted, 'I am appealing that I am doing Tesla's work.

I still do a lot of work at Tesla! Was at our Palo Alto engineering office until late Thursday night when I had to redeye to NY.

— Elon Musk (@elonmusk) November 5, 2022


However, in response to criticism of Twitter, Mr. Musk said, ``It is impossible to fix all aspects of Twitter around the world overnight while operating Tesla and SpaceX,'' and what you can do is limited. I also claimed that there are

First I've heard. It is not possible for me to fix every aspect of Twitter worldwide overnight, while still running Tesla and SpaceX, among other things.

— Elon Musk (@elonmusk) January 25, 2023


Concerns about Mr. Mask's health began to be shouted after a new scar was found on the neck of a photo taken several years ago. According to reports, Musk underwent two surgeries in 2020 to deal with neck pain, the first one being unsuccessful. About this neck pain, Mr. Musk said that it was caused by damaging the spine in sumo wrestling that went to the birthday party. Musk tweeted, 'I managed to throw him away, but I hurt my 5th and 6th cervical vertebrae and have had severe back pain for 8 years! I have my 6th cervical vertebra fixed,' he tweeted.

Managed to throw him, but it cost me smashing my c5-c6 disc & 8 years of mega back pain! Finally fixed with c5-c6 disc fusion.

— Elon Musk (@elonmusk) March 21, 2022


Mr. Mask also reveals on Twitter that he uses the sleeping drug Ambien.

A little red wine, vintage record, some Ambien... and magic!

— Elon Musk (@elonmusk) June 7, 2017


Entrepreneur Arianna Huffington told Mr. Mask in 2018, 'Please take care of yourself more,' and appealed how lack of sleep adversely affects health. Mr. Musk responded, ``Ford and Tesla are the only two American car companies that have escaped bankruptcy. You think you're thinking, but you're not,' he tweeted, claiming that if he didn't work, his company wouldn't survive.

Ford & Tesla are the only 2 American car companies to avoid bankruptcy. I just got home from the factory. You think this is an option.

— Elon Musk (@elonmusk) August 19, 2018
in Note, Posted by logu_ii