Earon Mask sets his account private and tests Twitter's algorithm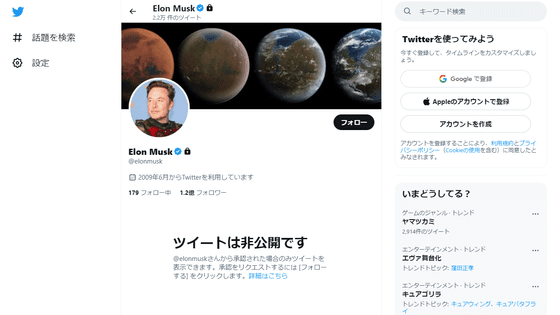 Twitter CEO Elon Musk set his account private early in the morning of February 1, 2023. Mr. Mask said that the reason for setting it to private is ``to test an algorithm bug that shows more tweets from private accounts than public tweets.''

Musk locks his Twitter account to personally test reported malfunction | Ars Technica

https://arstechnica.com/gadgets/2023/02/musk-goes-private-on-twitter-to-test-if-locked-tweets-get-more-views/
At the time of writing the article, Mr. Mask's account was set to private, and only users who followed him in advance could see his tweets.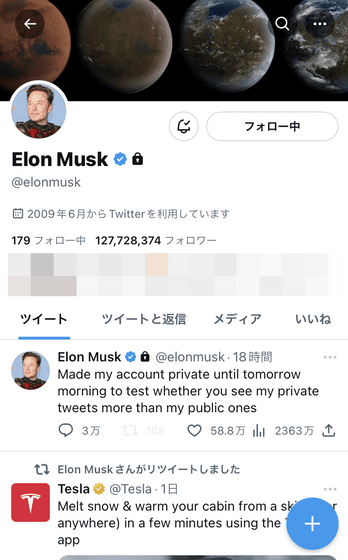 After setting the account to private to test the algorithm, several users said, ``He doesn't seem to know how Twitter works,'' and ``Mr. ' said. Also, a user called KnowNothing said, 'Mr. Mask needs to run ideas like junior high school experiments to understand how the algorithm works.'

genuinely hilarious that he spent 44 billion dollars on a company, but still needs to run a middle schooler's idea of an experiment to figure out how the company's algorithm works because he fired anyone who could have possibly explained it to him

pic.twitter.com/ LhcQS Verfx —KnowNothing (@KnowNothingTV) February 1, 2023


Twitter has taken measures such as starting to display the number of times tweets are displayed in December 2022 and fixing the "recommended" timeline at the top . However, users who analyzed the number of views of tweets pointed out that tweets from private accounts are more likely to be displayed than tweets from public accounts.

Okay, since everyone else is trying this account locking technique to see if it improves engagement, I'll give it a whirl. Let me know if you're seeing my tweets again if they've been hidden over the past few weeks.

—Ben Shapiro (@benshapiro) February 1, 2023


The reason why Mr. Mask set his account to private this time was part of the test against these points, and Mr. Mask said, ``I will make my account private until tomorrow morning, and there will be more private tweets than public tweets. We are testing whether it will be displayed,' he left a tweet.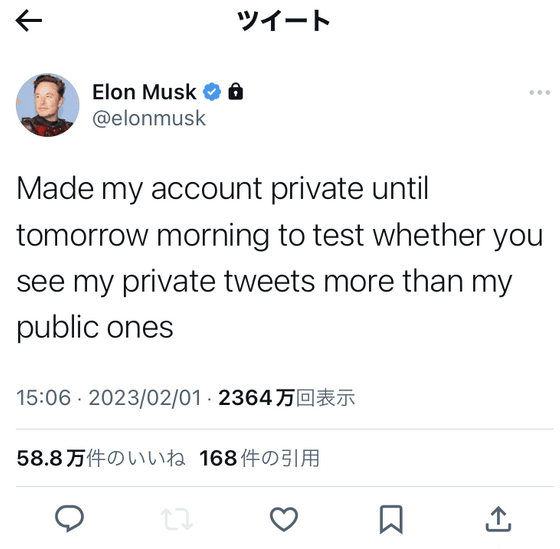 However, it has been pointed out that Twitter may not comply with the EU's (PDF file) Digital Services Act (DSA), and Twitter's compliance violation is suspected. According to EU Commissioner Thierry Breton, ``We will conduct stress tests on Twitter in the coming weeks to prove that Twitter does not comply with DSA requirements to block illegal content.'' .

If Twitter does not remediate its non-compliance through stress testing, Twitter may be subject to fines and/or restrictions on the provision of services. On the other hand, Mr. Musk tweeted, ``Twitter's information transparency, accountability, and accurate goals in the EU are aligned,'' and by preventing misinformation from spreading on the platform, Twitter will continue to support DSA in the future. We have committed to comply with the compliance of