Chocolate brand M & M's mascot character withdraws from marketing & branding indefinitely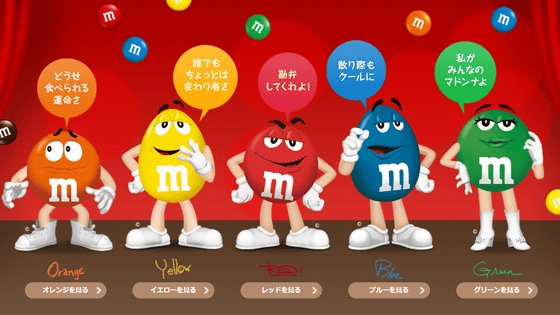 It became clear that the mascot character ' Spokes Candy ' of the chocolate brand ' M & M's ' will withdraw from marketing and branding in the United States indefinitely. It is unknown how spokes candy will be treated in marketing and branding in countries and regions other than the United States.

M&M's 'spokescandies' controversy, explained - Polygon
https://www.polygon.com/23567793/m-and-m-spokescandies-controversy-explained-shoe-change-green-tucker-carlson

On January 23, 2023, M&M's updated its official Twitter account to read, ``America, let's talk. You may not have noticed it, and I didn't think it would become a hot topic on the internet.But now, we know that customers can be prejudiced just by saying that 'a candy character is wearing shoes.' M&M's is all about bringing people together, so stigma is the last thing we want. Instead, let me introduce you to a new billboard that Americans can relate to: the lovable Maya Rudolph , who wants to create a world where everyone can feel like themselves. I'm sure you will support the power of fun to create,' he posted.

A message from M&M'S.pic.twitter.com/ EMucEBTd9o

— M&M'S (@mmschocolate) January 23, 2023


The above tweet, which informs that Spokes Candy has actually fired M & M's mascot character, has been retweeted more than 17,000 times at the time of article creation, and has collected more than 40,000 likes.

Mars, the distributor of M&M's, announced an initiative to fit into a 'more dynamic and progressive world' in 2022, upgrading the look of some of its spokes candies to match.

M & M'S: For All Funkind-YouTube


A particular highlight of this upgrade was the minor character design changes made to make Green and Brown less sexy.

For example, the pre-update Green had lots of eyelashes, long legs, and high-heeled boots.

we used to be a proper country pic.twitter.com/hBmc5np29B

—Miley???? (@MilesKlee) January 20, 2022


However, after the update, Green has fewer eyelashes, shorter legs, and you can see that he has changed his shoes to sneakers.

this story led me to the official m&m's website, in which they have interviews with the 'spokescandies.' now why did they ask the green one about her 'past transgressions' ............ pic.twitter .com/jN3nDFKnzi

— kelsey weekman (@kelsaywhat) January 23, 2023


The change has drawn criticism from feminist activists and far-right conservatives. In fact, in January 2022, American conservative political commentator Tucker Carlson criticized the change in spoke candy's character design in FOX News.

Tucker: M&M's will not be satisfied until every last cartoon character is deeply unappealing and totally androgynous. Until the moment you wouldn't want to have a drink with any one of them. 've achieved equity… pic.twitter.com/rz7VtVCHWu

—Acyn (@Acyn) January 22, 2022


After that, Mr. Carlson continued to criticize the character design of the spokes candy, and from January 2023, many ``videos using the voice of Mr. Carlson criticizing the spokes candy'' will be posted on TikTok. It was. It is unknown whether criticism by celebrities and the popularity of criticism videos on social media led to the dismissal of spokes candy.

Comedian Rudolf, who will act as an image character for M & M's on behalf of Spokes Candy, said, 'I am a lifelong fan of M & M's and was asked to participate in a campaign for such a legendary brand. I am very honored,' he commented .