A survey of more than 2,300 people involved in the game industry found that 45% of respondents said that the concept of the Metaverse had not been realized, and 61% of developers were negative about blockchain technology.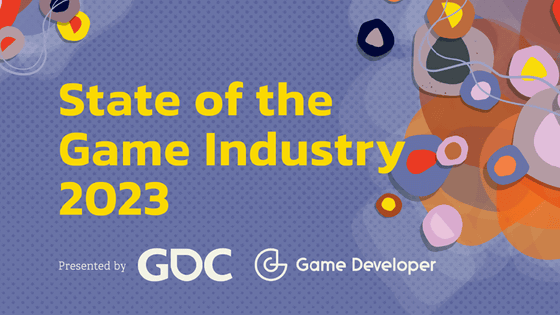 The results of the annual survey were announced ahead of the Game Developers Conference (GDC), an international conference for game developers to be held in San Francisco in March 2023. Survey questions cover a wide range of subjects, including Metaverse, VR/AR, blockchain technology, and harassment.

GDC 2023 State of the Game Industry: Devs Weigh in on the Metaverse, Player Toxicity, and More | News | GDC | Game Developers Conference

https://gdconf.com/news/gdc-2023-state-game-industry-devs-weigh-metaverse-player-toxicity-and-more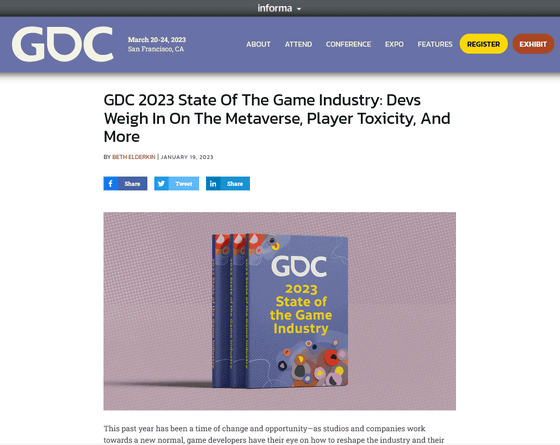 Can M&A be a positive force in the game industry?

https://www.gamedeveloper.com/business/can-ma-be-a-positive-force-in-the-game-industry-devs-aren-t-convinced
More than 2,300 game developers and game experts responded to the survey, and 4% of respondents have been engaged in game development for less than a year, 11% for 1-2 years, 19% for 3-5 years, and 6. 23% for up to 10 years, 15% for 11-15 years, 10% for 16-20 years, 7% for 21-25 years, 3% for 26-30 years, 3% for 30 years or more. In addition, 5% of respondents have never been involved in development.
The answer to the question that can be answered multiple times, ``What kind of job do you have?'' was the highest for game designers at 37%, programmers and engineers at 35%, producers and managers at 31%, and management and accounting at 21%. 21% visual, 15% writing, 14% public relations and marketing, 12% audio, 10% quality control, and 10% other occupations.
In terms of the size of the companies to which the respondents belonged, indie studios accounted for the most at 39%, followed by large and medium-sized studios at 23%, and sole proprietors and freelancers at 13%.
In addition, 62% of residences are in North America, 23% in Europe, 8% in Asia, 3% in South America, 2% in Oceania, and 1% in Africa.
When asked about the platform of the project currently under development, multiple answers were possible, and the highest number was PC at 65%. This was followed by PS5 at 33%, Xbox series X / S at 30%, Android at 27%, iOS at 26%, Xbox One at 19%, Nintendo Switch and PS4 at 18% each. In addition, 12% for VR headsets, 4% for AR terminals, and 1% for Google Stadia, which ended its service on January 18, 2023.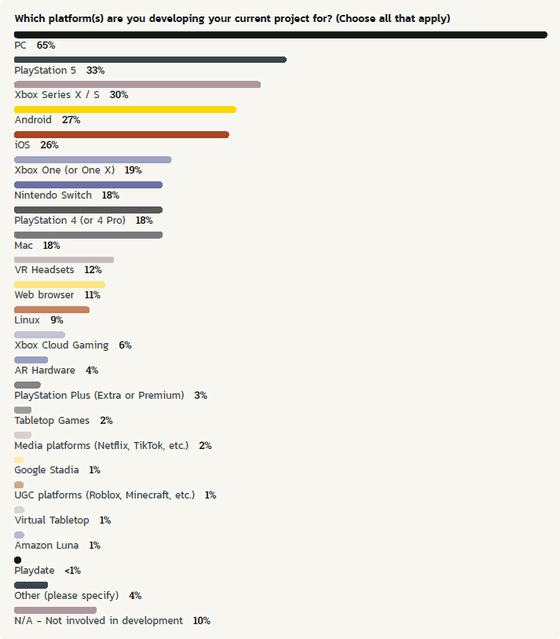 Google terminates cloud game service Stadia, supports full refund of game & hardware - GIGAZINE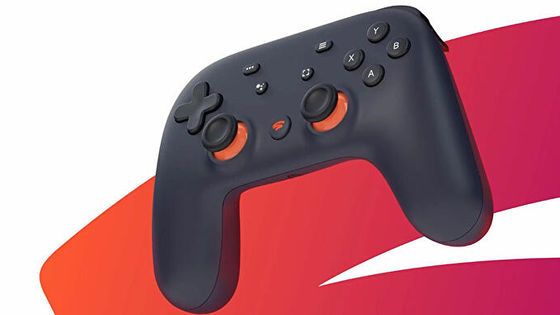 Even when asked about the platform of the project to be developed next, the highest number of answers was 57% on PC. Below, PS5 was 33%, Xbox Series X / S was 28%, Android was 25%, iOS was 24%, and there was no change in the top five. Nintendo Switch was 19%.

Platforms that developers are interested in are also PC (64%) and PS5 (46%), but the third place is Nintendo Switch (35%). In addition, VR headsets accounted for 23% and AR devices for 12%.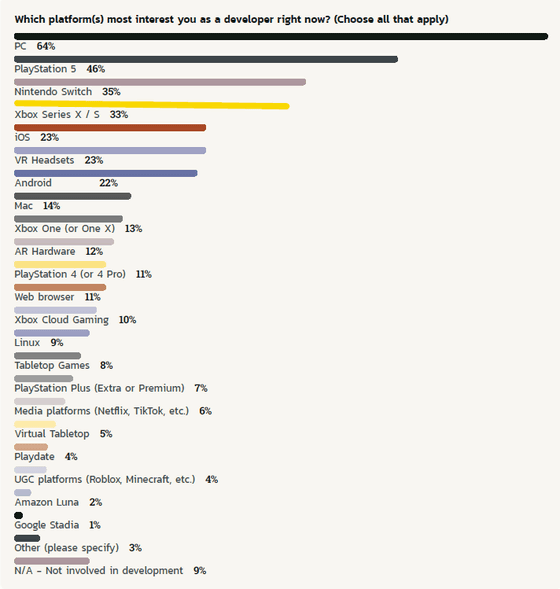 In terms of the business model used (multiple answers allowed), the first place is paid download (50%), the second place is free download (36%), and the following are paid DLC/updates (25%), This was followed by paid items (23%), free DLC/updates (21%), and paid game currency (19%). Monthly subscription model accounted for 9%, and monetization with blockchain technology was another 4%.

The VR / AR platform that game industry people are interested in is the 1st place Meta Quest (39%) and the 2nd place PlayStation VR2 (35%). Below is the Valve index (24%), Meta's Project Cambria (19%), and HTC VIVE (19%).

``Meta Quest 3'' to appear in 2023, revealed in the third quarter 2022 financial report-GIGAZINE



'Metaverse' is a hot topic in the game industry these days. %) exceeded the number of responses from Meta Horizon Worlds (7%) and Microsoft Minecraft (7%), but the largest number was 45%, ``The concept of Metaverse cannot fulfill its promises''. This number of responses exceeds 33% when the same question was asked in 2022, and it can be seen that game industry officials are quite skeptical of Metaverse.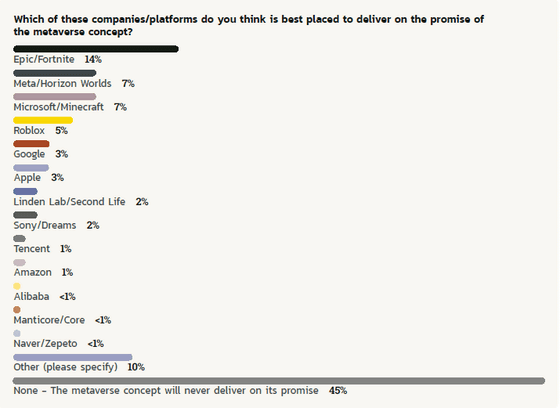 Famous large companies such as Sony, Meta, and Microsoft established an industry group to formulate metaverse standards - GIGAZINE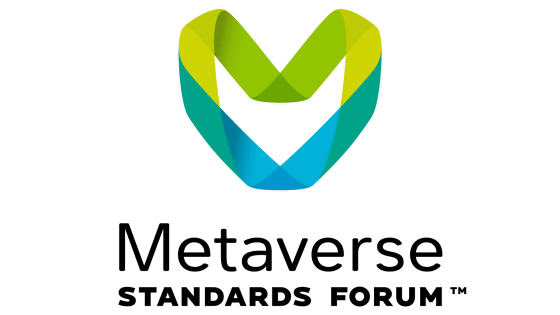 GDC has published the full text of the report as ``representing the majority of the answers,'' pointing out the six problems. Its contents are as follows.

1: Lack of clear definition
Despite the 'promise of the Metaverse', the Metaverse is nothing at present, and neither the people trying to sell it nor the consumers understand 'What is the Metaverse?' Remember what happened ten years ago with "cloud gaming"?

2: Lack of advanced interactivity
Over the years, games have focused on core gameplay and graphical fidelity, networking, and more. However, the focus has not been on building a high degree of interactivity. Unfortunately for the VR industry, delivering an experience comparable to that of a big title in VR essentially requires a densely packed environment of interactive details.

3: Lack of cheap hardware
VR headset prices are too high for the average consumer.

4: Lack of improvement in standardization
Most VR games weren't built with specific controls in mind, creating barriers for users to play similar games.

5: Lack of expert monetization strategies
Even the most basic games in VR require a lot more energy than traditional games. This means that VR games are susceptible to attrition from heavy-handed monetization strategies like battle passes and loot boxes. The idea of server costs and profit from the metaverse is going to be very difficult compared to traditional games.

6: Lack of better hardware (or better developers)
Today's hardware is much more advanced than it was 20 years ago, but there are still many challenges. Long load times, blurry text, sticky polygons, etc. Either the hardware needs to be improved or the devs need to improve their ability to optimize the game for the platform. VR should literally provide "a truly unique experience you can't get anywhere else." The potential for the Metaverse could only come from some kind of massive hardware leap, a neural interface, not as a digital VR chatroom. [The Metaverse] already exists and is sustainable, just being resold in new concepts by companies looking to make a profit.

'Blockchain technology' tends to be a hot topic along with the Metaverse, but 75% of the respondents said that they were not interested in this as a studio. 56%)" and "I was in favor of blockchain technology but turned against it (5%)".

In addition to technology-related questions, questions about the working environment are also being asked. According to this, the working hours per week in the past year were 15% for 0 to 20 hours, 6% for 21 to 25 hours, 7% for 26 to 30 hours, 7% for 31 to 35 hours, and 36 to 40 hours. was 29%, 41-45 hours 18%, 46-50 hours 10%, 51-55 hours 4%, 56-60 hours 2%, and 60 hours or more 4%. More than 60 hours a week is equivalent to more than 12 hours a day if you work 5 days a week, and just over 9 hours a day if you work 7 days a week.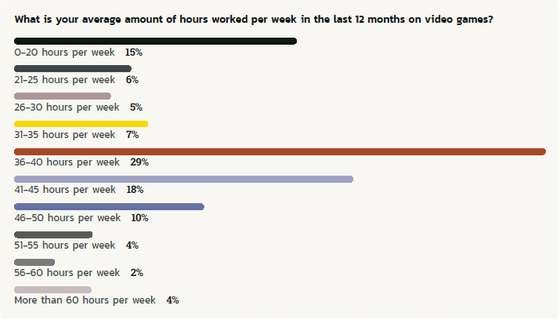 If you work 8 hours a day for 5 days, it will reach 40 hours, but 74% of the answers about the reason why you worked longer hours were ``pressure from yourself (because you thought you needed it)''. In addition, 36% said, 'I don't think my working hours are too long,' 14% said, 'Pressure from management (it was clear that I needed that much working hours),' and 'People around me (others).' all of them were working at that time)" was 11%, and "I don't know, I just did it" was 9%.

Regarding job changes, 16% said they had already changed jobs, 36% said they were thinking about changing jobs, and 48% said they were not thinking about changing jobs or had no answer. 81% of the reasons for changing jobs were "salary/compensation", 67% "corporate culture", 56% "specific project or business" and "work-life balance", 55% "policy regarding remote work", and "benefits". 54%, 40% job title, 39% location, 34% working hours/holidays, and 25% change in course or career path.

There was also a question about harassment, and in response to the question 'Do you think that annoying players and harassment are a big problem in the game industry?' I think it is a problem (36%)" was a total of 78%, 13% answered that it was a minor problem even though they saw it as a problem, and 4% answered that it was not a problem.

11% said that they were directly harassed by the player community while participating in the project, 19% said that they were harassed by their colleagues or team, and 10% said that they were harassed by them as well as their colleagues and team. %, and 54% answered 'no'.


in Game, Posted by logc_nt