Environmental activist Greta Thunberg detained by German police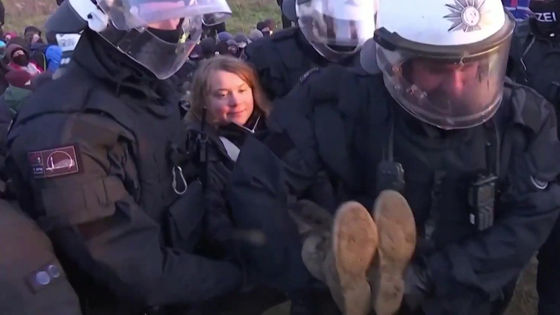 On January 17, 2023, German police arrested a group of environmental activists, including Greta Thunberg, who was protesting against coal mining in Germany. The police recommended disbanding because the ground was muddy due to daily rainfall and there was a danger that the demonstrators would move.

Greta Thunberg detained by police during eco protest in German village | World News | Sky News

https://news.sky.com/story/greta-thunberg-detained-by-police-during-eco-protest-in-german-village-12788902
Greta Thunberg detained by police in Germany at coal mine protest | CNN
https://edition.cnn.com/2023/01/17/us/greta-thunberg-detained-germany-climate/index.html
Greta Thunberg released after brief detention at German mine protest, police say | Reuters
https://www.reuters.com/world/europe/german-police-detain-greta-thunberg-german-coal-village-protests-2023-01-17/
Swedish environmental activist Thunberg, who was 20 years old at the time of writing, was detained by police during a protest demonstration against coal mining in western Germany.
You can see the situation at the time of carrying from the following movie.
Greta Thunberg carried out and detained by German police at protest - YouTube
Mr. Thunberg being taken by a police officer wearing a protector.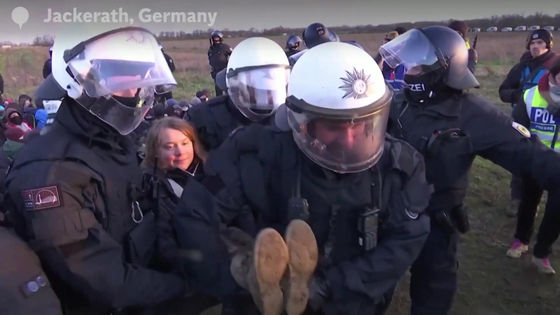 The ground is muddy at the site, and you can see that a large puddle is formed.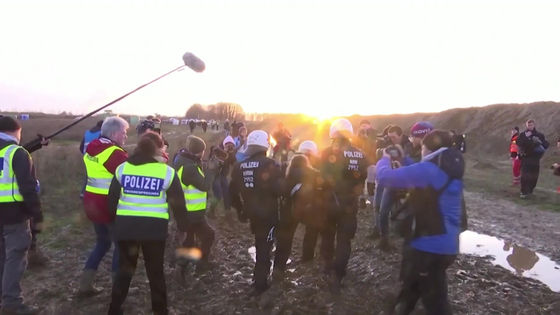 According to local Aachen police, Mr. Thunberg and others were not arrested, but were moved with other protesters for identification.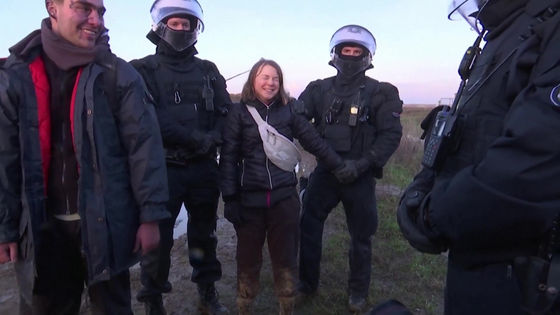 'We knew who she was, but she didn't get the VIP treatment, and she didn't fight back,' a police spokeswoman said. Mr. Thunberg and others who were taken by the police were released on the same day.



Germany has traditionally relied on Russian natural gas for energy, but EU sanctions following the invasion of Ukraine have reduced supplies. As a result, the three-party coalition government, including the green party, was forced to change its policy on coal use.

The focal point was the coal mine Gerzweiler in North Rhine-Westphalia and the nearby village of Lützerath. In 2022, the German government announced plans to continue coal mining in the region until 2030.

In order to expand the open pit Gerzweiler mine, it was necessary to demolish the village of Lützerath, where most of the residents had already moved out. Environmental activists opposed the German government's announcement gathered in the village, They protested by building lookouts and barricades. After that, a German court ruled that the power company that owns the Gerzweiler mine could demolish the village and evict the activists occupying the house.

According to the announcement of Luetzi Bleibt, an organization that is protesting in Lutzerath village, about 200 people are gathering in the village as of early January 2023. However, in January, the German police mobilized about 1,000 people to remove the barricades.

After that, Mr. Thunberg joined the protest in mid-January while activists continued to sit down.

Climate strike week 230. We are currently in Lützerath, a German village threatened to be demolished for an expansion of a coal mine. People have been resisting for years. Join us here at 12 or a local protest tomorrow to demand that #Lützerath Bleibt ! ClimateStrike pic.twitter.com/hGrCK6ZQew

— Greta Thunberg (@GretaThunberg) January 13, 2023


Then, on the 17th, Mr. Thunberg and other activists charged towards the mine, broke the police barrier and entered the mine, so they were eliminated by the police. At the site, the ground had softened due to several days of rain, and it was especially dangerous for a large number of people to move on the steep slope. Local police say this is the second time Thunberg has been detained at the location.

in Note, Posted by log1l_ks