I tried all four types of `` Yoroizuka-style Gateau Chocolat Donuts '' that arranged various gateau chocolate donuts with a crunchy texture


As a new product of ' misdo meets Toshi Yoroizuka ' jointly developed by Mister Donut and Chef Toshihiko Yoroizuka, all four types of 'Yoroizuka Gateau Chocolat Donuts' will be released for a limited time from January 11, 2023 (Wednesday). So I went to eat at once.

misdo meets Toshi Yoroizuka | Mister Donut

https://www.misterdonut.jp/m_menu/new/230111_Toshi_Yoroizuka/
Arrived at Mister Donut.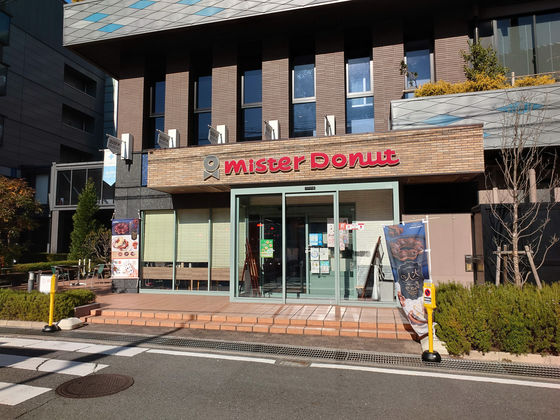 This is the Yoroizuka-style Gateau Chocolat Donut.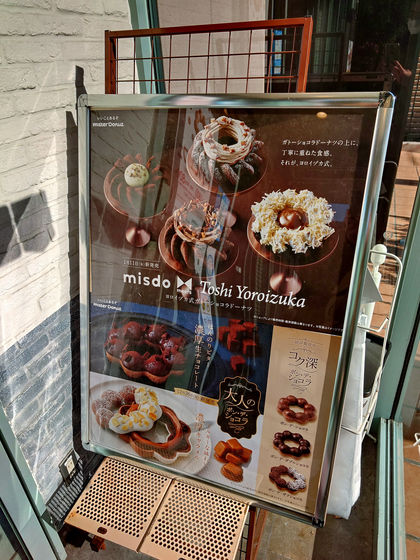 All four types are like this, the upper left is 'Triore Chocolat', the upper right is 'Noid Coco', the lower left is 'Mont Blanc', and the lower right is 'Pistache'.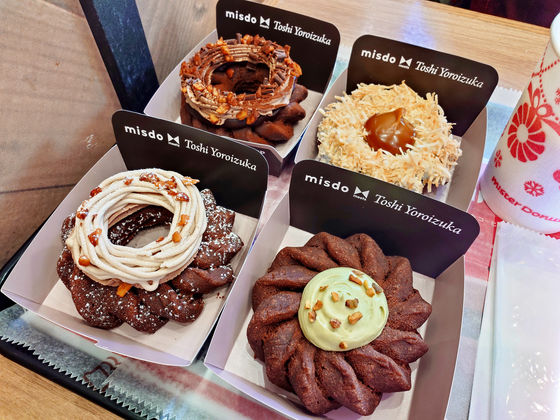 'Triole chocolat' has whipped cream squeezed all over the donut, and curled chocolat, candy almonds, and cocoa powder are sprinkled.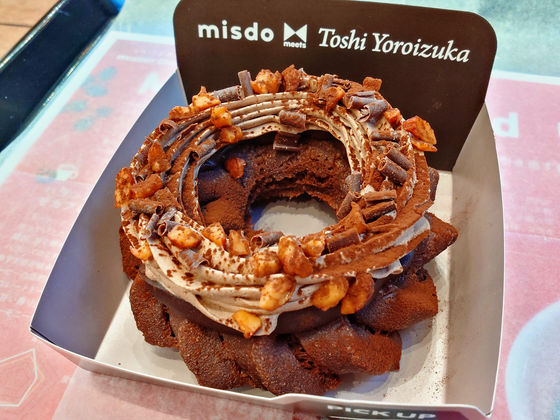 The cream part has two layers: chocolate cream on the bottom and chocolate whip on the top. The donut part is a gateau chocolat donut similar to the cookie cruller , which was characterized by the crunchy texture on the outside, and has a firm sweetness and a slight bitterness. In general, the rich chocolate flavor is combined with crunchy donuts, fluffy whipped cream, and crispy candy almonds, making it feel like you are eating a cake.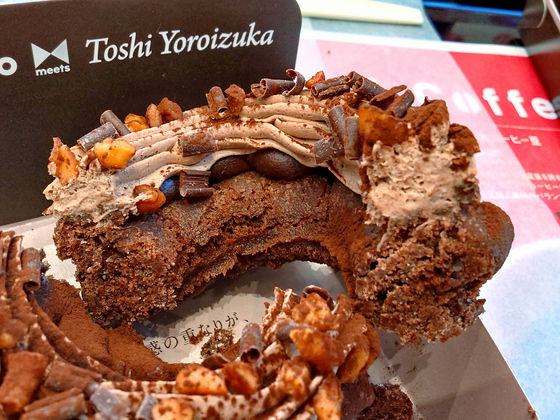 Next is 'Noido Coco'. The donut is coated with white chocolate and topped with roasted coconut longs. The center cream is salted caramel cream, and the bottom is covered with chocolate to prevent it from spilling out of the hole.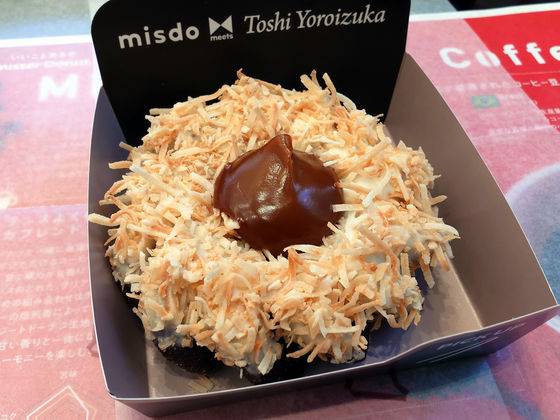 Coconut long has a firm fibrous texture in each one, and it has a crunchy crunchy texture together with donuts. Compared to "Triole Chocolat", the chocolate-like sweetness is modest, but the salty caramel cream enhances the sweetness and gives the impression of tightening the whole.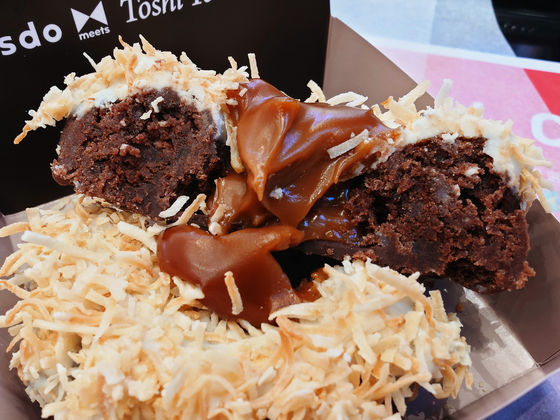 The third is 'Mont Blanc'. It is similar to 'Triore Chocolat', but the top of the donut is chocolate whip and marron whip.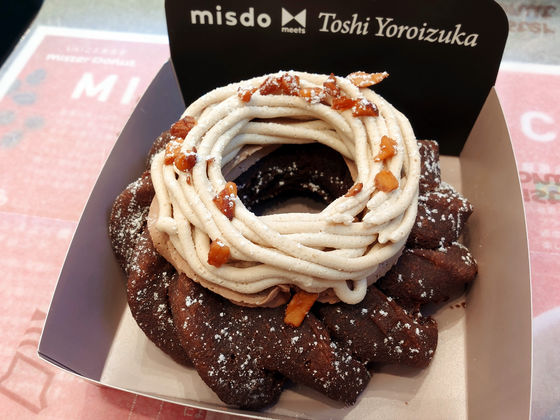 There is no cocoa powder and the overall chocolate flavor is suppressed, and it feels like the taste of marron whip with a rough texture and the sweetness of chestnuts goes through the core.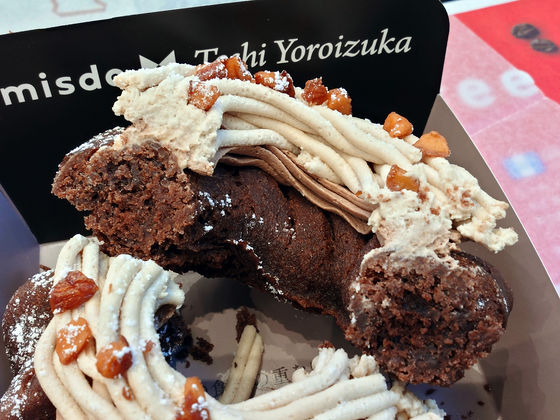 The last is 'Pistash'. The center is pistachio whipped and topped with roasted pistachios.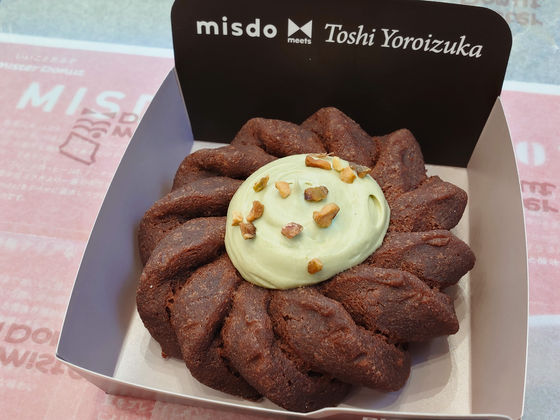 If you eat only pistachio whip, you will feel a soft and gentle sweetness. However, chocolate whip is hidden under the pistachio whip, and when you eat the whole, this chocolate whip and the sweetness of the chocolate filling the bottom so that the whip does not fall out of the hole come first, the sweetness of the pistachio whip There is a feeling that hides.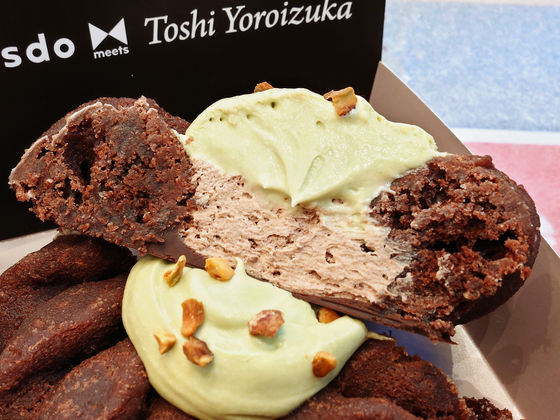 All 4 types of 'Yoroizuka Gateau Chocolat Donuts' are 248 yen including tax for takeout and 253 yen including tax for eat-in. In addition, there is a special take-out 'Yoroizuka-style chocolate set' that allows you to combine 4 of your favorite donuts from a total of 4 types and bring them home in an original paper bag. The price is 992 yen including tax.