Eight influencers who had earned more than 15 billion yen in stock manipulation using Twitter and Discord will be prosecuted


On December 14, 2022, the Federal Bureau of Investigation (FBI) and the U.S. Securities and Exchange Commission (SEC) ``spread false information on Twitter and Discord and fraudulently made a total of $114 million (about 15.4 billion yen). 8 influencers have been indicted. The total number of Twitter followers of the eight people exceeds 1.5 million, highlighting the actual situation of fraud using SNS.

Eight Men Indicted for $114 Million Securities Fraud Scheme Orchestrated Through Social Media | OPA | Department of Justice

https://www.justice.gov/opa/pr/eight-men-indicted-114-million-securities-fraud-scheme-orchestrated-through-social-media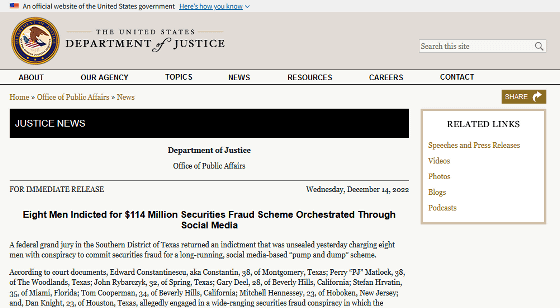 SEC.gov | SEC Charges Eight Social Media Influencers in $100 Million Stock Manipulation Scheme Promoted on Discord and Twitter
https://www.sec.gov/news/press-release/2022-221
According to the FBI and SEC, the eight indicted influencers began promoting themselves as 'successful traders' by posting numerous tweets alluding to 'well-to-do life' around January 2020, followed by Twitter and Discord. It was said that he had acquired a large number of followers on the stock trading related server. After purchasing a specific stock, influencers conspired to present a target price or express that they would hold the stock for a certain period of time, encouraging their followers to purchase specific stocks. However, the influencers sold their stock when the stock price rose and did not report the sale.
The FBI publishes the names, Twitter accounts, and Discord accounts of the indicted influencers. Many of these Twitter accounts are still accessible at the time of article creation.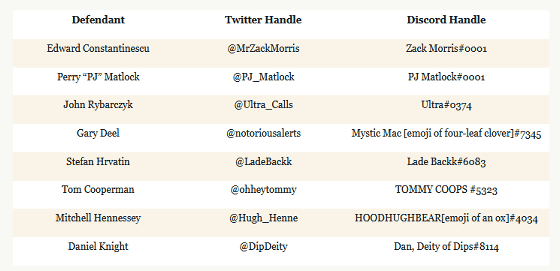 Below is the profile of the Twitter account ``@MrZackMorris'' operated by Edward Konstatinek, one of the indicted influencers. The account has 549,000 followers and is also Twitter verified.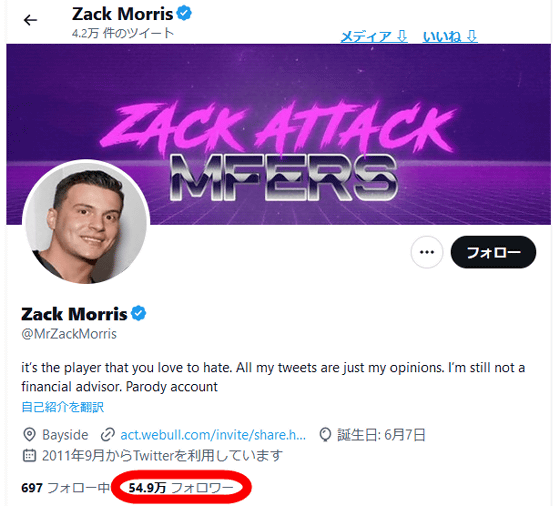 Regarding the indicted influencer, the SEC said, ``The defendant gathered many novice investors through SNS and repeatedly gave false information to novice investors, making about $100 million in illicit profits.'' It helps encourage the mindset that 'we need to be careful with unsolicited advice we see online.''

According to the FBI, the accused faces up to 25 years in prison if convicted of securities fraud and up to 10 years in prison if convicted of illegal financial transactions.