I saw the fireworks show up close, the fireworks show held at the Expo Memorial Park 'The Day the Expo Night Sky Becomes Art'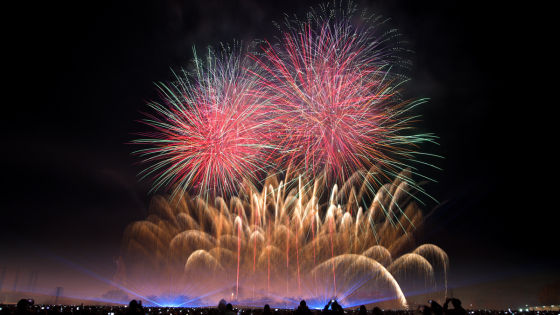 Expo'70 Commemorative Park
where
the Tower of the Sun is
the site of the Japan World Exposition held in 1970. I will report on what kind of content was being held in this park as 'a new sensory art project of fireworks and music' will be held.
Expo Fireworks Project The day the night sky of the Expo becomes art
https://www.banpakuhanabi.jp/
The venue for 'The Day the Expo's Night Sky Becomes Art' was the plaza east of Expo'70 Commemorative Park.
Arrived at the venue, many people are entering.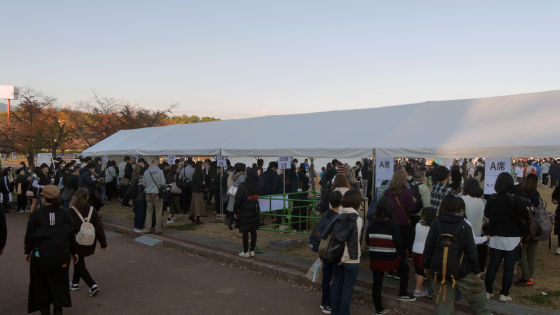 The weather was sunny and a little warm for this time of year.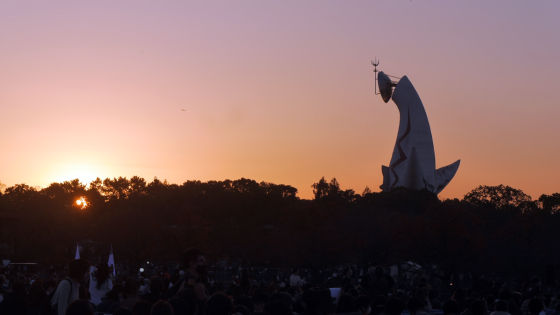 The ambassador for this event is Tetsuo of Waraimeshi, who is known as a fan of fireworks. I had the opportunity to meet him, so I went. When I asked about the highlights of winter fireworks, they answered, 'The air is clear and the lights are clear, so you can see the fireworks beautifully.'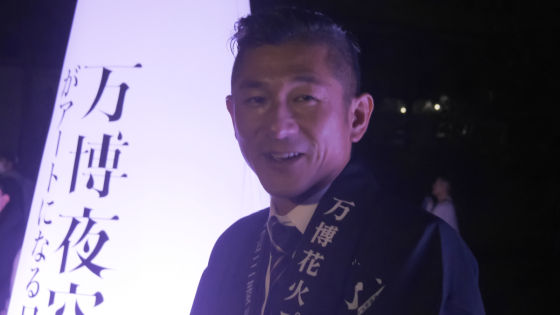 The spectator seats just before the start. It is packed with spectators.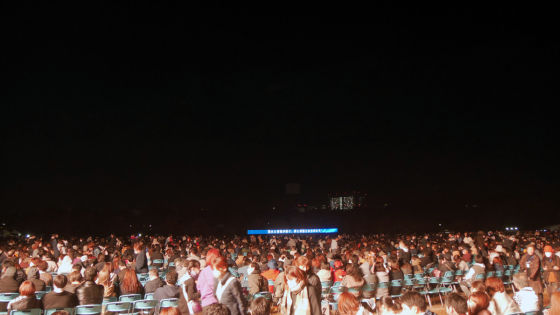 It's time to start the event. First of all, it started with fireworks commentary by Mr. Tetsuo Waraishi. The bottom left is the back view of the Tower of the Sun.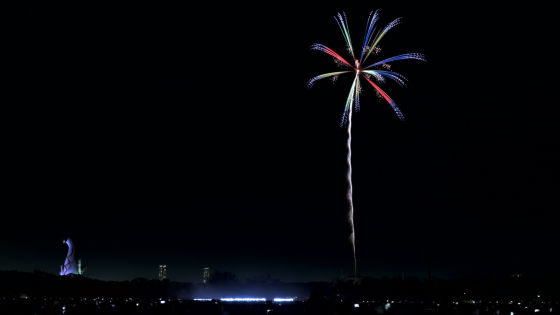 At the opening of the main story, it was announced that ``the night sky will be dyed with blue fireworks as an expression of gratitude to all the medical workers,'' and there was a production of blue fireworks.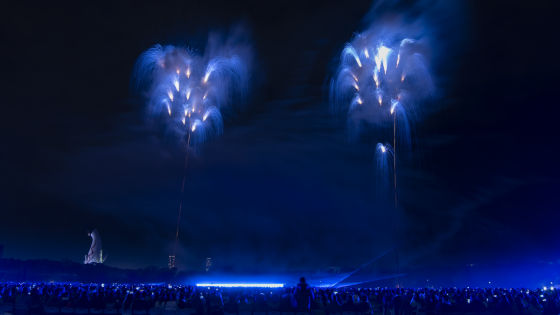 The state of the fireworks launched at the opening can be seen in the following video.


The day the Expo night sky becomes art Opening video - YouTube
The fireworks that will be launched this time will be produced by five fireworks shops in Kansai.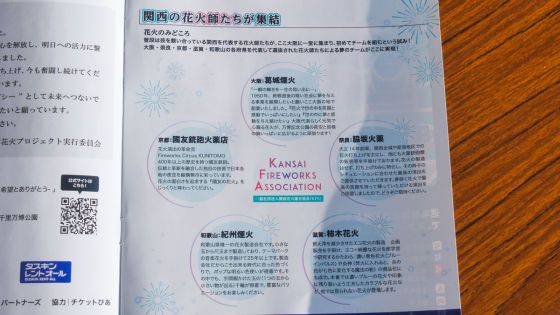 There were many productions in which the music and fireworks were synchronized and laser beams were emitted in the exciting part of the song.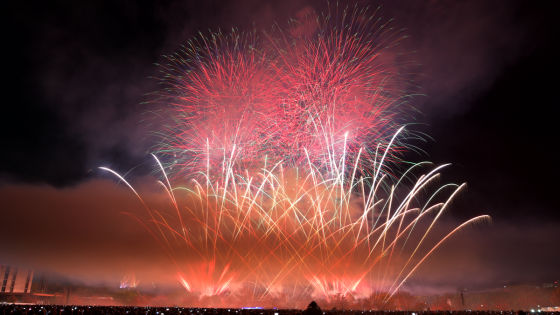 Sometimes, there are scenes where fireworks spread out to fill your eyes and cheers rise.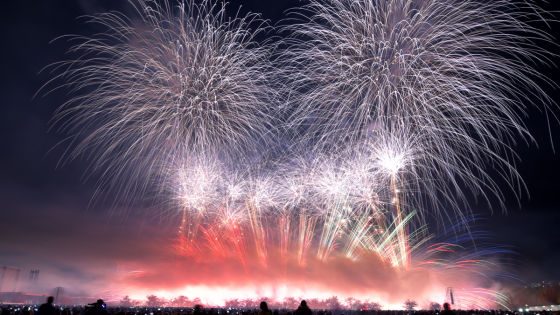 The wind was so calm that the smoke was piling up, but thanks to that, the laser beams were very clear.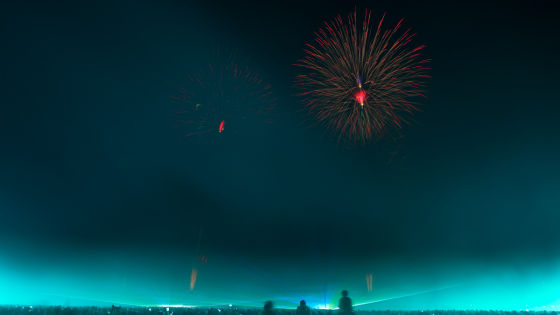 At the end of the day, the wind changed direction and the smoke started to blow away. A scene where music, fireworks, laser beams, and the tower of the sun all match.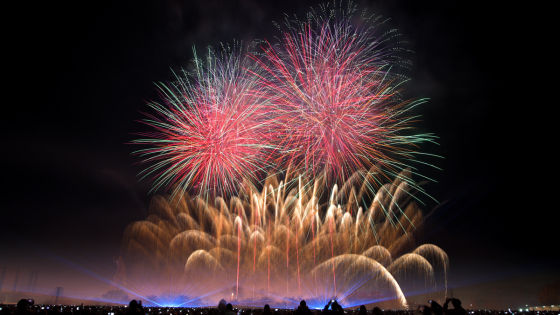 We also saw colorful fireworks.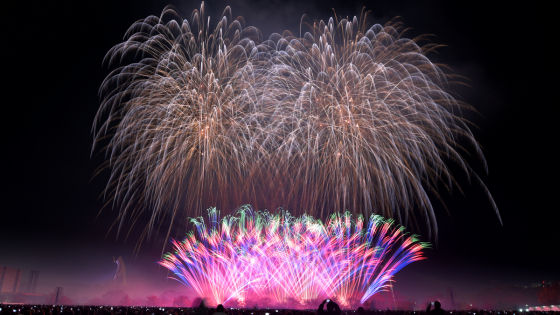 At the finale, like the opening, blue fireworks were set off to express gratitude to all the medical workers, and the event, which lasted about an hour, ended with a total of 15 songs, including original songs.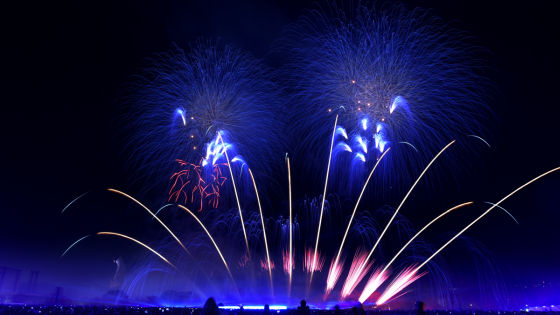 When it comes to collaborations between fireworks and laser beams, laser beams are often used in a subdued production, but in this "The Day the Night Sky of the World Expo Becomes Art," there are many scenes where fireworks and laser beams are involved in a 50/50 ratio. It was an art event where you can see expressions. In addition, it was a very impressive event that fireworks shops in Kansai could see fireworks that made use of their individuality at once.