``Magic: The Gathering cards are overprinted and the value crashes,'' a giant bank warns a toy company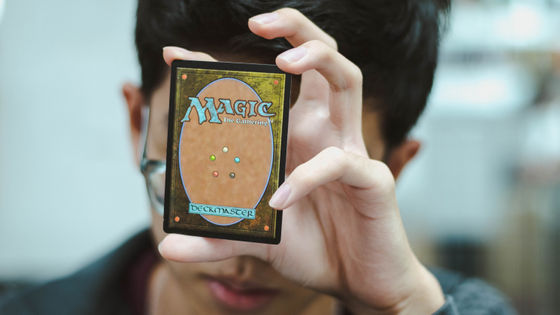 Bank of America analyst Jason Haas said, ``Overprinting cards is destroying the long-term value of Magic: The Gathering,'' said the world's first trading. The stock price of '
Hasbro
', which owns '
Wizards of the Coast
', which publishes the card game '
Magic: The Gathering
', has plummeted by more than 5%.
Magic: The Gathering owner Hasbro is 'killing its golden goose' analyst - Polygon
https://www.polygon.com/23458064/magic-the-gathering-overprinting-hasbro-stock-downgrade
Sales of trading card games are said to have nearly doubled due to the epidemic of the new coronavirus, and Magic: The Gathering is also recording strong sales from 2021 to 2022. As such, Magic: The Gathering has grown to account for approximately 35% of Hasbro's annual revenue.
However, Mr. Haas pointed out that ``Magic: The Gathering's growth is not about increasing the number of players, but by extracting more revenue from each player.''
Below are the number of Magic: The Gathering products released in one year. You can see at a glance that the number of sales after 2020 is increasing rapidly.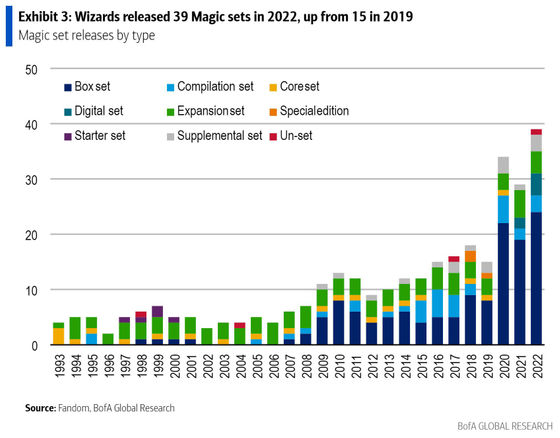 In addition, Mr. Haas criticizes the ``
30th Anniversary Edition
'' set that will be released from November 28, 2022 (Friday). Priced at $999, the set includes four packs of cards that typically cost about $5 each. However, this pack contains very popular and valuable cards like '
Black Lotus
'.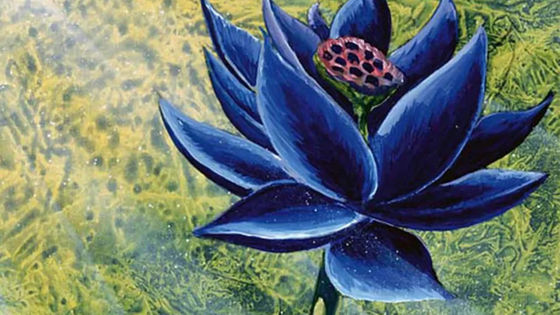 The problem with this set is not only the high price, but also the fact that it contains cards that Hasbro has publicly stated would never be reissued.

Haas said of Hasbro's overproduction, ``We will need to reduce our print runs in the future to ultimately lead to the loss of loyal fans and sell more of our older products.''

Haas said, 'Magic: The Gathering has a devoted fan base, but if card overproduction continues, the value of the cards will decline and players and collectors will lose interest in the Pokémon card game and other trading card games such as Yu-Gi-Oh OCG Duel Monsters .' There is a possibility that it will flow to the market,' he said, worrying about the decrease in fans due to overproduction of cards.

in Game, Posted by log1r_ut