Japanese high school students create and publish image posting service 'Aivy' specializing in AI works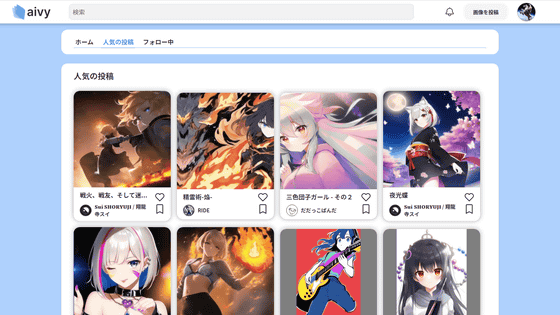 Image generation AI such as ``
Stable Diffusion
'' and `
` DALL E2
'' has been released to the public, and we have entered an era where anyone can easily automatically generate high-quality photos and illustrations. However, some illustration posting sites
have banned the posting of illustrations generated by
AI, so the posting sites that can publish illustrations generated by AI are limited.
Dadako Panda
, a high school student and engineer, has released
Aivy
, a community site for posting images automatically generated by AI.
Aivy
https://aivy.run/
November 13, 2022


To log in to the service, click 'Login' in the upper right.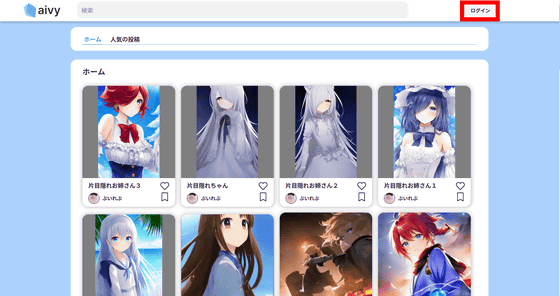 A Google account or Twitter account is required to log in to Aivy. In order to log in with a Google account this time, I clicked 'Login with Google'.



Enter your nickname, user ID, profile and click 'Start'. Your registration is now complete. Please note that once the user ID is determined, it cannot be changed.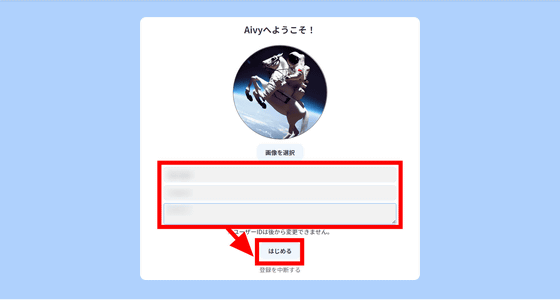 Click 'Post Image' in the top right corner to post an image.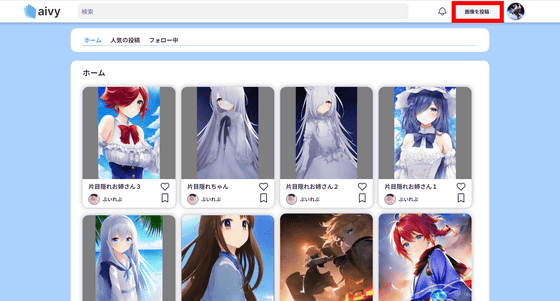 The image upload page is displayed. Drag and drop the image into the area labeled 'Drop image' or click the area to select the image.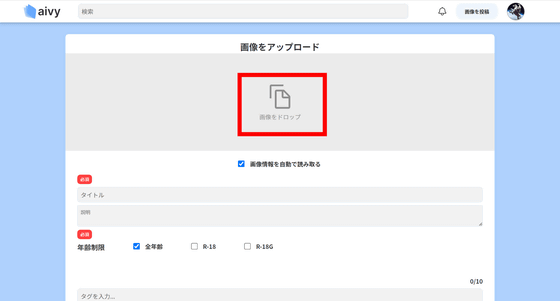 This time, I read the following illustration.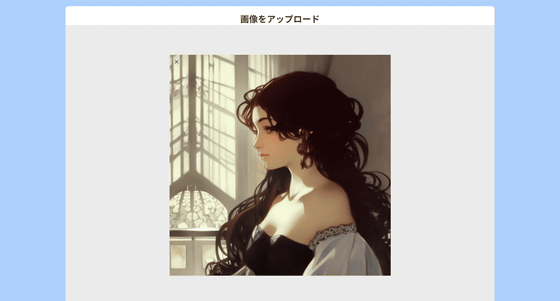 Enter a title and description for your illustration. Image information such as prompts, number of generation steps, and CFG scale are automatically analyzed and displayed, but you can select the generated AI model yourself. Click 'Post' at the bottom.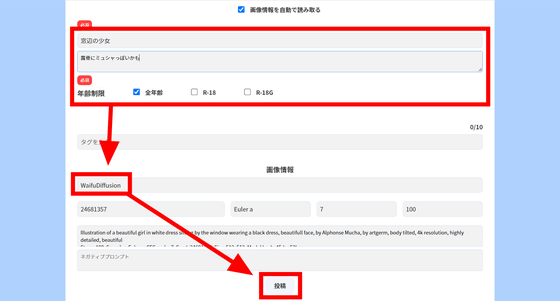 When the illustration is posted, it looks like this. The four icons on the right side of the illustration are Favorites, Bookmarks, Creator Support, and Share from the left. However, creator support is said to be 'preparing' at the time of article creation, and will be implemented in the future.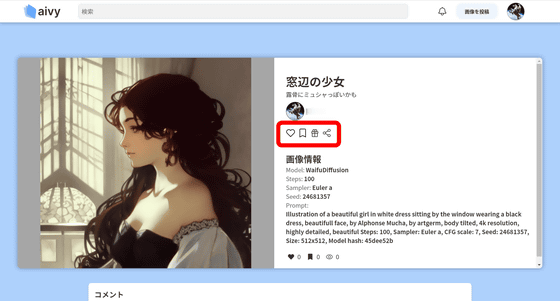 To manage the illustrations you have posted, click the account icon displayed in the upper right and select 'Manage Posts'.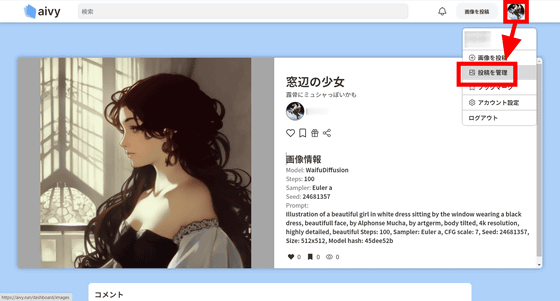 Illustrations posted by myself are displayed. Click the pencil icon displayed above the work.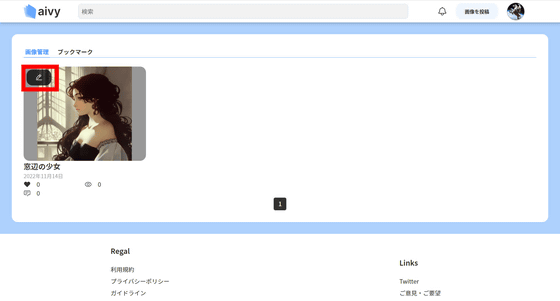 Then you can edit the work information. There is a 'delete' button at the bottom, and you can delete the work you posted once by pressing this button.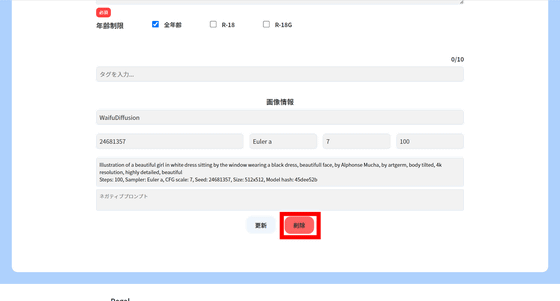 Click 'Delete'.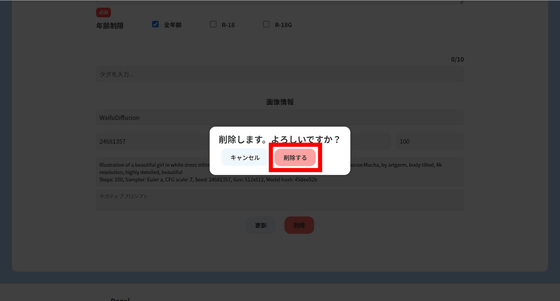 The posted illustration has been deleted.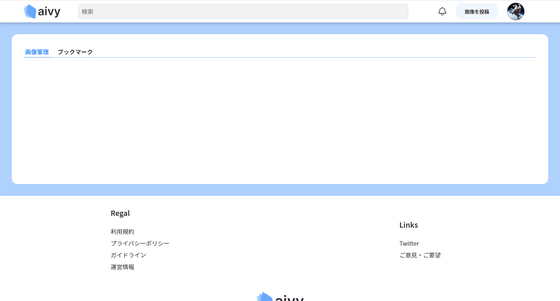 You can set up your account from the 'Account Settings' icon on the top right.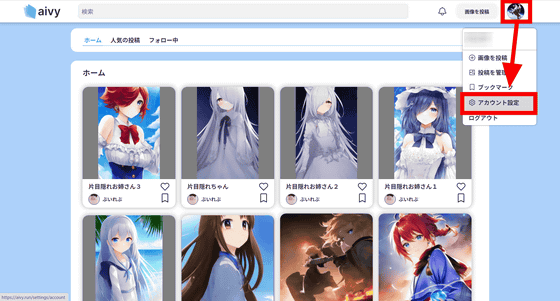 On the 'Account' tab, you can select the display settings for illustrations of R-18 / R-18G (grotesque works). You can also delete the account itself.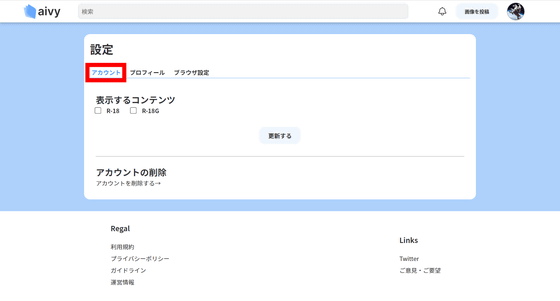 In 'Profile', you can set your own profile.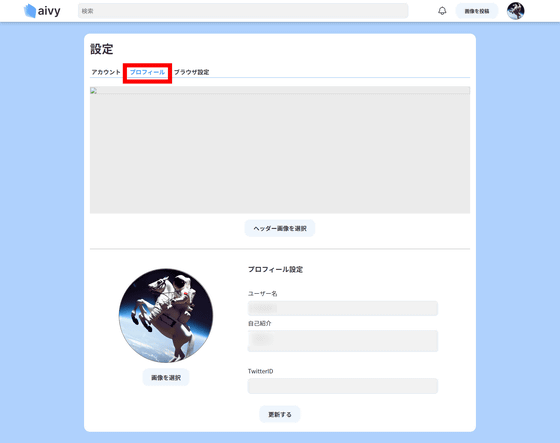 'Browser Preferences' are settings stored in the client's browser that allow you to set the maximum size of displayed images. If the amount of communication is limited due to access from a smartphone, etc., it is possible to reduce the amount of communication by setting the resolution to a smaller value.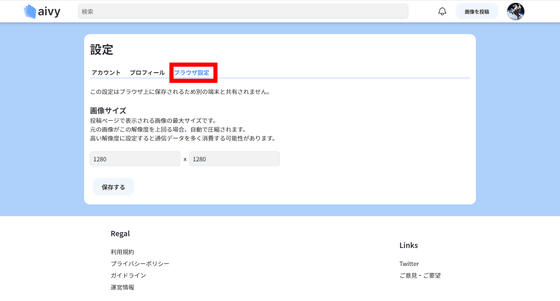 In addition, I explain how Dadakko Panda developed Aivy on his blog.

A story about a high school student developing an image posting service 'Aivy' specializing in AI works | SolidJS & Supabase & Cloudflare
https://zenn.dev/ddpn08/articles/aivy-run-release