Elon Mask officially released 'New Twitter Blue' where you can buy an authenticated badge for 1200 yen per month, and the gray official check mark is immediately abolished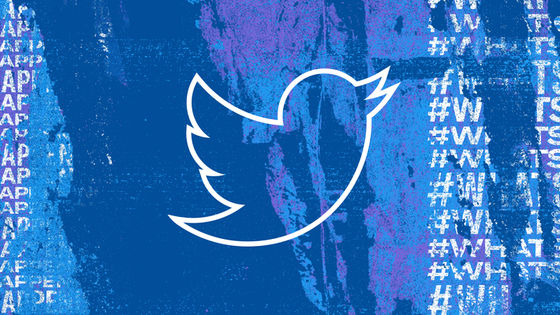 Twitter, which was acquired by Elon Musk, has newly introduced `` Newborn Twitter Blue '', which is a modification of the existing subscription service `` Twitter Blue ''. With the new Twitter Blue, you can get an authenticated badge (blue check mark) for $ 7.99 per month (about 1200 yen), but it has been pointed out that the display method is confusing.

Elon Musk's Twitter Blue with verification is now live - The Verge

https://www.theverge.com/2022/11/9/23448317/elon-musk-twitter-blue-verification-live-ios
Twitter begins to roll out, then kills, gray checkmarks for high-profile accounts | TechCrunch
https://techcrunch.com/2022/11/09/twitter-begins-to-roll-out-grey-checkmarks-for-high-profile-accounts/
If you register with the new
Twitter Blue
, in addition to the '
tweet editing function
' that was deployed in the existing Twitter Blue, anyone can use the 'authenticated badge' that was previously given only to celebrities, government accounts, and commercial companies. You will be able to get it though.
However, since the verified badge obtained with the new Twitter Blue looks the same as the existing verified badge, it is possible to distinguish between 'official accounts' that are recognized as the owner of the account by the celebrity himself and those that are not. It is extremely confusing because it is difficult to
Both can be distinguished by clicking the verified badge displayed in the profile column. For example, an official account like Mr. Musk's will say, 'This account is verified because it is featured in government, news, entertainment, or other designated categories.'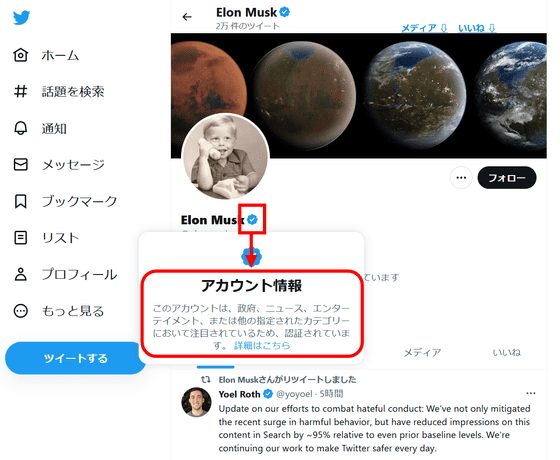 On the other hand, if you have an account that has acquired the authenticated badge with the new Twitter Blue, you will see 'This account has been authenticated because it is registered with Twitter Blue.'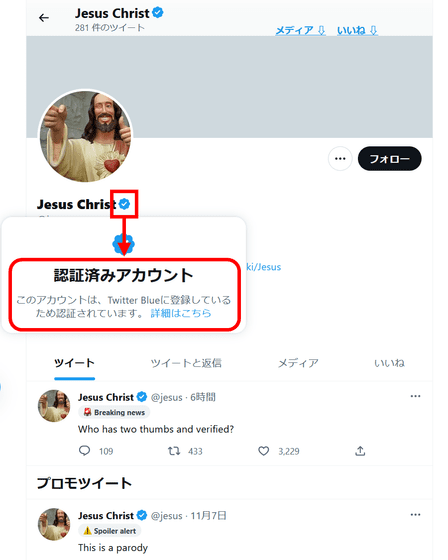 Perhaps Twitter was worried that it would be impossible to distinguish at a glance, but around November 9, 2022, the official account was temporarily labeled ``Official''. Below is an example of the official label given to YouTuber Marquez Brownlee.

So now there's two verified checks. One that shows next to your profile in replies, in retweets, and everywhere else: It means you're a Twitter Blue subscriber.

The other one ("Official") only shows up on certain profiles and on tlmeline…… pic.twitter.com/qXZ1lfxFIc

—Marques Brownlee (@MKBHD) November 9, 2022


However, this label was removed within hours of its assignment. Mr. Musk replied to Mr. Brownlee that he 'destroyed', suggesting that the introduction of the label was experimental.

I just killed it

— Elon Musk (@elonmusk) November 9, 2022


In addition, the new Twitter Blue authenticated badge can be obtained by `` All accounts registered with Twitter Blue on iOS after November 9, 2022 ' ', and the badge will be displayed automatically during the period. However, at the time of article creation, it is only available in the United States, Canada, Australia, New Zealand, and the United Kingdom, and accounts created after November 9, 2022 cannot be registered with Twitter Blue in the first place. It is undecided whether the target apps, regions, and accounts will be expanded in the future.

Twitter also previously allowed celebrities and government accounts to request verified badges, but is discontinuing this system with the introduction of the new Twitter Blue. ``We will continue to consider how to distinguish between account types,'' said Esther Crawford, Twitter's product manager.

Mr. Mask has clarified his intention to deal strictly with bots and impersonation accounts for some time, and has set out a policy of ' permanently freezing accounts that do not specify that they are parodies ' for impersonation accounts. However, it has been reported that accounts pretending to be famous companies and individuals are explosively attracting attention, probably because they introduced a system of authenticated badges without implementing a method to distinguish impersonation at a glance. Although such accounts have been frozen from time to time, it is said that 'cat-and-cat play' continues, such as new fake accounts appearing one after another. In addition, it has been pointed out that major users may leave Twitter due to changes in Twitter's specifications, such as overseas media Bloomberg's concern that ``the risk of using this platform as a news source has increased.''

Mr. Musk said, 'Twitter is going to do a lot of stupid things in the next few months, so be careful. We will keep what works and change what doesn't.' I am tweeting.

Please note that Twitter will do lots of dumb things in coming months.

We will keep what works & change what doesn't.

— Elon Musk (@elonmusk) November 9, 2022