Earon Mask launches a policy on Twitter that ``an impersonation account that does not specify that it is a parody is permanently frozen''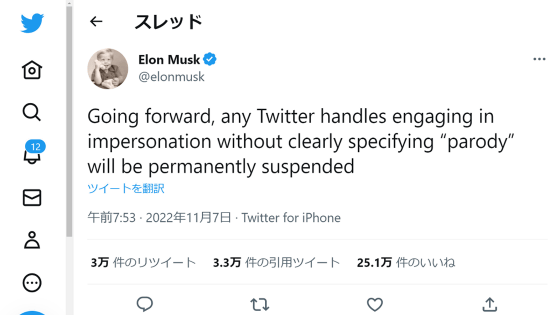 Mr. Elon Musk, who acquired Twitter and became the new CEO, has launched a strict policy of permanently banning Twitter accounts that pretend to be someone else without clarifying that it is a 'parody'. Already, the account of a popular comedian who changed his Twitter account name to 'Elon Musk' has been frozen.

Elon Musk's first Twitter moderation change calls for permanent bans on impersonators - The Verge
https://www.theverge.com/2022/11/6/23443871/elon-musk-twitter-permaban-impersonation-parody

Verified Twitter Users Are Impersonating Elon Musk
https://www.thegamer.com/verified-twitter-users-impersonating-elon-musk-suspended/

Mr. Musk embarked on the acquisition of Twitter with freedom of speech, but after the acquisition, ``Don't become a freewheeling hellscape where Twitter can't be punished for anything,'' he said . It shows a posture to set some restrictions on freedom of speech.

Immediately after the acquisition, Mr. Mask tweeted that ``comedy has become legal on Twitter'' ...

Comedy is now legal on Twitter

— Elon Musk (@elonmusk) October 28, 2022


In less than 10 days, he tweeted, ``In the future, Twitter accounts that impersonate without specifying that they are'parody' will be permanently frozen,'' and set out a strict policy against impersonation accounts.

Going forward, any Twitter handles engaging in impersonation without clearly specifying "parody" will be permanently suspended

— Elon Musk (@elonmusk) November 6, 2022


Also, until now, a warning was issued before the impersonation account was temporarily frozen, but since extensive verification has been conducted after the acquisition, the warning will not be displayed and will be frozen in one shot. . Also, if a user with a certification badge changes their Twitter account name, the certification badge will be temporarily lost.

Any name change at all will cause temporary loss of verified checkmark

— Elon Musk (@elonmusk) November 6, 2022


Already in response to Mr. Mask's strict policy on spoofing accounts, celebrities' accounts have been frozen. The Twitter account of Cathy Griffin , a famous comedian with nearly 2 million followers on Twitter, is frozen at the time of writing. This is because Mr. Griffin changed the account name to 'Elon Musk'. In Griffin's case, the account name is 'Elon Musk', but the character string after '@' is as it is, and if you look closely, you can see that it is a parody, but it was still judged to be out. It seems that

Clearly, @kathygriffin is parodying @elonmusk ...
Now she's suspended. This will not end well for Elon.pic.twitter.com/x853Wailml

—Mark Elliott (@markmobility) November 6, 2022


Famous comedian Sarah Silverman, who has more than 12 million followers, also reported that her account was temporarily suspended as soon as she posted a joke with the account name 'Elon Musk'.

1) 9 days ago, 2) yesterday 3) today. We have fun pic.twitter.com/eTKAp8PBuK

—Sarah Silverman (@SarahKSilverman) November 7, 2022


Since Mr. Musk became CEO of Twitter, a large number of advertisers have left Twitter , and more users are moving to Mastodon and Discord .

Earon Mask's acquisition of Twitter increased the number of Mastodon users by 230,000 in just one week, and the number of active users reached a record high - GIGAZINE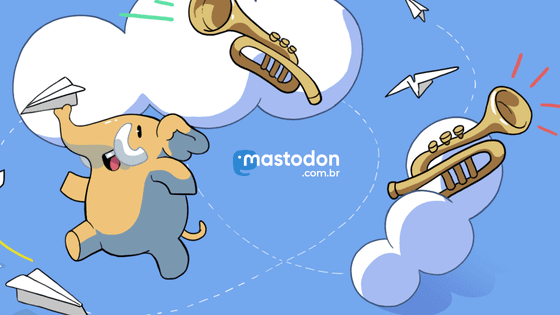 Musk also implemented a large-scale layoff on November 4, noting that some of the laid-off employees had the skills to build high-priority work in future work, and others who were originally laid off. It is said that a call was made to return to the company, saying that it included people who were not laid off.

Call to return to the company as necessary human resources and ineligible people were included in the dismissal of half of Twitter's employees - GIGAZINE