I tried playing with `` Puyo Five Mini '' that plays Puyo Puyo with food containing dietary fiber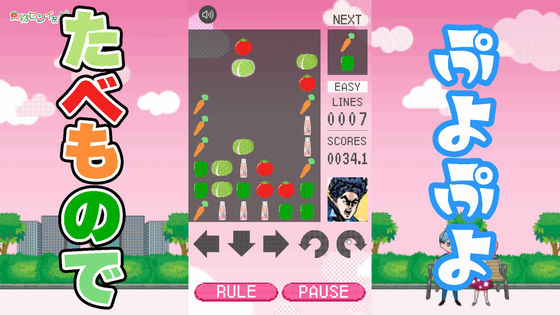 ``
Five Mini
'', a bottled drink containing the dietary fiber of 1.8 lettuce and the vitamin C of 15 lemons, has collaborated with ``
Puyo Puyo
'', a popular falling puzzle, to make Puyo Puyo with food containing dietary fiber. '
Puyo Five Mini
' that can be played is released. I actually played it because I can play for free from the official website and learn how much dietary fiber is contained in which food while playing.
Puyo Five Mini Fiber de Fever! Get Food Seni! Campaign | Five Mini Official Site | Otsuka Pharmaceutical
https://www.otsuka.co.jp/fib/puyo-fibemini/game/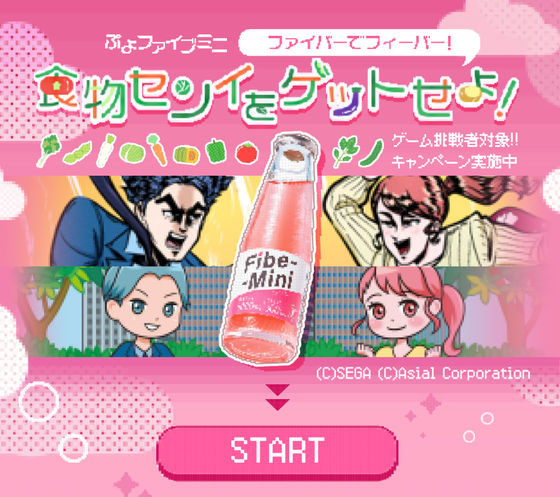 The video below shows how you actually play 'Puyo Five Mini'.
I tried playing Puyo Puyo 'Puyo Five Mini' whose points fluctuate depending on the amount of dietary fiber contained in food-YouTube
To play the game, access the above URL and click 'START'.



Then the game start screen will be displayed, so click 'START' again.



Select your favorite character. Takashi (CV: Junichi Toki) and Yuki (CV: Miki Ito) can be selected, and this time I chose Yuki.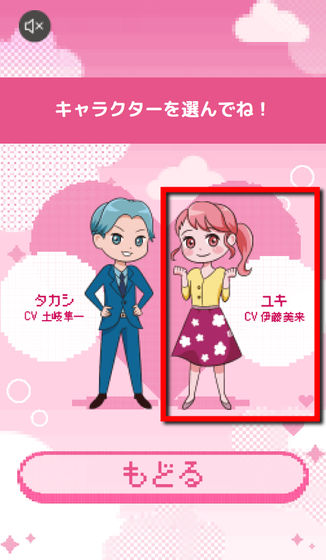 Then select the difficulty level. There are three levels, ``easy'', ``difficult'' and ``hell level'', and this time I chose ``difficult''.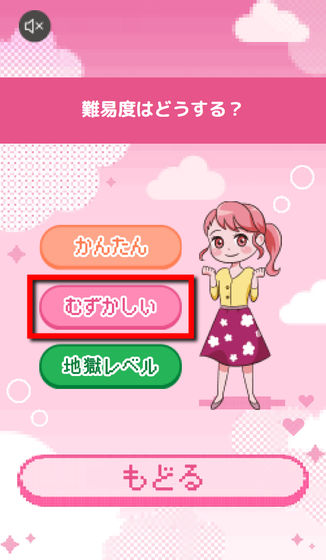 The rules are then displayed. The rules of the game are basically the same as Puyo Puyo, and if you connect 4 or more of the same kind of vegetables, the vegetables will disappear and you will get a score. The score that can be obtained differs depending on the type of vegetable, and different points are assigned to each vegetable, such as 5 points for green soybeans, 2.8 points for carrots, 2.8 points for pumpkin, and 2.3 points for green peppers. Since this is the same as the amount of dietary fiber (g) contained in 100g of the edible portion of each vegetable, it is possible to obtain a higher score by preferentially erasing vegetables containing a large amount of dietary fiber. It becomes.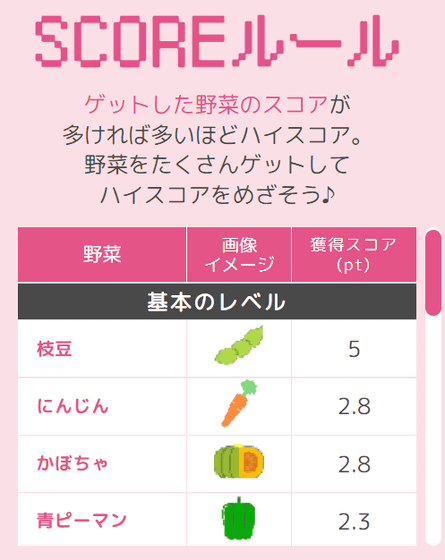 In addition, there seems to be some vegetables that only appear at hell level.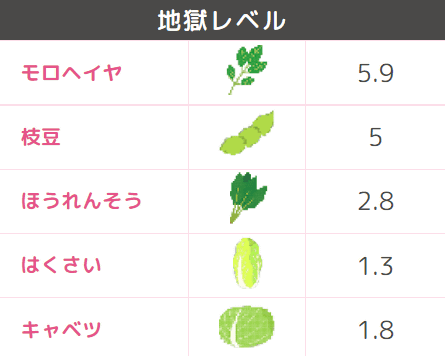 Not only vegetables will appear in the game, but also 5 Mini will appear as a lucky block. 5 mini has the highest score of 6 points because it contains a lot of dietary fiber.




So, click 'Close' at the bottom of the page.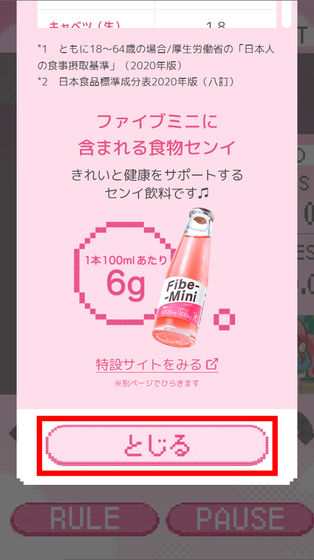 The operation method is as follows. Move the position of the block with the arrow keys on the keyboard, and rotate the block with the space key or the ↑ key. Click 'Close'.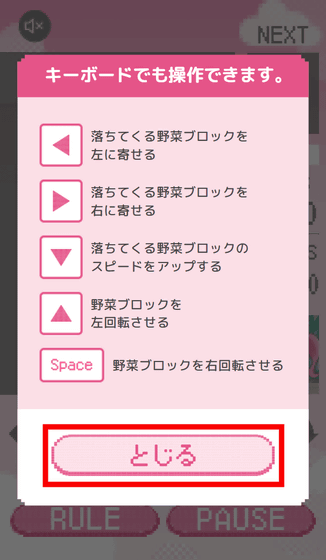 Then the game starts. Two sets of vegetables will fall from the top of the screen, so you can arrange them by rotating them, and attach 4 or more vegetables of the same type and erase them.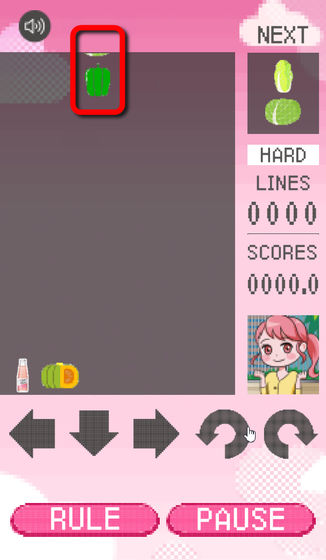 So, the state of actually playing is as shown in the following movie. The higher the difficulty, the faster the vegetables will fall, and the 'hell level' will be quite difficult. You can also aim for a chain like the original Puyo Puyo, and if you chain, the points you can earn will double.

I tried playing Puyo Puyo 'Puyo Five Mini' whose points fluctuate depending on the amount of dietary fiber contained in food-YouTube