I tried ``Nissin's Donbei Sukiyaki-style udon'' where you can enjoy stewed noodles like udon made at the end of sukiyaki


From Nissin Foods' Japanese-style cup noodle series 'Nissin's Donbee', 'Nissin's Donbee Sukiyaki-style Udon ', which is based on the image of sukiyaki stewed udon with a sauce of the sukiyaki style, will be released in 2022. It will appear on Monday, October 17th. The 'simmered noodles' developed exclusively for sukiyaki is pre-soaked with the sauce of the sukiyaki style, and it is said that you can enjoy the taste of sukiyaki stewed udon in 5 minutes with hot water, so I actually tried it.

'Nissin Donbei Sukiyaki Udon' (Released on October 17) | Nissin Food Group

https://www.nissin.com/jp/news/11023
Nissin Donbei Sukiyaki Style Udon | Nissin Food Group
https://www.nissin.com/jp/products/items/11382
I bought Nissin's Donbei Sukiyaki style udon.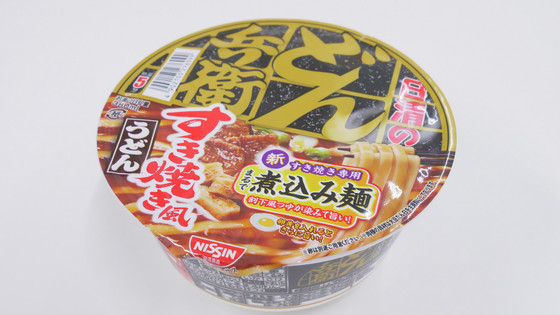 The newly developed `` just like stewed noodles '' was appealing to reproduce the taste of sukiyaki. Underneath it says, 'It's even more delicious if you add an egg yolk!'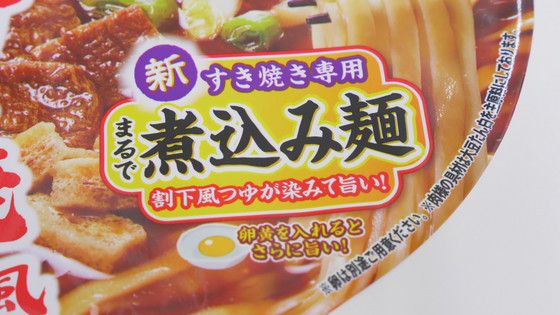 The raw material looks like this. Since Kayaku is 'processed soy protein', 'fried tofu with seasoning' and 'negi', it seems that the meat in the picture of the lid is not real meat, but substitute meat made from soybeans.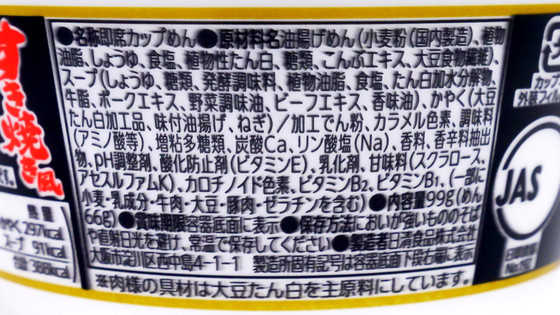 The calorie is 388 kcal per cup.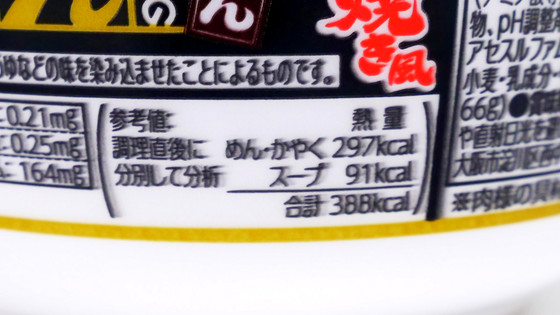 Open the lid and check the contents. In addition to the noodles, liquid soup is also available. Fried tofu is on top of the noodles.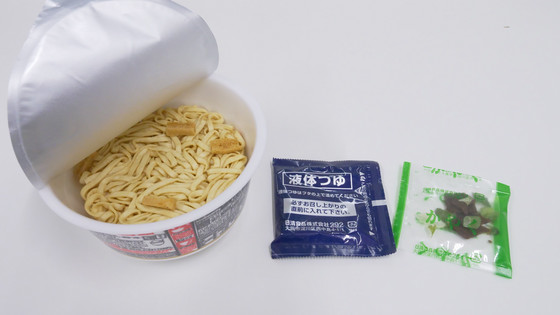 I took out the quick from the bag and put it on a plate. The contents are dried soybean-derived meat and green onions.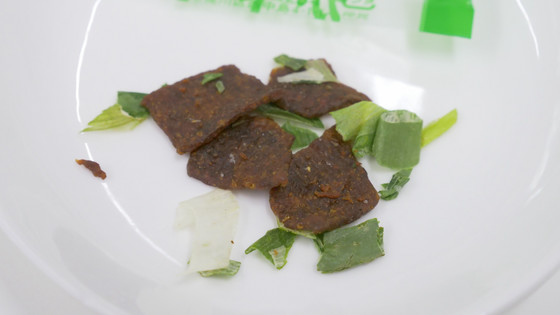 Place the kayaku on top of the noodles.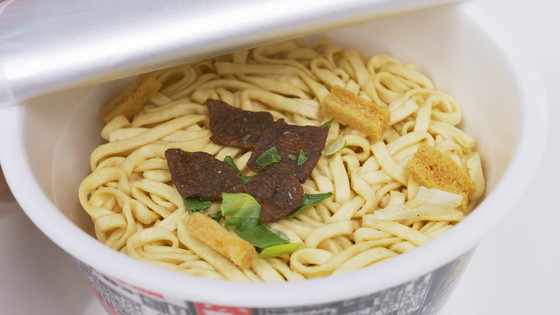 Then pour hot water and wait 5 minutes. Place the liquid soup on the lid to warm it.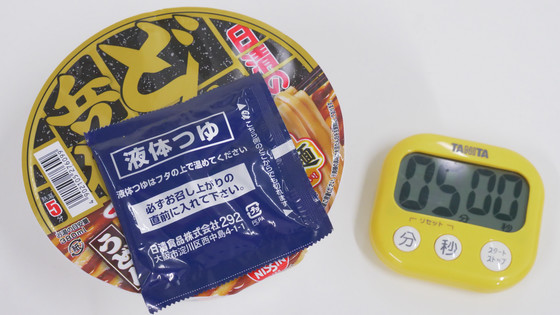 After 5 minutes, add liquid soup. There was a sweet smell peculiar to sukiyaki.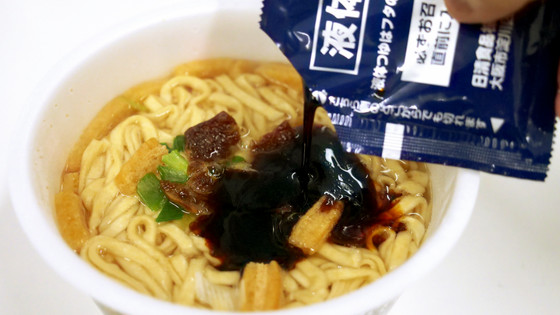 Complete by stirring well with chopsticks.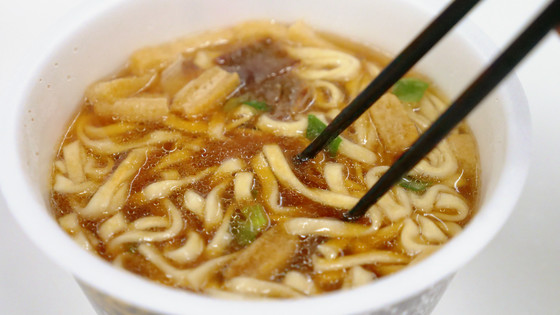 When I drank the soup, it certainly tasted like sukiyaki with the saltiness of soy sauce and the sweetness of sugar added. In addition, it was not only sweet and salty, but also the umami of the gravy was firmly felt because it was a soy sauce.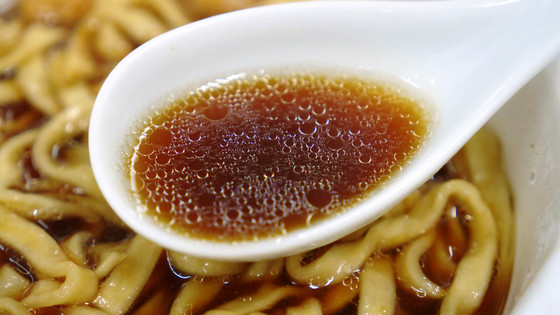 The noodles have a fluffy and soft texture that reproduces the well-cooked noodles. The noodles are soaked in the soup from the beginning, so you can enjoy the rich warishita-style soup to your heart's content.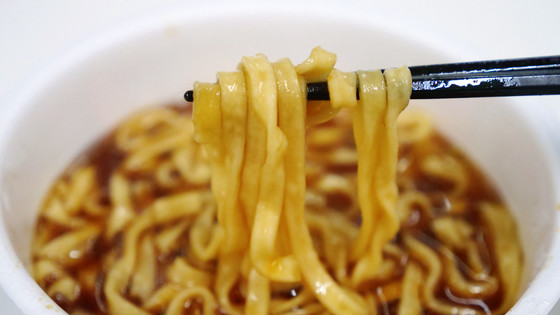 The ingredients of soy meat are definitely different from beef, but when you chew it, it has a firm elasticity and the soaked soup overflows, creating an atmosphere that makes you feel like you are eating sukiyaki.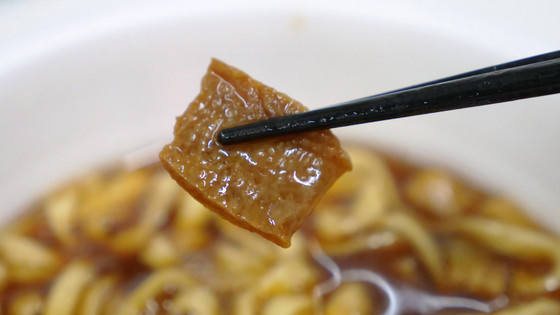 I remembered that it was written on the lid, 'Adding egg yolk makes it even tastier!'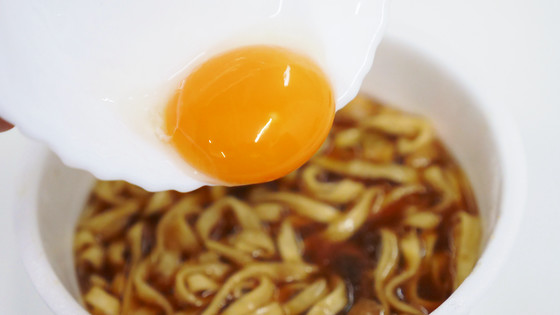 When I crushed the egg yolk and sprinkled it on the noodles and ate it, the sweet and salty soup was mellowed by the egg. By adding the taste of egg yolk, the image of ``sukiyaki style'' has been greatly improved, and the impression is that the taste is closer to ``stewed udon made with the leftover sukiyaki after eating sukiyaki.''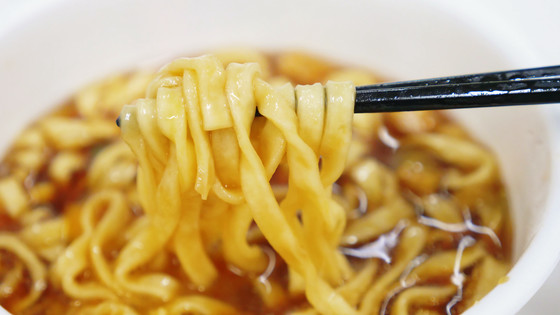 Nissin's Donbei Sukiyaki-style udon can be purchased at supermarkets and convenience stores nationwide from October 17, 2022 (Monday). The suggested retail price is 235 yen including tax. In addition, Nissin's Donbei Sukiyaki-style udon is also available on Amazon.co.jp, and a set of 12 can be purchased for 2403 yen including tax.

Amazon | Nissin Foods Nissin's Donbei Sukiyaki Style Udon 99g x 12 | Donbei | Udon Mail Order