New Zealand government proposes a tax on cow burps as a climate change countermeasure, farmers fiercely protest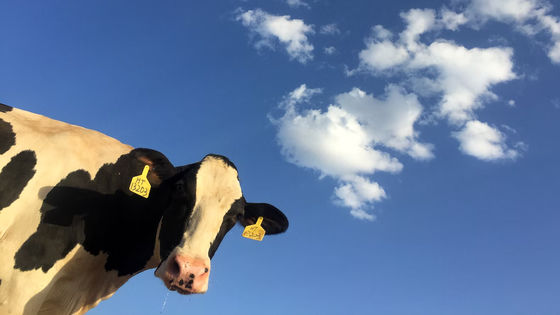 As part of its efforts to combat climate change, the New Zealand government has proposed taxing greenhouse gases emitted from livestock burping and excretion. In response, farmers are angry, saying, 'Farms will be replaced by forests.'

New Zealand angers its farmers by proposing taxing cow burps : NPR

https://www.npr.org/2022/10/11/1127955580/new-zealand-angers-its-farmers-by-proposing-taxing-cow-burps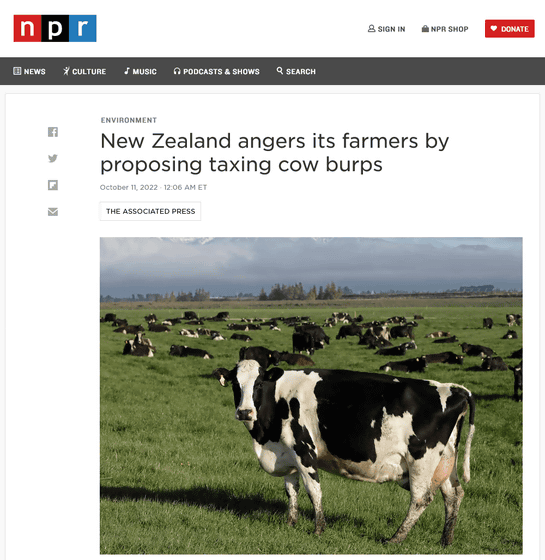 As a move to reduce greenhouse gas emissions to combat climate change, California, for example , has established rules to ban the sale of new gasoline-powered vehicles by 2035 . Denmark has already decided to ban the sale of petrol and diesel cars by 2030 .

In one such initiative, the New Zealand government has proposed a tax on greenhouse gases from livestock burping and peeing. The share of greenhouse gas emissions emitted by the food industry, including livestock, is equivalent to 35% of global emissions . It is known that herbivorous animals' burps and feces contain methane, one of the greenhouse gases.

The New Zealand government has said that farmers should be able to recoup their costs by raising the price of ``environmentally friendly products'' about this ``agricultural tax'', but the agricultural lobby group Federated Farmers said, ``This proposal is for New Zealand. It cuts through the 'innards' of a small town in New York, and you'll see farms turn into forests.'

Farmers have been working with governments for more than two years on a plan to reduce greenhouse gases without reducing food production, said Andrew Hogard, president of Federated Farmers. The reduction plan would have allowed farmers to keep their farms, but Mr. Hogard said farmers would immediately let go of their farms if they followed the government's new proposal.

Lawmakers from the conservative opposition ACT party pointed out that the government's proposal would simply transfer agriculture to other countries with less efficient food production, which would actually increase global greenhouse gas emissions.

However, as New Zealand is known for having more sheep than people, it is an agricultural powerhouse with 10 million beef and dairy cows and 26 million sheep for a population of 5 million. It is a country where "about half of greenhouse gas emissions originate from agriculture". The government has committed to carbon neutrality by 2050, and as part of that, it aims to reduce methane emissions from livestock by 10% by 2030.

Agriculture Minister Damian O'Connor said, 'Farmers are already experiencing the effects of climate change with frequent droughts and floods. Reducing greenhouse gas emissions from agriculture is good for both the environment and the economy. That's what it is,' he explains.

This is not the first attempt to implement measures aimed at reducing greenhouse gas emissions from livestock. In 2003, the same tax bill was raised under the Labor government, but the opposition party teased it as a 'fart tax.' , Farmers are also fiercely opposed, and the government has given up on legislation.


in Note, Posted by logc_nt