Logitech announces portable game machine 'Logitech G CLOUD', specializes in cloud games with full HD display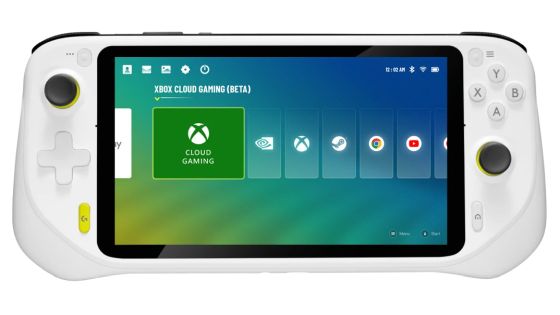 Logitech (Logitech), which manufactures gaming devices and PC peripherals, has announced the portable game machine `` Logitech G CLOUD ''. 'Logitech G CLOUD' is a game machine dedicated to cloud games, and supports cloud game streaming services such as 'Xbox Game Pass' and 'GeForce NOW'. You can also remotely play games distributed on Steam via SteamLink and play movies distributed on the Google Play Store.

Logitech International - Logitech G Elevates Game Streaming By Unveiling Cloud First Handheld Gaming Device

https://ir.logitech.com/press-releases/press-release-details/2022/Logitech-G-Elevates-Game-Streaming-By-Unveiling-Cloud-First-Handheld-Gaming-Device/default.aspx
Logitech G Cloud - Handheld Gaming Console
https://www.logitechg.com/en-us/products/gamepads/cloud-handheld-gaming.940-000198.html
The portable game machine 'Logitech G CLOUD' announced by Logitech looks like this. A 7-inch full HD display is installed in the center, and analog sticks and direction keys are arranged on both sides of the display in positions similar to the Nintendo Switch.



The grip part is quite thick. The controller also has a vibration function and a gyroscope. Logitech describes the controller of 'Logitech G CLOUD' as 'a high-precision controller similar to the high-end controller of Xbox'.



'Logitech G CLOUD' is designed exclusively for cloud gaming and supports cloud gaming services 'Xbox Game Pass' and 'GeForce NOW'. It is also possible to remotely play games distributed on each platform using 'SteamLink' or 'Xbox App'. Detailed specifications of 'Logitech G CLOUD' are as follows.

processing chip
Qualcomm Snapdragon 720G
display resolution
1920 x 1080 pixels (Full HD)
Display method
IPS liquid crystal
display brightness
450 nits
display size
7 inches
refresh rate
60Hz
audio output
stereo speakers
Voice input
Microphone with noise canceling function
wireless
Wi-Fi IEEE 802.11a/b/g/n/ac (supports both 2.4GHz and 5GHz)
Bluetooth 5.1
Connecting terminal
audio jack
USB Type-C connector
battery capacity
23.1Wh
size
256.84mm×117.21mm×32.95mm
weight
463g
'Logitech G CLOUD' will be on sale in the United States in October 2022 for $ 349.99 (about 50,000 yen). At the time of writing the article, we are accepting reservations for $ 299.99 (about 43,000 yen) on the following page. However, the release date in Japan is undecided.
Logitech G Cloud - Handheld Gaming Console
https://www.logitechg.com/en-us/products/gamepads/cloud-handheld-gaming.940-000198.html