Albania announced the severance of diplomatic ties with Iran as ``a cyberattack'', and the severance of diplomatic ties due to a cyberattack is the first in history
Albania
, located on the
Balkan Peninsula
in Eastern Europe, announced that it would sever diplomatic ties with Iran on September 7, local time, saying that the cyber attack received in July 2022 was supported by Iran. This incident is believed to be the first case in which diplomatic ties have been severed over a cyberattack.
Albania cuts diplomatic ties with Iran over July cyberattack | AP News
https://apnews.com/article/nato-technology-iran-middle-east-6be153b291f42bd549d5ecce5941c32a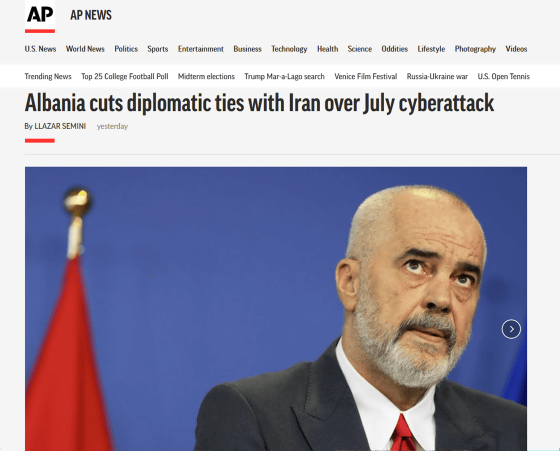 Albania blames Iran for July cyberattack, severs diplomatic ties
https://www.bleepingcomputer.com/news/security/albania-blames-iran-for-july-cyberattack-severs-diplomatic-ties/
You can see how Prime Minister Eddie Rama of Albania explains the severance of diplomatic ties with Iran in the video below.
Kryeministri Edi Rama-Një VENDIM I DETYRUAR I QEVERISË-YouTube
On July 15, 2022, the Albanian government's digital infrastructure was targeted in a violent cyberattack. The public services of the Albanian government were temporarily paralyzed, and it seems that hacking was set on data and communication services.
However, Prime Minister Rama said that the Albanian government was able to minimize the damage of this cyber attack and quickly restore the system and data, so the attacker could not achieve the original purpose.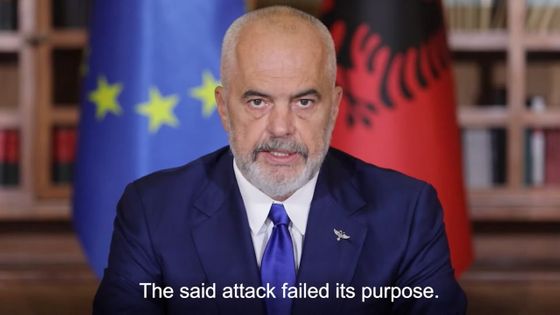 As a result of investigating the attacker, it turned out that this cyber attack was due to four hacking groups supported by the Iranian government. A hacking group has previously targeted Israel, Saudi Arabia, the United Arab Emirates, Jordan, Kuwait, and Cyprus.

Prime Minister Rama said he has shared the findings of the cyber-attacks' links with Iran with
NATO
members and other friendly nations.
Following the results of the investigation, the Albanian government decided to sever diplomatic relations with Iran. It has already officially notified the Iranian embassy that all diplomats, engineers, administrators and security personnel will be withdrawn from Albania within 24 hours. Prime Minister Rama acknowledged that the severing of diplomatic ties was an extreme reaction, but Iran was the one who forced it, addressing threats that disrupt the country, such as cyberattacks, the resulting suspension of public services and the deletion of official data. said it was a measure to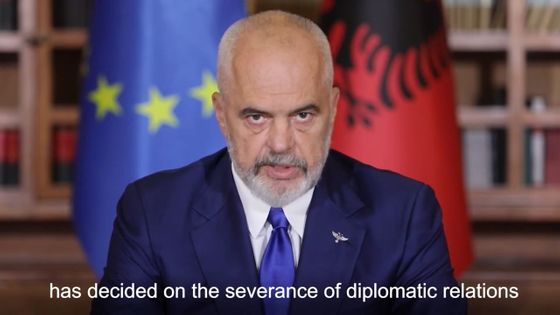 The Associated Press pointed out that the Iranian dissident Mojahedin Khalgh (MEK) has a stronghold in Albania, with about 3,000 members. He suggested that Iran-backed cyberattacks were a reaction to Albania's pro-NATO stance.

John Hultquist, vice president of American cybersecurity company Mandiant , told The Associated Press that the attack shows that key government systems in NATO countries are vulnerable and under attack. claimed to be. "The attack on Albania is a reminder that while Iran's most aggressive cyber activity is concentrated in the Middle East region, it is by no means limited to it. , complex information operations will also be performed on a global scale.'

The White House has also issued a statement regarding the severing of diplomatic ties between Albania and Iran.

Statement by NSC Spokesperson Adrienne Watson on Iran's Cyberattack against Albania - The White House
https://www.whitehouse.gov/briefing-room/statements-releases/2022/09/07/statement-by-nsc-spokesperson-adrienne-watson-on-irans-cyberattack-against-albania/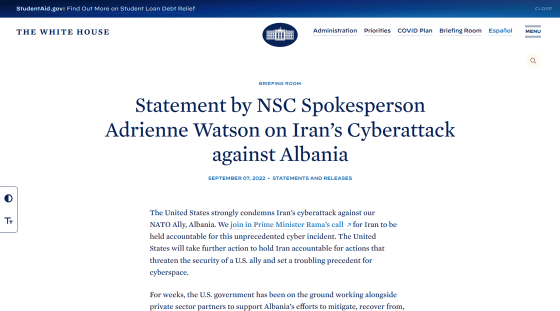 'The United States strongly condemns Iran's cyber attack on NATO ally Albania. We join Prime Minister Rama's call to hold Iran accountable for this unprecedented cyber attack,' the White House said in a statement. said. After Albania was hit by a cyberattack on July 15, the United States worked with private sector partners to cooperate with the Albanian government's recovery efforts and investigations, and concluded that the Iranian government was behind the hack.