AdGuard releases the world's first Chrome 'Manifest V3' compatible ad blocker 'AdGuard Browser extension V3'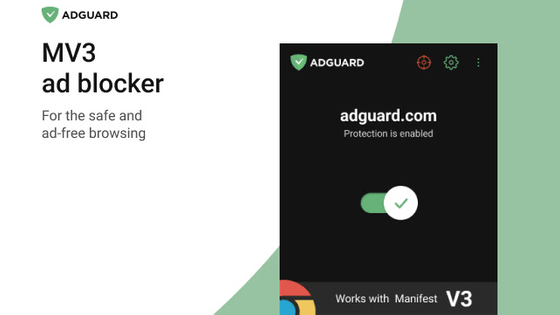 On August 30, 2022, AdGuard, an ad blocker, announced
`` AdGuard Browser extension V3
'' that supports ``
Manifest V3
'', a new method of ad blocking for Chrome launched by Google. It is said to be the world's first ad blocker built with Manifest V3.
AdGuard publishes the world's first ad blocker built on Manifest V3
https://adguard.com/en/blog/adguard-mv3.html
AdGuard launches Manifest V3 compatible ad-blocker for Chrome - gHacks Tech News
https://www.ghacks.net/2022/08/30/adguard-launches-manifest-v3-compatible-ad-blocker-for-chrome/
While extensions greatly improve the convenience of Chrome, they can also cause damage such as
reduced security
and
the insertion of unauthorized affiliate codes.
We are in the process of migrating to V3. In response,
uBlock Origin
developer Raymond Hill has suggested that development will be discontinued, and concerns about Manifest V3 are spreading among ad blocker users.
1. Using the dev build helps a lot, see https://t.co/trtAPHSuoi -- ideally that sort of regression would be spotted before publishing a stable release.

2. No plan, it's a personal project worked on as a hobby -- MV3 undermines uBO's capabilities and a burden to rewrite all.

— R. Hill (@gorhill) February 20, 2022


Under such circumstances, AdGuard updated its official blog on August 30, announcing the release of 'AdGuard Browser extension V3', the world's first ad blocker compatible with Manifest V3. At the time of the announcement, the version is '0.3.11' and it is not yet a completed version, but distribution on the Chrome Web Store has started, and anyone can install it on Chrome.

AdGuard Browser Extension v3 - Chrome Web Store
https://chrome.google.com/webstore/detail/adguard-adblocker-mv3-exp/apjcbfpjihpedihablmalmbbhjpklbdf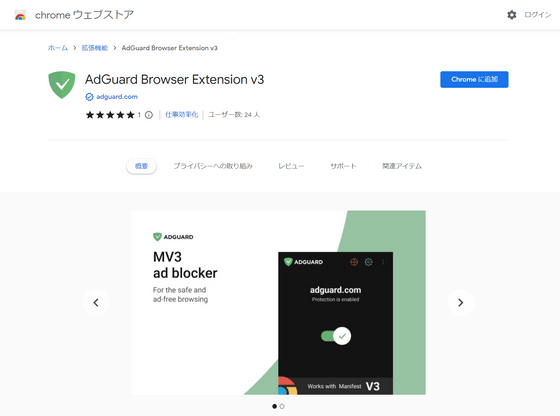 According to AdGuard, one of the main problems with Manifest V3 is that it imposes a limit of 'maximum 330,000 rules for the entire extension' and 'minimum guarantee of 30,000 rules per extension'. This seems like a lot, but uBlock Origin, for example, uses 80,435 network filters and 45,243 shaping filters when installed, which is over 30,000 by default. Furthermore, if you subscribe to another externally created filter or add your own My Filter, you can easily reach 330,000 with just one ad blocker.

To address this, the Manifest V3 version of AdGuard adds a feature to warn users when restrictions force the extension to reduce the number of rules it supports.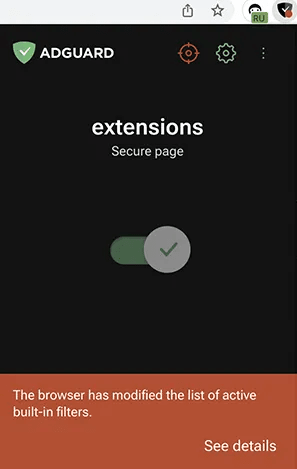 It also now shows a list of which filters are enabled and which are disabled.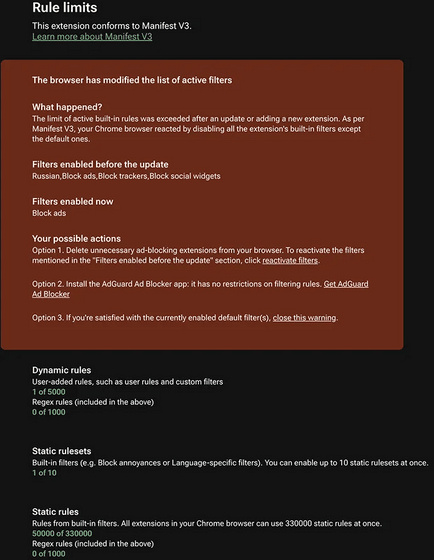 Apart from the limit above, there is a limit of 5000 unique rules that a user can add and if exceeded it will be displayed as below.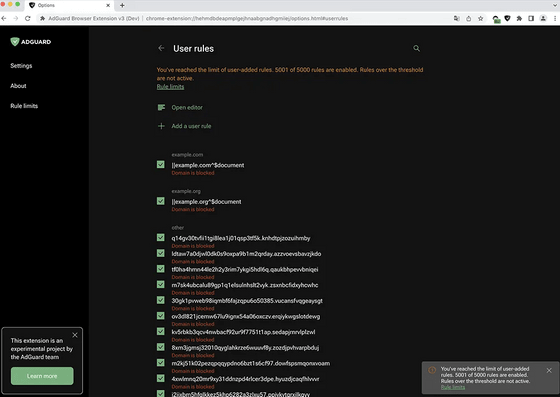 Ghacks, an IT news site that covered the appearance of AdGuard Browser extension V3, said, ``The new AdGuard has proven that content blockers can exist even under Manifest V3.'' Potentially less powerful than content blockers, especially the risk of extensions not working once the rules limit is reached is annoying, and most Chrome users will likely want Manifest V3 as soon as it becomes standard. You may want to switch to other browsers for reliable protection,' he commented.